Briarcliff Man to Honor Wife's Memory With Antarctica Marathon
We are part of The Trust Project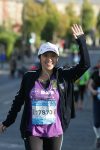 For nearly three years, Dave Ventresca has been training to run his first marathon. When the day finally arrives on Saturday, Mar. 11, his quest will be in a place where few people ever go under circumstances that he couldn't have imagined when he signed up for the challenge.
The 47-year-old Briarcliff Manor resident is running the race on King George Island off the Antarctic peninsula with about 100 other adventurous souls. Ventresca, a longtime shorter distance runner who has participated in mostly 5K and 10K events, registered in 2014 to run the race this year with his wife, My Luu, who had competed in eight marathons on six continents.
This would have completed My's rare journey of running 26.2 miles on each of the world's seven continents. But after successfully battling breast cancer at 35, she succumbed to Amyloidosis, a rare blood cancer, in September 2015 at 41.
Ventresca is pressing forward to participate in the event accompanied by his brother-in-law, Sang Luu, also a marathon runner, to finish what My started.
"My wife (was) probably the only person on the planet to get me to run any marathon, let alone one in Antarctica," Ventresca said. "So it's an unusual set of circumstances that triggered this whole thing. I think a big part of it is after she passed away, it was this indescribable, tragic gut punch. Undoubtedly all of her friends, myself and her family were just hit with all of this tremendous grief. What can we do to make some good out of this?"
Ventresca, along with a global network of My's friends, work colleagues, Yale University alumni, fellow runners and family, established the My Luu Memorial Fund. It's a nonprofit organization that partners with Y-Apply, another nonprofit group, to help guide high-achieving ethnically diverse students in public schools from underrepresented backgrounds around the United States into top colleges and universities.
He is using his Antarctica marathon run to raise awareness for the memorial fund, its partnership with Y-Apply and to remain faithful to My's love of education and adventure.
"My wife was a very big proponent of education and the transformative power of education," Ventresca said.
My's life story makes that easy to understand. Born in Vietnam in October 1973, My and her parents and three siblings sought to immigrate to the United States when she was five years old. However, their boat was commandeered by pirates and the family ended up in a Malaysian refugee camp for 13 months. They finally made it to Houston, where they were reunited with relatives who had arrived before them.
My excelled as a student, becoming valedictorian of her high school class. She was fluent in four languages – her native Cantonese, English, which she learned after arriving in the United States, Spanish and Russian, which she studied at Yale.
Ventresca, who met My online, said while still in high school she was so motivated that she successfully submitted college applications and financial assistance forms by herself.
"She completed all of her admissions paperwork and secured grants and scholarships on her own before even telling anyone in her family that she applied to Yale," he said. "She did all of that in a pre-Google world in 1992, so she would have been the perfect candidate to go through the Y-Apply program."
After college, My worked for the State Department, dispatched to the U.S. embassy in Uzbekistan because of her fluency in Russian. She then returned to the United States to start a 14-year career at IBM, ultimately serving in the corporation's Human Training and Accessibility Center. She led market development and legislative efforts for a team that develops technology to help people with disabilities. She lived in Bedford before meeting and marrying Ventresca. The couple lived in Briarcliff Manor.
Her successful fight against breast cancer spurred her to take up running to stay as fit as possible, Ventresca said. She worked up to running her first marathon in Alaska with other races to follow in Sydney, New Zealand, Dublin, Rio de Janeiro and several other locations. By then, My had already been a seasoned world traveler, having visited 150 cities in about 40 different countries, not to mention having hiked Mount Kilimanjaro, he said.
"So I think she viewed the running and this quest just as another way to travel the world, and whenever she did these races she always recruited a group of friends or family to go with her," said Ventresca, a management consultant for Accenture, a global professional services company.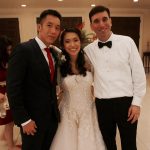 Had there been multiple continents remaining on My's seven continents mission, Ventresca said he probably would have passed the race. But My having been so diligent in her training, Ventresca said he felt a strong pull to go. When race organizer, the Massachusetts-based Marathon Tours, allowed him to substitute his brother-in-law after My's death, there was no turning back.
Ventresca has been training five days a week, which includes a long run on the weekend, a mid-distance run of eight to 10 miles and two shorter runs. His regimen includes one day of cross training and two rest days. His longest previous race was the 10-mile Broad Street Run in his native Philadelphia.
Although it's been a warm winter, Ventresca has tried to take advantage of the little cold and snow there has been to try and acclimate himself to the rugged conditions he expects to find. The runners were told to anticipate temperatures somewhere between 0 and 25 degrees Fahrenheit, he said.
Ventresca said he should be more accustomed to the participants coming from Australia or American Sun Belt locales.
On Friday, Ventresca flies to Buenos Aries to meet up with the race group. After a couple of days there, they fly to Ushuaia, Argentina, at the country's southern tip, before sailing for three days on a science research vessel to King George Island.
The start and finish of the race will be at the Russian Science Research Center, one of a group of nations that have research facilities on the island. Runners will complete roughly four-mile loops to several of the other countries' centers so they will never be far away from race organizers.
While the marathon will be over in less than a day, Ventresca's goal is to make the My Luu Memorial Fund a long-term project and eventually start a scholarship. That would be the best way to honor her life and incredible journey.
"This is very much a multiyear initiative," Ventresca said. "The My Luu Fund is something that we'll continue well past us getting back from Antarctica."
For more information about the My Luu Memorial Fund or to donate, visit https://www.crowdrise.com/myluufund.