Brewster Schools Advocate Named Woman of Distinction Honoree
We are part of The Trust Project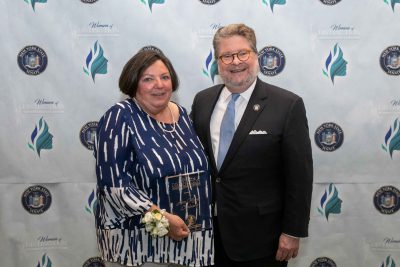 Ann Marie Chalmers, a dedicated leader and community advocate for the Brewster Central School District for more than 20 years, was recognized last week as a 2023 State Senate Woman of Distinction honoree at a special ceremony held in Albany.
Chalmers was one of 63 Women of Distinction honored. She was nominated by State Senator Pete Harckham.
"Her spirit transcends her responsibilities, leading her to serve as an unofficial mentor, counselor and mediator to many students," said Harckham. "Ann Marie Chalmers has focused her entire career on helping others in the Brewster school community—and beyond."
Chalmers and her four siblings were raised in the Bronx by Irish immigrant, working-class parents. Following graduation from St. Barnabas High School, she worked various jobs in healthcare, hospitality and transit.
In 1999, Chalmers, her husband, John, and their four children moved to Brewster. She quickly became a community, church and public-school advocate. For more than 10 years, Chalmers volunteered as president of the Parent-Teachers Association (PTA), as well as a catechism instructor and Teen Club advisor for the parish of St. Lawrence O'Toole Church in Brewster.
Chalmers began her career in the Brewster School District in 2005 as a monitor, where her charismatic and engaging presence immediately impacted the students. Over her 18 years with the district, Chalmers has fulfilled many other roles: chaperone, Performing Arts Liaison, and most recently as an assistant to the Athletics Director.
"The Brewster Community is so grateful for the dedication and spirit of Ann Marie Chalmers," said Superintendent Laurie Bandlow. "She works every day for our students. We congratulate her on this prestigious award. It is well deserved."
Harckham noted it was Chalmers' "unofficial" roles that have made the most impact on the school community. Following the tragic death of a Brewster student in 2007, she organized a safe driving program to teach students about defensive driving. Since 2012, she has assisted in coordinating the "Mr. Brewster" competition, which has raised close to $500,000 for Cystic Fibrosis research.
In addition, for her unwavering dedication, Chalmers has been honored with the Christopher R Blackwell 9/11 Memorial Award 2013 and the 2015 Brewster Education Foundation Honoree Award.
In 2010, Chalmers became Vice Chair of SEIU Local 200United at Brewster. As a leader, she advocated for the rights of the support staff, ensured a safe school environment and most importantly, reinforced the necessity of support staff to the daily operations of the school district.
"I am so humbled to get this award. There were so many impressive women at the ceremony. I have a unique role here and feel so blessed to be part of the Brewster community," said Chalmers.
"I had a tough time in high school and those are such precious years. I always am careful and treat each student with respect, you never know what happens outside those doors. These are the last four years of childhood and so many memories are made. Every kid has a story," she added.
On Facebook, her middle daughter, Fiona Chalmers Palladino, wrote of Chalmers: "My mom always goes above and beyond without ever expecting for it to be returned. She cares deeply for so many people, particularly the kids in the Brewster community. She is a woman of her word and would never ask others to do anything she wouldn't do herself. She has a solution for everything (even if you don't ask for it!) She won't hesitate to jump feet first into things she knows nothing about making her a Jack of all trades. My mom is blunt and will tell you how it is but also remind you life is full of chances. She works tirelessly to make her community a better place and believes in empowering others to do the same."