We are part of The Trust Project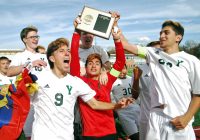 Yorktown Snaps 27-Year Championship Drought in 2-1 Win Spiniello, Carbone Score for Huskers, Who Advance to Region 1 Semis
Imagine a harrowing 27-year itch. Imagine the need to scratch it, the yearn to reach it. Fancy being the Yorktown High soccer team, which hadn't scratched its championship itch since 1990 when then-kids like Paul Smith, Jeff Schwartz, Adam Selkin, Terence Capellini, Willem Koetse, Colin Johnson and Ricky Fawcett were parading the championship plaque about town.
Somewhere, those seven, their former teammates (whose names unfortunately elude me) and venerable former Coach Bill Robertson, were smiling last Saturday when Yorktown middie Sergio Spiniello's game-winning goal hit the post and bounded in, resulting in a 2-1 overtime victory against White Plains to win the Section 1 Class AA title at Lakeland High School last Saturday (the first boys' soccer championship since 1990, Class B).
It was the third Section 1 finals appearance for Yorktown in four years, one coming in Class A. The fourth-seeded Huskers (15-4-1), who also knocked off No.1 Arlington, 1-0, in the semis, advanced to the NYSPHSAA tournament on Wednesday (TBA) at Middletown High School against Section 9 champion Warwick, which defeated Monroe-Woodbury 1-0 in overtime.
"This is just a phenomenal feeling for these kids," Yorktown veteran Coach Ed Polchinski said. "We've been planning on this since the beginning of the year. We just never give up. We are resilient, and I'm so proud of them. They trust each other and worked so hard for this and we came out on top, thank God. We made some adjustments against a great team and they worked out on our behalf."
Trailing No.6 White Plains 1-0 at halftime, Polchinski tinkered with his formation, switching from a 4-4-2 to a 4-3-3 and then to a 3-4-3 in an effort to generate more offense. Spiniello was the benefactor, moving forward and delivering. First, Spiniello fired a shot from the right wing, which was initially saved, but it bounded to the foot of Joey Carbone, who deposited the easy equalizer in the 74th minute, touching off a madcap celebration and fueling hope.
"I have to give it all to my team," said Spiniello, who watched his older brother, Marcello, lose a pair of finals. "We went down early in the second half, but we never stopped pushing and we got the W in the end. My brother was here twice and lost, but he led his team here his junior year, and I knew if I could score I could compare to him, so I hope I did. Now it's on to states, baby, let's go!"
Husker G Mauricio Arango, who finished with eight saves, made an incredible 1-on-1 save to keep the hope alive and he stood tall in OT behind a stout defense of Sean Boyle, Paul Duffy, Rocky Bujaj, Shane Dahlke and Spiniello. The Huskers have thrived, due, in part, to a team-oriented approach, but Arango and M Ankit Patel, have been the leaders of the pack.
"This is the topper, the top of the top," said Arango. "Nothing get better than this. We've worked four years for this, and this 100% for the town and all the guys that played here before us. I just can't put it into words. I'm on top of the world. We've been in this position before where we had to fight back, just recently in the quarterfinals against Scarsdale, and we came back and won in overtime, so we stay composed and we know what we have. We just kept plugging away and we're taking the chip home. This is by far the No.1 moment of my career."
Against Arlington (15-1-1), Timmy O'Callaghan, a sophomore midfielder, provided the goal to lift state-ranked (No.23) Yorktown to victory, which avenged a controversial 1-0 loss to the Admirals in the 2015 section final. Arango finished with 13 save for the spotless sheet against what has clearly been the top program in Section 1 the last decade. O'Callaghan, on offense, and Dahlke, on defense, each gave the Huskers a lift against the Ad's, ranked No.3 in NYS.
"Mauricio was unbelievable," Polchinski said. "He's a true leader and a great goalkeeper. He's a great team guy and communicator. He allows no letdowns in practice and the way we practice and play is a testament to my two captains, Mauricio and Ankit (Patel). There are 29 guys on this squad who give it everything they've got, and that's what you need to get where we've gone and hope to keep going. It's a team effort and we're a family."
The family hopes to survive Warwick and advance to the regional championship against Section 4 champion Ithaca at the Wright National Soccer Campus in Oneonta on Saturday.
NWE/Putnam Boys' Pitch Poll
No.1 Yorktown – Huskers (15-4-1), ranked No.23 in NYS, are the kings of Section 1 Class AA for the first time ever, but why stop at that. Every win from this point forward is historical.
No.2 Somers – Tuskers (15-3), ranked No.14 in NYS, are not the club you'll want to bet against next year; not with all Coach Lanzetta returns. That said, the former defending NYS champion Tuskers will rue their lost opportunities in that 2-1 quarterfinal loss to Nyack, who is said to be much better than anyone gave them credit for. See their 2-1 championship loss in OT to Byram Hills for proof. P.S. Byram Hills knows soccer, eh?
No.3 Mahopac – Indians (7-9-1) were very competitive this season but they lose quite a bit to graduation.
No.4 Lakeland – Hornets (10-3-2) played every team in Class A as tough as you could when you factor in the injury bug that bit them.
No.5 Brewster – Bears (11-6) are in full rebuild mode with all they lose to graduation but this was a stellar campaign given their soccer history.