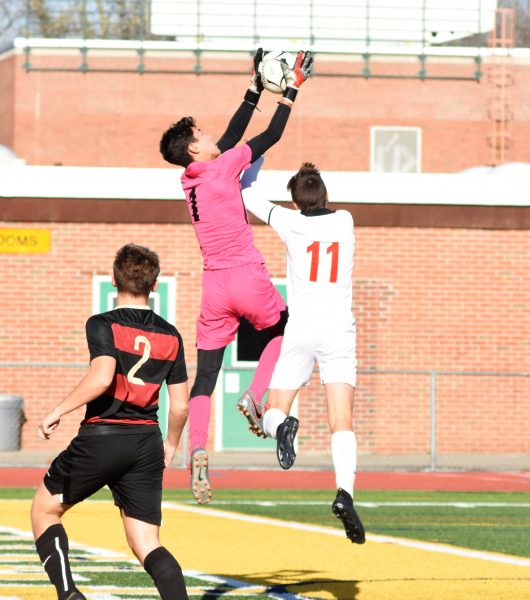 Ossining Crowned, Somers Downed in Section 1 Title Tilts
Pride's Evans Notches GWG in 79th Minute, Ends 41-Year Drought
Nothing is given, everything is earned when it comes to the Section 1 Class AA boys' soccer playoffs, and so Ossining's first sectional title since 1978 was more than deserved, given the field of fiery competitors it had to go through. The top-seeded Pride's 2-1 championship win over No.2 Mamaroneck came courtesy of Kevon Evans' second goal of the game in the game's 79th minute at Lakeland High School Saturday; a tally in which he out-willed four Tigers defenders.
One year after losing to RCK in the 2018 sectional finals, Ossining (17-2-1) has ended the drought that dated back to the Jimmy Carter era, the 39th President of the United States.
State-ranked (No.7) Ossining will face Section 4 winner Corning-Painted Post in the regional semifinal Wednesday, Nov. 6, 1:30 p.m. at the swaggy Wright National Soccer Campus in Oneonta.
After Mamaroneck (17-3) took a 1-0 lead, Evans answered back quickly with the equalizer with 8:28 left in the first half. Pride G Carlos Zabarburu (8 saves) laid out for two crucial saves down the stretch to keep the score even.
But it all came down to the foot of Evans, the hero of the day, after scoring the two biggest goals in school history, which came about through years of preparation by committed Coach Joe Scamarone and many others within the Ossining soccer community.
"Last year, we made it to the finals, too, but a lack of experience hurt us," Scamarone said. "Winning the championship didn't happen overnight. We've been working and preparing our players and teams for years through our local programs; starting from our partnership with Ossining AYSO that leads directly into our most prominent local club program Munay Soccer Academy, which we started many years ago. This feeds directly into our high school program.
"This process takes time and patience," he added, "but the importance is developing our players from a young age. Other schools have seen this system and are beginning to do the same, because they see the results. In the soccer world, you cannot expect results coaching players three months out of the year. Preparing players must be done year round, and this is why we were able to achieve a successful season."
#PrideMatters and Ossining will look to keep it rolling in upstate New York from here on out.
SOMERS (No.16 in NYS), the No.2 seed in Class A, felt as though it was robbed in a 3-2 Section 1 championship setback to top-seeded Rye (No.6). After Rye's Ata Arslan bagged the game-winning goal with 12 minutes left Saturday at Lakeland High School, the Garnets were hoisting their first sectional title since 1979, denying defending champion Somers its third title in four years.
Somers senior M Drew Lasher opened the scoring, taking an Ethan Cukaj assists 11 minutes into the game, with a hockey assist going to super soph Bennett Leitner, who got the play started and scored six playoff goals in the first three games. That goal preceded what looked like a goal by Somers sophomore Daniel Dippolito, but the goal was waved off for contact with the Rye goalie, a call that did not sit well with the Somers faithful, one of several. Rye then scored a pair of unanswered goals after the Lasher tally.
Dippolito made it a 2-2 game early in the second half, fueling short-lived hope.
Several coaches on hand afterward felt that if the Tuskers and Garnets played 10 times, they'd split the series 5-5. Fourth-year Somers Coach Brian Lanzetta was not among them.
"I think we scored quality goals, I think we played with high intensity and I think we did our jobs," said Lanzetta, who took issue with several questionable calls. "I'm just disappointed in the outcome because I think we are the better team and I'm sticking by that."
We're sticking to this: Somers, which defeated Pearl River, 4-2, in the semis, will be back here next year with yet another title drive in mind.
Ippolito, an emergent sophomore, scored twice while Lasher and Leitner added goals against the Pirates.