We are part of The Trust Project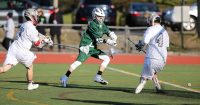 Class A Crapshoot There for the Taking, Who's Grabbing?
We are at the halfway point of the Section 1 lax season and the early data suggests the following: Class A is a crapshoot, with as many as four or five outfits in contention, led by state-ranked (No.14) Mamaroneck; Class B appears to be a two-man show between state-ranked (No.4) John Jay and No.6 Yorktown (some things never change); Class C is very interesting with state-ranked (No.9) Rye, No.6 Nyack, unranked and disrespected Hen Hud (#DontSnooze) and Pelham among the serious contenders; and Class D should be a rematch between state-ranked (No.1) Pleasantville and No.3 Westlake, though No.15 Briarcliff may have a say.
Of all the data we just threw at you, the most surprising thing is no mention of two-time reigning Class A champion Lakeland/Panas, which has befuddled laxers from Shrub Oak to the Sound Shore where Mamaroneck fully expected Coach Jim Lindsay's Rebels (3-6) to be a legit factor. A combination of issues – health and youth among them – have the Rebels barking up the wrong tree, and it's getting close to the point where things have got to change in a hurry if L/P is to three-peat for the first time in program history (Lakeland did so in 1991 before combining with Panas). Still, Class A is down this year, way down by its standards, and, there's an opening there for someone to swoop in and provide a challenge to Mamaroneck (7-3), who is hardly a sure thing with losses to Pleasantville and Rye under its belt.
"I believe we can overcome this adversity," L/P sniper JoJo Janavey said. "I think the schedule we are playing will greatly benefit us going forward. TJ Bryan and Tom Barnett are coming back later in the season, but there is no excuse for not coming out and playing our best lacrosse."
Might Mahopac be willing to take a run at that Class A crown, what would be their first since 2011, which seems like an eternity ago? Might Coach Joe Buccello's Indians (6-2) be the team we're all overlooking? The Indians looked the part for the first 20 minutes against Pleasantville, the reigning Class C champs, but they collapsed in the second half of a blowout loss, so it'll take some doing for Mahopac to get past someone like Scarsdale in the semis, but it's suddenly a very conceivable notion.
NWE/Putnam Fab Five Lax Poll
No.1 YORKTOWN – Did the Class B Huskers ever show the disparity between Class A and Class B in their 20-1 beatdown of Scarsdale or what? I mean, that could've easily been 30-1 if Coach Carney goes all jugular on the Raiders. How bout them Embury boys going all ballistic with Jamison Embury (21G, 30A) notching five goals and one assist while Hunter Embury (28G, 7A) added three goals and three assists, which they likely could have doubled if they stayed on the field. 87 points between them, jeez!
No.2 HEN HUD – If Connor Gallagher is going to tickle twine four times like he did in the Sailors' 11-5 win over Stepinac Saturday, maybe folks will finally notice these Class C Sailors (8-1), who have now won six in a row and can no longer be ignored. Villanova-bound Austin Fraser added three goals and one assist and Bryce Caffery netted a pair of goals. Lefty-cranking Max Popolizio doled out four assists and G Vinnie Bell made 10 saves, so what's it gonna take for these athletic Sailors to creep up in some other rankings.
No.3 SOMERS – Tusker A Vincent Cartelli made it rain when he poured in seven goals in a 12-11 loss to Bronxville, and wingman Brandon LaSpina added four goals and an assist, but this is a game the Class B Tuskers (5-5) gotta have if they expect to break bread in the Final 4 #NoExcuses #BetterBeThere. Here's the challenge, go 4-2 from here on out and secure a top-4 seed.
No.4 MAHOPAC – The Class A Indians (6-2) are on a bit of a roll now after a 14-6 win over Fairfax (VA.) and young Tommy Elliott is about to bloom, which is good news for anyone that knows anything about the current state of Mahopac lax. His old man has put in the time from the ground up and his four goals and one assist were quite the spectacle Saturday. Senior Ryan Dugan, who will pass the torch to Elliot, added three goals, and James O'Brien added two goals and three assists. Mark Carey finished with two goals and one assist for a team with a lot to prove down the stretch and a Class A title there for the taking #WhyNotUs.
No.5 LAKELAND/PANAS – An 11-7 win over Wappingers fuels some hope here as JoJo Janavey's four goals facilitated the end of a four-game freefall. Regan Fallo did what he needs to do the rest of the way by adding one goal and four assists. Steve Magarelli scored twice for the youthful Rebs (3-6), who really need to put up the rest of the way.
HM PV/OSSINING/HALDANE – The Pride are 6-1 and could be that monkey-wrench team that break up a Class B bracket. They haven't beaten anybody any good yet and did lose by a goal to Put Valley (4-5), which plays a much tougher schedule and could be Final 4-bound in Class D, but 6-1 is worth a mention since it indicates major effort. Same goes for Haldane, which has yet to lose at 6-0, but has some tougher tests ahead.