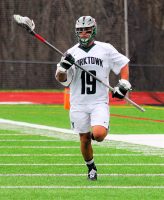 Lakeland/Panas, Yorktown, Hen Hud all in Title Hunts
Rebels, Huskers, Sailors all Favored to Reach Respective Finals in Class A, B, C
It almost sounds like it's 2006 all over again… the rumblings around Section 1 and the chatter out of John Jay (Cross River) are eerily similar to 12 years ago when the Indians knocked off Yorktown for the Section 1 Class A championship; one of just two times the Huskers haven't won it all since 1997.
But, 2006 and 2010 – when Lakeland/Panas shocked Yorktown in overtime – are more an aberration than the norm, but we won't know for sure until May 29th at Lakeland High School, home of the 2018 Section 1 lax championships.
And after winning their 40th Section 1 championship last season, Yorktown Coach Sean Carney's Cornhuskers are keenly aware of the noise coming out of John Jay, which is a legitimate threat this season with all the Indians return. If ever there were a year for Jay to defeat Yorktown for just the second time since in Section 1 playoff history, now would be the time to do so; considering they are stocked with several seniors with All-American ability. Not to mention; the Harry Griff era will soon dawn at Yorktown, and they tell me this eighth-grader does things with his stick that only a handful of Huskers ever have, so John Jay best man-up now if it is going to swipe a title from seven-time NYS champion Yorktown.
But the 2018 Yorktown team belongs to senior All-American Brett Makar, who is used to going out on a high note and also holds an eight-goal difference between his Huskers and the Indians back in last year's title tilt; not to mention 15 consecutive wins by Yorktown over John Jay.
So, yeah, Yorktown is still the favorites to win their 41st Section 1 championship, and with that notion in mind, no Section 1 lacrosse preview should begin with anything but…
CLASS B
YORKTOWN (17-5, NYS runner-up)
Attack: the unit return two starters in Marist-bound senior Jamison Embury (51G, 32A) and junior Shane Dahlke, two of the section's premier snipers. There are several others looking to crack the top three and get within the rotation, including senior Michael Broder, junior Reese Andrews and talented sophomore Alex Debenedictis.
It's no secret that one of the last three mentioned will have to ramp up their game to complete this unit.
Midfield: the same can be said for the midfield where seniors, Marist-bound Hunter Embury (41G, 12A), and Justin Comerford, saw plenty of burn last season, but the piper calls for junior Keegan Doller, sophomore Tim O'Callaghan, senior Richie Giannasca and freshman Blake Borges.
The short-stick D-mids include seniors Christian Torres and Thomas Cane, plus junior Brendan Williams, who will also take draws. Williams is key on account of the fact that possession is vital, especially against the likes of Lakeland/Panas and John Jay (in-section) and the difficult non-region schedule.
Defense: perhaps the hub of the Huskers. Conceivably, no other team in Section 1 can boast the likes of seniors All-American Brett Makar, All-Section Brandon Meyreles, and HM All-Section Conor Koelsch. All three were starters last year and will hold down the fort this year.
Goalie: the unit in front of senior All-Section HM G Louis Ragusa, who started every game last season, is legit, and so is the netminder.
"We have a lot of underclassmen who are looking to pick up time on defense as our poles are very deep with hard working young men," Coach Carney said. "The competition for time is ongoing and will be all season."
Junior F Dan O'Meara will push the 'Goose' for time, as he is an excellent stopper with a different skill set.
"Our key newcomers include the third attackmen, whether it's Broder, Andrews or Debenedictis, who will be put in to a key spot on our offense," Carney said. "Midfielders with smaller roles last season will need step into larger roles; such as Comerford, Doller, O'Callaghan and Borges. We have some talented young poles who will push for time, which is hard to come by with three returning starters off a state finalist team."
Outlook: The goals for season remain the same every year for the seven-time NYS champion Cornhuskers: To get better each game by playing as hard a schedule as possible; secure a sectional title and make a run at the state jewel. That never changes.
"Look at John Jay, though, they could be a favorite in Class B," Carney admitted. "They are legit."
Despite the obvious "coach speak", very few objective folks are willing to go out on a limb and call John Jay 'the favorites' (based solely on history, we suspect), but the Indians might just be the team to beat if Duke-bound LSM Braden Burke can return from a serious leg injury that sidelined him last season.
Coach Carney knows he has a solid unit, one that will be one of the last two standing on May 19th at Lakeland High, home of the sectional finals this season.
"It will take us time to gel," Carney said, having lost All-Americans D Jose Boyer and M Kyle Casey, "but we have been going since December and we expect same things every season."
Yorktown, in addition to aforesaid Griff, has some additional younger players who are closer to "varsity-ready", including freshmen Borges and Keith Boyer, the kid brother of two-time Husker All-American Jose Boyer.
The cupboard is never empty at Yorktown, which is why nobody has the stones to pick against them, but if ever there were a year to consider doing so – with all that John Jay returns – this might be the year. Chances are, though, the Huskers will pin stuff like this on their fodder board and go about the business of winning No.41.
"Over the past couple of years, the best formula is to take it one day at a time," the Maryland-bound All-American Makar said. "It's nice to think about making it back to the big dance, but right now I don't see how we could with the schedule we play. Section 1, as always, is going to be the most competitive section in the state. From March to May, we are playing the best teams in the country and every time we step out those teams are going to be giving us their best shot. We got some returners and some new faces ready to make an impact."
BREWSTER (5-12)
Bears Coach Mike Honey is a realistic man. He knows that competing in a league with John Jay CR, Lakeland/Panas and Somers is rough enough, but when you mix in Arlington, Hen Hud and Fox Lane that, alone makes for six highly competitive challenges for a youthful Brewster outfit that will start a new era, minus Jack Guida.
Returning Starters: Middies Mike Buonadonna and Josh Nelson join A Kevin Moroney and senior D Tim Meissner and D Tyler Smith as the only returning seniors. Junior A Pat Feehan and junior D Brendan are also veterans looking to get Brewster back where it belongs.
Coach Honey also expects contributions from junior A Bobby Conklin, M Chris Blaser (face-offs) and junior A Chris DiBiase.
Outlook: The young guns are expected to be hungry and ready to accept their roles, including sophomore D Sam Lowe, sophomore M Malcolm Norquist, and three freshman D Jason Bosari, D Franco Milano and G Billy Finn. I they can't hold their own, it'll be another rough year in Bear Country.
"We are a mix of returning kids and young talent," said Coach Honey, who's Bears haven't reached the Class B finals since a 2008 loss to John Jay CR and hasn't won it all since a 1999 win over the same Indians. "We hope to grow as the year goes on and improve each week. We hope to be competitive in our non-league schedule, but playing a league with John Jay, Somers and Lakeland/Panas is tough."
There was a time from 1997 to 2008 when the Bears were an elite program, competing in five championships and garnering section-wide respect, but those days are a distant memory and it would take quite a bit just to reach the Final 4 in 2018.
SOMERS (10-8)
Tusker Coach Vid DeGregorio, another former Yorktown player spreading the lax love, saw 19 seniors graduate, leaving the program with just five players with varsity experience, and a defensive unit that is as untested as the day is long. It's been a few years since the Tuskers were the program that was regularly competing for a Section 1 title, the last one coming in 2009 upon the conclusion of the JoJo Marasco era.
Attack: the ball will find the stick off senior M/A Vincent Cartelli (52G, 14A) early and often. Opposing poles will surely look to lock off the Tusker veteran.
Midfield: key seniors are Ryan Elliot and Cameron Pepe, plus junior face-off man Conor Jakus.
Defense: an entirely new defense includes a pair of football players who are picking up lacrosse sticks, including seniors Kevin Olifiers and Vinny DeFillipo (short stick D-mid). The rest of the defense are solid novices, including Michael Nykos, Brian Olifiers, Kyle Malisse, Jason Weiss, Trevor Spadafora, Brian Marcus and Luke Collins.
Goalie: senior Tyler Carr is a stout last line of defense.
Outlook: Cartelli is going to need some help, so someone has to step up alongside him. If not, the Tuskers could be in for a sub-Somers season. It wasn't that long ago that the Tuskers were among the cream of the crop, winning six sectional titles between 2000-09, but, through no fault of coaching, they haven't measured up to their own standards in recent seasons and would likely be the first to admit it.
"We're working on best combinations right now," said DeGregorio, now in his fourth year at Somers. "We're also looking at some very talented 9th and 10th graders as well. We have been on blacktop in the freezing cold and getting after each other every day, and this group has shown toughness and grit already, and good team chemistry."
CLASS A
LAKELAND/PANAS (18-3, lost in NYS semis)
With all the magnificent history surrounding this highly-respected program, the one thing Lakeland/Panas hasn't done since combining back in the early '90s is win three-straight Section 1 Class A titles. Lakeland (alone) did so back in 1991, the end of the Hornets' Ric Beardsley era, and the combined Rebels have won three of the last four titles, but this year they are on the cusp of something historical: Three in a row!
"I think this team definitely has the ability to pull it off," said senior All-Section sniper JoJo Janavey (61G, 22A), who is on the verge of becoming one of the program's most prolific scorers. "We have to want to go out a beat the blue-chip teams of the section. If we aren't going for gold, there's no point in doing what we are doing. With that being said, we need to listen to our coaches and the experienced guys of our team in order to be successful. We will see how bad we really want it after the first couple of games: How this team deals with adversity and how fast we grow up and learn to play together."
Attack: Regan Fallo, Alex Davoli and Captain Janavey create a formidable trio, but someone besides Janavey, who has 128 career goals (70 shy of L/P and Syracuse All-American Sean Lindsay's record of 198) in two years, has to step up to initiate another consistent scoring threat.
Midfield: Steve Magarelli, Matt Hodges, Sean Laukaitis and junior faceoff man TJ Bryan are a more-than-serviceable unit and Bryan could be a big-time, make-it-take faceoff man if he stays healthy.
Defense: The Rebel poles include Captain Tommy Briscoe, Dylan Semenza, Joe Walsh, Josh Hirsch and Ryan Brannigan
Goalie: J.P. Walsh is in his first year as a starter and has some big shoes to fill, as the last two Rebel goalies – Mike Zingaro and Kevin Dyckman — have been sensational, next-level players.
Outlook: If L/P is going to three-peat newcomers like Davoli, Brannigan, Delamonica, Hirsch and young Mason Nocito are going to have to come of age quickly.
"Our goals are the same every year," Rebel Coach Jim Lindsay said. "We want to beat Yorktown in the Murphy Cup game and be in a position to win the sectional championship. That never changes."
Mamaroneck and Scarsdale are said to be two of the prime-time contenders in Class A this season, and whether it's gamesmanship or not, Lindsay believes Mamaroneck, among the best programs in the section since 2012, is the team to beat.
MAHOPAC (8-10)
First-year Indian's Coach Joe Bucello knows his way around a lax field. The former Yorktown goalie intends to bring 'The Husker Way' to Mahopac, instilling a culture that breeds success and a family-oriented atmosphere.
The first order of business will be getting the Indians back on the skids they have fallen off of in recent seasons. Lacrosse has, dare we say, become cyclical at Mahopac; a place where they were once accustomed to nothing but competing for championships: Nine Section 1 titles and 16 championship appearances since 1989. Mahopac's last advancement to the finals was 2015 when order seemed restored with the Indians appearing in three title tilts between 2011 (their last championship) and 2015.
But the last two seasons fell short of expectations and the recent coaching change has left the program scrambling for stability with just a few short months to get things in order.
Attack: The trio is led by All-Section senior Ryan Dugan, a three-sport stud, Tommy Elliot and James O'Brien.
Midfield: senior Mark Carey saw major run last seasonJack Sarfaty Brendan Diorio
Defense: the poles are a fairly solid unit, including Zachary Puckhaber, John Dundon and Tim Cegielski.
Goalie: junior Michael Argila is battle-tested and kept the tribe in game last season while under attack.
Outlook: Coach 'Booch' is hoping that a group of sophomores, highlighted by M Zach Esteves, D Ian Hamilton, D Michael Kertelits, D Aidan Martin and M Andrew Riolo help provide some light at the end of the championship-less tunnel. Senior M Joe Dalo should provide some additional grit in his first year.
"We just want to find our best level of lax and be ready by playoffs," Bucello admitted.
The Indians have several strengths, according to Coach Booch, who expect the leadership of Captain Dennis Dowd to be a strong point.
"Dennis is one of the guys who will be taking face-offs for us along with a few other guys. Although, he is not our best players he is a leader. He cares about the program more than anyone does and he does everything right.
"I'm very comfortable with these guys I've coached all them before and feel we will hit the ground running," he added. "Our strength will be our team attitude vs. self-attitude, and the fact that anyone of our guys can take over a game. If you want to shut off Dugan, that's fine with him. He will watch Mark Carey and Tommy Elliot tickle the twine. We also play solid team D as unit. We have a solid nine guys both long and short sticks that take a ton of pride in their defense."
Defense, like it was last year, just might be the difference in wide-open Class A this season, as it appears as though a handful of challengers can reach the Final 4. Mahopac could be among the group of legit contenders, including defending champ Lakeland/Panas, Mamaroneck and Scarsdale, if the defense can hold its own.
CARMEL (9-8)
First-year Rams Coach Matt Caione is no stranger to winning lacrosse. Having won multiple sectional titles at Yorktown and a national crowning at Syracuse, Caione knows his way around a lax green. His assistant, Paul Brennan, was the former head coach, but the two have swapped since Brennan took over the Carmel basketball program last winter.
Project Starters: The Rams have four returning starters in marquee players: Henry Flocco, Sr., A; Grant Richardson, Sr., D; Hood College-bound Richard Duffelmeyer, Sr., M and Roger Williams-bound Jaden Pellino, Sr., M. Those four have seen their share of triumphs, but in order for Carmel to be taken seriously they need to start beating teams the Rams are not supposed to beat.
"Our team's goal is to get better every time we touch the field, and to do all the little things right," Caione admitted.
Key Newcomers: Ryan Beauchesne, Sr., G; Matt LaFontaine, Jr., A; Aidan Babnik, So., A; Michael Storen, So., D; Mack Hedman, So., LSM; Chris Caraceni, Jr., M; Ryan Taormina, Jr., M; Ethan Santalone, Jr., M; Nicholos Heis, Sr., M; Richard Keating, Sr., M/D; Tyler Allocca, Jr., D; Cameron Beneway, Jr., D, Logan Burdick, Sr., D and Sean McDonald, Sr., D.
Outlook: We say it every year; that maybe this is the year the Rams turn a serious corner and begin by contending for the league title, but the league has gotten to the point where that doesn't seem feasible any time soon with Mahopac, Class AA runner-up Wappingers and Arlington all vastly superior in skill sets and know-how. Maybe Caione can tap into something nobody else had, but it'll be another year of also-ran status until the Rams can up their game to the next level.
CLASS C
HEN HUD (7-10)
The reclassification throughout the state has placed Coach Ryan LePore's Sailors in some company they can contend with, including perennial power Rye, an early favorite, Eastchester, Pelham, Byram Hills, Sleepy Hollow, Pearl River, Lourdes, Nanuet, Ardsley and Edgemont. Most folks are tabbing a Hen Hud vs. Rye championship on May 29th at Lakeland High, but pre-season pundits have been known to jump the gun.
The Sailors, who have never won a Section 1 title and last competed for one in 2012, have a lot to prove and improve upon if they are to be among the last two standing. The 2017 campaign was generally considered to be a disappointment, but they return in full health this season and an eye on the chip.
Attack: a potentially lethal unit in juniors Max Popolizio and Connor Gallagher (69 points), and grizzled senior veteran Austin Fraser, who can flat-out finish.
The Villanova-bound Fraser, upon his return from an injury-ravaged 2017, should have a monster year.
Midfield: the unit includes seniors AJ Panella (34G, 6A) and Evan Morris, plus juniors Bryce Caffrey (reliable, two-way M) and Mekhi Grey, a slick hooper by trade, who will surprise folks with his stick skills but not his athleticism.
Defense: a strength of the team, these poles are solid, including three seniors — Alan Jackson (128 GBs), Dylan Fraser and Mitchell Feldman SR — plus freshman Chris Connolly all in front of the cage.
Goalie: senior G Vinny Bell (7.6 GAA), who is one of the top netminders around and will play at Springfield next year, provides a stable, transitional force on the back line and a great communicator.
Outlook: There's no reason on earth why the Sailors should not find themselves in their first championship setting since 2012. Whether they have to goods to knock off Rye remains to be seen, as the Garnets are equally hopeful this season, having failed to reach the title tilt since 2010.
"We want this group to get better every day," Coach Lepore said. "We want them to learn from their mistakes, to continue to build and create a winning culture and compete for a sectional championship. There is a group of sophomores who need to get better each day and rise up to opportunities when they are presented. People are saying Rye is the favorites, so we'll have to see about that."
Fraser is a three-year veteran talent, who is confident in the Sailors' capabilities.
"Or defense is tougher than it's ever been," Dylan Fraser said. "We have a good combination of young talent and All-Section-caliber senior leadership."
CLASS D
PUTNAM VALLEY (8-9)
The new classifications have moved Coach Tim Weir's Tigers from Class C to Class D where some of the old "small school" guard will provide many of the same roadblocks PV has been dealing with since winning its last Section 1 title in 2010. The three-time Section 1 Class C champion Tigers were once a juggernaut, appearing in six of seven championships from 2004 to 2010, but the well has run surprisingly dry.
Pleasantville (17-5) topped rival Briarcliff in the Class C final and lost to Cold Spring Harbor in a NYSPHSAA semifinal for a third consecutive season, and the Panthers are the overwhelming favorites and the team to beat in Class D this season with the majority of the team returning. Bronxville, the former Class C power and still a heavyweight contender, is also in Class D, leaving Putnam Valley no better than No.3 in the pre-season shakedown. After six-straight appearances in the Section 1 title games, four consecutive championships 2011-14 and a state title in 2014, Bronxville (15-4) was denied entry into the title tilt last season, so either the Broncos have come back down to earth or they return with a vengeance this season with the addition of former Brunswick star and Michigan-bound Griffin Gelinas and six returning starters under 11th-year Coach Tim Horgan. Either way, Putnam Valley will have to contend with Bronxville and Pleasantville to gain admittance into prime time.
Attack: The unit is young but improving. Lucas Colavecchio, 6'1" 185-pound Kyle Wassil, Joey Macquignon and Jack Longdon are all battling for three starting spots.
Midfield: This is a strength, according to Weir. A healthy Joe Vandeveerdonk, All-Section HM Captain Mike Nolan (22G, 18A) and Kevin Gallo will serve as the primary mids. "We have depth at the midfield position and we will run seven middies," Weir said.
Defense: Captain Tim Sainz, Buddy Pateman and Cam Carroll are the close defenders with Danny Clements, Owen McDonald and Jaycen Fowler at LSM.
Goalie: a healthy Travis Anderson, an experienced senior, is back between the pipes with an improved unit before him. A captain, Anderson is tired of the losing seasons and aims to turn that around.
"Yeah, we're coming out hungry and gonna show that PV Lax should be back on top," Anderson said. "We got a chip on our shoulder, so we're gonna fight like hell. We're not going down easy this year."
Outlook: With each passing year it gets tougher and tougher to get the program where it once was: at the top of Class C and among the elite programs in Section 1 prior to 2011. Truth be told, the Final 4 is a realistic goal this year. How attainable that is remains to be seen, but the Tigers should be much improved over last year.
"Our goals are to improve every day and be in position to play for a sectional title at the end of May," said Coach Weir, now in his second season in the Valley after a terrific career at places like Lakeland/Panas, Scarsdale and the Irish National team. "We have some newcomers who can make a splash, including freshmen midfielder Garrett Leitmann and sophomore defensemen Cam Carroll. Pleasantville is still the team to beat, though. We're very excited to get this season going."
NWE/Putnam Fab Five Pre-Season Lax Poll
No.1 YORKTOWN – No denying the inevitable until someone knocks the Huskers from their perch.
No.2 LAKELAND/PANAS – Very interested to see if the Rebels have the sustenance to pull off a three-peat for first time in L/P program history.
No.3 HEN HUD – The first and only Section 1 title in school history awaits.
No.4 MAHOPAC – A couple of lean years in a row, a first-year coach and a learning curve could add up to another sub-Mahopac campaign for a program that owns nine Section 1 titles and 16 championship appearances since 1989.
No.5 PUT VALLEY – Was a time when the Tigers fancied themselves a "lacrosse school" but its been seven years of fruitless results without so much as a whiff of a championship appearance since 2010… we'd settle for a Final 4 at this point, their first since a 2015 loss to Pleasantville.
No.5A SOMERS – Coming off a 10-8 2017 season while reaching the Class B semis and losing a ton to graduation, we just don't know what to make of the Tuskers, who haven't won it all since 2009.
Section 1 Leagues
Conference I
League A: Arlington, Carmel, Mahopac, Wappingers.
League B: Mamaroneck, New Rochelle, Scarsdale, White Plains.
League C: Clarkstown North, Clarkstown South, North Rockland, Suffern.
League D: Fox Lane, Greeley, Ossining, Yorktown.
Conference II
League A: Albertus Magnus, Nanuet, Nyack, Pearl River, Tappan Zee.
League B: Brewster, John Jay, Lakeland/Panas, Somers.
League C: Byram Hills, Eastchester, Harrison, Pelham, Rye.
League D: Ardsley, Hen Hud, Lourdes, Peekskill, Sleepy Hollow.
Conference III
League A: Briarcliff, Croton, Pleasantville, Westlake.
League B: Blind Brook, Bronxville, Edgemont, Keio.
League C: Dobbs Ferry, Hastings, Irvington, Yonkers.
League D: Haldane, North Salem, Pawling, Putnam Valley.