We are part of The Trust Project
Lakeland/Panas Puts it to Mahopac, 11-4, in Clash of Titans – Hen Hud Routs Brewster; Yorktown Falls to Chaminade, Beats Mahopac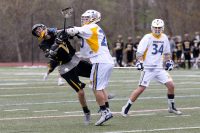 Undefeated LAKELAND/PANAS (7-0) has established itself as the clear-cut favorites in Class A this season; the team to beat if you will. With wins over established powers Mamaroneck earlier in the season and an 11-4 pasting of MAHOPAC last Saturday, Coach Jim Lindsay's reigning champions are looking to win three out of the last four Section 1 titles for the first time since Lakeland three-peated back in 1991.
The Rebels took a 1-1 game against Mahopac (2-6) and went off the hook, scoring the next six goals for a 7-1 lead before the Indians knew what hit them. L/P's artillery was endless as the Rebs came in waves, including Sean Makar, JoJo Janavey (3G), Tim Fallo, Matt Hodges (3G), Steve Magarelli (2G) and LSM Griff Shiland (2G, 1A), who transitions as well as anyone in Section 1 this season.
"Griff has been playing great, and we'll see what happens going forward," Lindsay said. "We've got some very good teams left on the schedule with some tough matchups for him to deal with. Great group of kids, been working very hard, will have a better idea of how good we really are over the next two weeks, but this was a big win for us."
Mahopac got two goals apiece from George Weiss and Andrew Evans, who won 13 of 18 draws.
Lindsay's Rebels are officially the hunted while the Indians, losers of six straight, need to stop the imminent bleeding…
YORKTOWN (5-3) accepted a challenge from nationally-ranked Chaminade last Saturday and while the Huskers came away an 11-10 loser to the Flyers, Coach Sean Carney was stoked to see his team competing like it did against a club of this caliber. Yorktown will be one of the last two standing in Section 1 Class B this May; there's very little evidence to suggest the reigning six time champions won't be in the hunt for their ninth title in the las 10 years.
If there is anything worrisome for the Huskers, it's slow starts and costly penalties. Jamison Embury (4G, 1A), Kyle Casey (1G, 3A) Hunter Embury (1G, 1A) and long stick Brett Makar (1G, 1A) led the Huskers, who also defeated Mahopac, 12-6, last Tuesday…
HEN HUD's AJ Pannella had the kind of day a kid dreams about when he dropped a six-pack (and 1A) on BREWSTER in the Sailors' commanding 17-9 win over the Bears (2-7), who stopped the skidding in a 19-2 win over Pine Bush Saturday behind Jack Guida (4G, 1A).
"AJ is such a good kid," Sailor boss Troy Lepore said. "He finished and moved well off ball and his teammates were able to find him. To keep his success moving forward he must be locked in and continuing doing the fundamentals the right way. We're glad to see he's been productive as of late."
Bryce Caffrey (3G, 1A), Connor Gallagher (2G, 2A), Max Popolizio (2G, 2A) and Evan Morris (2G) each had two or more goals for the Sailors (3-4), who had their two-game win streak snapped in a 7-4 loss to Wappingers (7-1). Don't be surprised if Wappingers enters the Class A tournament at 14-2 but pump the brakes on them because the Warriors lack quality wins. We'll find out more in the days ahead when they take on both Mahopac and Lakeland/Panas…
SOMERS (4-5) had ripped off three wins in a row over Mahopac, Arlington and Pleasantville before a 9-6 loss to improving Stepinac. Tusker Coach Vin DeGregorio admitted that a top-heavy schedule, which included losses to Class B powers Yorktown and John Jay, plus heavyweight Rye and CT power Greenwich, have done nothing to diminish the confidence of his club.
"We knew what we had when we saw the schedules come out," DeGregorio said. "We know what it takes to compete in May, the speed of the game and the skill of the opponents we can expect to see in the playoffs. We're okay."
In a 9-8 win over two-time defending Class C champion Pleasantville, Tusker G Tyler Carr was a busy beaver, making 16 saves. Graham Roediger pulled a hat trick in support. Somers led 9-3 through three in a dominant effort. Vincent Cartelli added two goals. Connor Gill and Michael Cliff each finished with one goal and two assists.
NWE/Putnam Examiner Lax Poll
(Includes only teams in coverage zone)
No.1 YORKTOWN – Until proven otherwise, the combination of speed, power, experience at both ends, and coaching guile, makes the state-ranked (No.4) Class B Huskers the team nobody in Section 1 can beat, which doesn't necessarily make them unbeatable, which is the current train of thought in places like John Jay and Lakeland/Panas.
No.2 LAKELAND/PANAS – The buzz you hear in the Yorktown/Shrub Oak area is the exchange of beliefs stemming from the upcoming May 5th Murphy Cup encounter; whereby the state-ranked (No.5) Class A Rebels say they can win for just the fourth time since 1990 and the Huskers say no way, dude!
No.3 SOMERS – Clearly, nothing less than a Final 4 Class B appearance would be acceptable, but why settle when you can do so much more.
No.4 HEN HUD – Three recent losses by Class C powerhouse Pleasantville — to top-notch foes, mind you – has to have the improving Sailors thinking "Why not us?" in Class C this year.
No.5 MAHOPAC – Will the Indians stop the bleeding before May 5th when upset-minded Carmel (6-2) plays host with visions of history in their heads? Stands to reason this could, at the very least, be a competitive game for the first time ever between the crosstown rivals; though Evans should provide a serious edge in possession, which should enable the Indians to survive the improving Rams.