We are part of The Trust Project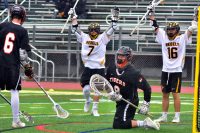 No.7 Lakeland/Panas Seeking 1st Three-Peat Since 1991
Janavey Creeps Up All-Time Scoring List in Rebel Rout of White Plains
When your name enters into the same sentence as Kieran Carney, Jim and Sean Lindsay, plus Kevin, Brian and Conor Prunty, you've put yourself in pretty good company, considering five of the six were high school All-Americans. By scoring three goals and assisting on two more in seventh-seeded Lakeland/Panas' 15-3 Section 1 Class A opening-round playoff win over No.10 White Plains (7-10) last Saturday, Rebel senior A Jo-Jo Janavey moved into the top five on the all-time Lakeland/Panas scoring list with 218 points (155G, 62A), passing L/P Coach Jim Lindsay and 2015 grad Kevin Prunty in one game, and trails only Sean Lindsay, Brian Prunty, Kieran Carney and Kevin Prunty on the all-time Lakeland/Panas scoring list.
There are other players with more flash and dash than Janavey, but for three years he has filled a role for the Rebels, serving as a sniping finisher, with a side of humility. His Rebels (6-10) were doing work at both ends of the field against White Plains and advanced to face No.2 Scarsdale in today's sectional quarterfinals, with the winner advancing to take on the survivor of No.3 Mahopac/No.6 Arlington in Thursday's semifinal round. The Class A title is set for May 30th (4:30 p.m.) at Lakeland High School where the two-time defending Section 1 champion Rebels are hoping to three-peat should they survive and advance.
"We can't even consider that yet," Coach Lindsay said. "There's so much more to do, but today we were more unselfish and didn't hold onto the ball as long as we've been doing. The kids also moved well off ball and had a better understanding of where they're supposed to be and what we were trying to accomplish on offense. The kids rode hard today, generated a lot of turnovers and that helped to break the game open."
Stephen Magarelli finished with four goals and three assists to lead a balanced Rebel attack. Reagan Fallo added three goals and three assists while Matt Hodges and Janavey each finished with three goals and two assists. Hodges scored all three en route to a 9-1 halftime lead.
"This is the result we've been waiting for," the Mercy-bound Janavey admitted. "Hopefully, we can build off this and continue to move on."
After playing well in the opening round and losing by a goal to top-seeded Mamaroneck to close out the regular season, the Rebels are hoping to defeat Scarsdale for a second time this season and maybe set up a semifinal border showdown with No.3 Mahopac, something reminiscent of the old days when the Rebels and Indians were routinely challenging one another for Section 1 supremacy…
CARMEL M Jaden Pellino scored twice for the 12th-seeded Rams (5-12), who had just nine shots on goal, in a 17-5 season-ending loss to No.5 Fox Lane, which is something of a serious dark horse in the Class A race. In Matt Magnan (6G, 3A), the Foxes have the finest player in Class A on their side, one who could cruise to an All-American nomination if the Foxes (7-9) can sustain a run.
CLASS B
BREWSTER, the No.9 seed, advanced to the quarters after a 15-4 win over No.8 host Ossining (8-8). Bobby Conklin (3G, 1A), Mike Buonadonna (3G), Charlie Russell (2G, 2A), Pat Feehan (2G, 2A) and Kevin Moroney (2G) led the Bears (6-10), who advanced to face No.1 John Jay (11-4) last night…
The rest of the Class B locals all drew first-round byes.
CLASS D
No. 6 PUTNAM VALLEY cruised to a 14-6 win over visiting No. 11 Hastings last Saturday when Lucas Colavecchio and Joey Macquignon each found the back of the net four times. Senior M Mike Nolan added one goal and three assists while Alex Sirico notched two goals and Kevin Gallo set up three. Put Valley advanced to face third-seeded host Bronxville today in the quarters.
NWE/Putnam Fab Five Lax Poll
No.1 YORKTOWN – Second-seeded Class B Huskers (12-3) are the team to beat and only those with brass stones would bet against them when they square off against No.1 John Jay CR in the Class B finale. This pollster does not have such stones and suspect No.10 Clarkstown North and either No.3 Harrison or No.6 Somers to fall by double digits en route to the finals. Class B has been a two-horse race since Day 1 and that is not about to change.
No.2 HEN HUD – Top-seeded Class C Sailors (15-1) was set to take on No.21 Nanuet last night in what should've beeen a laugher, before taking on the No.4 Ardsley/No.5 Pelham survivor in the semis. Finals are set for May 29 at Lakeland High School (7 p.m.). We've been saying since Week 1 that it would be Hen Hud vs. No.2 Rye for all the marbles, what would be the first title the Sailors have ever savored #DontSnooze #GetErDone
No.3 LAKELAND/PANAS – Class A Rebels (6-10) saw middie TJ Bryan dominate the draw box against White Plains and he could give L/P the razor's edge as the Rebs seek to three-peat for the first time since 1991.
No.4 MAHOPAC – No.3 Class A Indians (11-5) are in this to win it and with a sub-par, wide open field of foes, there's no reason to feel otherwise. That said, there's not a team the league champion Indians can look past, including No.6 Arlington today, nor the winner of L/P vs. Scarsdale. It's been seven years since the Indians hoisted the hardware in 2011, which is far too long for a program of such tradition. End this nonsense now or die trying!
No.5 SOMERS – Class B Tuskers (7-8), seeded No.6, have No.3 Harrison standing between themselves and a Final 4 appearance. There was a point in time, not long ago, when this would be a foregone conclusion, but the Tuskers are no longer the perennial power they once were.
HM PUTNAM VALLEY – Sixth-seeded Class D Tigers (9-7) are essentially laying the ground work for what should be a brighter future, but getting past Bronxville today is a tall order.