Boys' Hoops Notebook-Putnam County Lining Up 3 Potential County Center Suitors; PV's Basso Establishes School Record for Points in Game (31)
We are part of The Trust Project
There is a remote possibility that for the first time in history three teams hailing from Putnam County could find themselves at the Westchester County Center in late February-early March, but it could just as easily be none.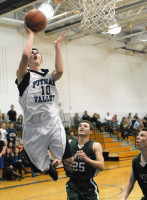 As one of just six Class C teams in the mix, it's entirely possible that Haldane High, currently the fourth seed, could get there as it often does. Class AA Mahopac, the 2012 sectional runnerup to seven-time champion Mount Vernon, is looking to get back for an unprecedented third-straight year as the current No.5 seed. And Putnam Valley, currently No.2 in Class B, is hoping for its virgin voyage to the Mecca of Section 1 hoops.
There's a lot that has to happen between now and then, but to have three of the five Putnam County schools representing at the County Center would be a pretty cool deal, considering it's never happened before.
From the looks of things, MAHOPAC (14-3), which defeated John Jay 67-43 for its third straight league title and fourth in five years, will have the toughest road to hoe. As it stands now, Coach Kevin Downes' Indians will be staring at a quarterfinal showdown with No.4 Arlington, for whom there is no love lost.
Mahopac, which got a strong effort from C John Vitkus (16 points and 11 rebounds) against John Jay, lost to Arlington back in Week 1 in the Lakeland tourney, but defeated the Admirals in the playoffs last season in a wild game. The big difference in a potential rematch might be the venue; Arlington (13-3) could play host should we be lucky enough to see a rematch if the current situation remains. Mahopac tuned up for that against John Jay, easily controlling this one with superior paint play. Junior F Ryan Simone added 12 points and nine rebounds while senior swingman Brendan Hynes dished and swished with equal effectiveness, finishing with 10 points, 10 rebounds and six assists.
PUTNAM VALLEY (13-2) shook off a slow start against Pleasantville to rally for a 41-38 non-league victory. Sophomore G Ryan Basso scored 14 points for the Tigers, who were coming off a 13-day break and a loss to Pawling, the current No.6 seed in Class B. Switching to a man-to-man defense in the fourth, Putnam Valley outscored the Panthers 14-2, permitting just two free throws while erasing an eight-point deficit.
"Good teams pull out the close ones," senior F Andre Soto said.
Junior C Jelani Bell-Isaac added nine points, nine rebounds, two steals and three blocks but barely scratched the surface of his game. There is so much more Bell-Isaac can pry from his game and it will be needed if the Tigers are going to secure a County Center berth.
The team has been very reliant on the rookie Basso, who dropped what was believed to be a school record 31 points in a 67-34 rout of Haldane Friday. The sharpshooting Basso hit four shots from downtown but the Tigers will need to solidify their interior game due to the depth perception at the County Center. First-time visitors often die there in a one-and-done outcome. Bell-Isaac will need to blow up in the paint if these history-making Tigers are to exceed expectations at this point. If 16 Class B teams were to qualify for the field, Coach Ed Wallach's Tigers would be staring at a difficult opening-round rematch with No.15 Pleasantville if the seeds hold true to form.
"We were a little rusty after the 13-day layoff," PV boss Ed Wallach stated. "But we pulled it out with our defense in the fourth quarter. We just locked them off. Kevin Fitzsimmons was outstanding defensively. Down the stretch we stopped them when we had to and that's the sign of a good team."
HALDANE (5-11) certainly didn't look the part of a County Center contender in either matchup with Putnam Valley this season. Matt Forlow scored 10 points for the Blue Devils, who had no answer for the Tigers' guard play. As it stands right now, Coach Virgadamo's Blue Devils could be looking at a quarterfinal matchup with reigning Class C NYS champion Tuckahoe (4-11) in the Class C quarters. There won't be a whole lot of people who would bet against Tuckahoe when it comes to winning when it counts, so maybe the Blue Devils have a tougher road to hoe than Mahopac.
NWE/Putnam Examiner-area Slick Six Hoop Poll
(Bracketology breakdown included, thanks to MSG's Kevin Devaney)
No.1 MAHOPAC – Coach Downes Class AA Indians (14-3) just keep answering the bell during this current 12-game win streak. Indians have the necessary ingredients to reach County Center: sufficient guard play, solid post presence, depth, shooters, slashers and a willingness to sacrifice any and all.
No.2 PEEKSKILL –Coach P's Class A Red Devils (12-3) saw Chavis Pigott emerge with a team-high 12 points and three assists in a 51-47 win over Panas. The Red Devils sit at No.5 in Class A right now, and something tells me they might get a look at No.4 Poughkeepsie in the quarters, which would be a rotten draw that might derail them. This may be the toughest Peekskill team to get a true read on in the last 25 years.
No.3 PUTNAM VALLEY – Coach Ed Wallach's state-ranked (No.18) Class B Tigers (11-2) will be going for a share of their first league title in a rematch with Pawling today. Obviously, if Put Valley fails in this spot at home, we've laid a whole lot of hype on what would be the Paper Tigers. P.S. Foul shooting could doom this team. Luckily, junior G Kevin Fitzsimmons has bailed them out twice with game-winning shots, including P'Ville triumph.
No.4 SOMERS – Coach Chris DiCintio's Class A Tuskers (13-3) took a shocking step backward last week in an 83-68 loss to North Salem, which pretty much solidified the fact that Somers better hope it doesn't face much beef in the tournament because they had no answer for 6'4" 220-pound bruising Umar Singh (37 points). Sniper John Decker did drop a career-high 44 for the Tuskers, who currently sit at No.6 after whipping Brewster, 63-32 Saturday.
No.5 PANAS – Coach Sully's Class A Panthers (9-6) gave Peekskill fits in a 51-47 loss last Wednesday, but it was the Red Devils who reasserted themselves as the frontrunners in the league while snapping a six-game Panther winning streak. Panas currently sits at No.14, hardly an enviable position considering 2012 Class B champion Albertus Magnus sits at No.3.
No.6 CROTON – Coach Thom's Class B Tigers (8-7) saw senior GIan Thom drop 23 points, collar seven rebounds and dish five assists in a 63-44 win over Pleasantville last Friday. Croton's all-time scoring and assists leaded hit 10 points during a pivotal 19-8 run in the final four minutes to sweep P'Ville this season. Jason Howald scored 10 for Croton. Peter Miller added 7 and 11 rebounds for the Tigers, who currently sit at No.6 but could drop to No.13 with any sort of flub down the stretch.
HM OSSINING – After losing by 19 to struggling White Plains, we'd be surprised to see Coach Khalid Sales' Class AA Pride (9-6) get past its first round opponent after dropping to No.10 in the bracket.
Section 1 Basketball Playoff Schedule
Feb. 11: Official playoff brackets are released
Feb. 13: Outbracket games, at higher seed
Feb. 15: Opening round games, at higher seed
Feb. 19-20: Quarterfinal games, at higher seed
Feb. 25-March 3: Championship Week at Westchester County Center (TBA)