Boys Hoops Notebook: Put Valley Guts out Lakeland Tourney Title over Carmel Ossining's Griffin Bursts onto Scene, Snags Sleepy MVP Nod
We are part of The Trust Project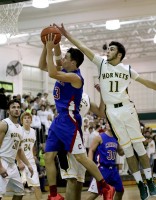 Class B Putnam Valley (2-0), by far the smallest school in the Carolyn Conroy Memorial Tournament at Lakeland High last weekend, conquered a pair of Class AA schools – Horace Greeley and runner-up Carmel — to waltz off with the tournament title behind an MVP performance from senior G Anders Spittal, an All-Tournament nod from senior G Harrison Deegan and an all-around solid team effort.
Without putting the cart before the horse, it can be said that Coach Mike McDonnell's Tigers asserted themselves as serious Class B title contenders after a solid second-half effort that led to a 37-27 victory over Carmel last Saturday and a 61-39 thumping of the Quakers last Thursday.
After a moribund first half against Carmel, the Tigers were a revenant pack against the Rams in the second half, spearheaded by senior F Joe Spinola who scored five quick point to trigger an 18-4 third-quarter run that sealed the deal for PV. Carmel smothered the Tigers in the first half, making the Tigers pay for every shot they took with a tough, aggressive brand of defense the Rams will need to play with all season. Carmel is short on pure finishers this season, and a tough defensive mindset is THE ONLY THING that is going to keep them competitive throughout.
"We don't have a whole lot of scoring we can rely on, so we need to bring it defensively," said All-League Carmel swingman Ryan Train (7 points), sporting a welt above his eye and some evident pain below the belt after mixing it up with the Tigers.
PV finally got things going in transition in the third quarter, with G Kevin Gallagher (4 points, 5 assists) sifting through the Rams to find open teammates; Spittal (12 points), Deegan (10) and Spinola (7). Charlie Pagani was a force on the boards for the Tigers. Dan Walsh (2 3's) led the Rams with eight points. Quinn Willman added five points while Train and Matt Haughney each plucked 11 rebounds.
In the Valley's opening-day romp of Horace Greeley, Deegan dropped a game-best 20 points, including a pair of slam dunks that electrified the PV crowd, which turned out strong both nights. Spittal went for 19 points, hitting on 4 of 5 from downtown.
Carmel is going to need well-round contributions like the one the Rams got in a 42-38 win over the Hornets in the opening round of the Lakeland tourney, including Ryan Train (10 points, 4 assists, 4 steals), Matt Haughney (11 points , 6 assists), Isaiah Fredericks (6 points, 3 assists), Dan Walsh (6 points) and Ryan Sullivan (4 points, 1 assist).
Lakeland was led by Nick Fazio (13 points, 8 boards), Trevor McCarthy (5 boards, 5 assists), Nick Jarosz (4 points, 7 boards) and Jaz Burton (8 points). We certainly expected a better showing from the Hornets, and fully expect them to turn around the disappointing start.
Yorktown 53, Panas 46
It was the Nick DeGennaro show as the Husker hotshot torched cords for 24 points (3 treys) while grabbing five boards and dishing five assists on opening night. Junior F Tanner Dyslin impressed in his debut with 11 points. Panas was led by Brandon Ramos, who scored 15 points and grabbed six rebounds. Brandon Hodge and Shakiem White went for 10 points each.
"Kind of what I expected; some good, some bad," Panas boss Shawn Sullivan said. "Offensively, we need to make much better decisions with the ball and find a few consistent scores. Defensively, our intensity needs to pick up. We can't let teams do what they want and expect to win. Like last year, we are going to go through some growing pains this month. I see a lot of potential with this group."
Croton 49, Pal. Prep 45
Charlie Goldberg dropped 17 points to lead the Tigers. F Garrett Lynch notched a double-double with 14 points and 11 rebounds. F Eli Reyer added seven point and eight rebounds while Frank Addeo pitched in with 10 rebounds.
Putnam/NWE Top 5 Pre-Season Hoops Poll
No.1 PUTNAM VALLEY – Coach McDonnell's first six players are as well-rounded as any in Class B and I'll be shocked if they fail to reach a fourth-straight Final 4 this March.
No.2 OSSINING – I like Coach Casey's 2-0 Pride's chances of being 4-0 before their huge early-season showdown with Fox Lane on Dec. 16, which should be a true indicator of whether or not Ossining is a ready-for-prime-time player. Allen Griffin had 25 points and Obie Toppin added 14 and A.J. Stokeley had 12 in season-opening 74-44 win over Gorton. Toppin then had 29 in 67-60 tourney win over rival Sleepy Hollow and Griffin secured an MVP nod. This Griffin is truth and the kind of addition that could have the Pride snagging a league title in early Feb.
It's been a number of years since the Pride were truly relevant on the boys' hoop circuit, having long lived in the vast shadow of Coach Dan Ricci's three-time reigning NYS champion girls' program. But ya get the feeling this year could be a special one if Ossining can continue to evolve under Casey, a first-year coach who the players really like playing for.
"It was a nice tournament win for the program," Coach Casey said. "Gorton who was athletic like us and were able to use a late first-half run to gain confidence, which led us to the win. We were in for a battle playing Sleepy at Sleepy for their tournament championship, so it was a good test for us. We wanted to match their intensity the entire game and we felt like we did a nice job of that. The game was close throughout, and we expected them to make a run and they did, taking the lead with a couple minutes to go. We were proud of the way our kids responded, not getting frustrated and understanding that basketball is a game of runs and we were confident we had one left in us. It was a battle though."
No.3 YORKTOWN – DeGennaro's stat line was well rounded and dynamic in win over Panas: 24 points, five rebounds and five assists and three steals. This Husker program and its players exudes a collective mind-over-matter mentality now and it's evident from the opening tip, I'm told.
No.4 HEN HUD – Nick Marra scored 10 points and copped eight steals while Thomas Maloney added nine points for the Sailors in a 58-40 win over Somers (0-2). Marc Maestri led the youthful Tuskers with 10 points, and things got a little testy in the end. As a result, the Sailors will be without All-Section swingman Jesse Breeding when they tip off in the opening round of the Roosevelt tourney. J.B. cannot get baited like that in the future, he's too dang valuable.
No.5 CROTON – No real stars here but Coach B.T's. Tigers (2-0) have some chemistry and a yeoman's effort each night out, and it was on display in a 60-53 win over Bronxville. Goldenberg and Lynch had 12 points each. Reyer was key with 10 in the first half. Rory Parker and Connor Moore had nine points each. This unit will only improve.
HM CARMEL – Opening-day win over Lakeland put the Rams on the map and blows the Hornets, who placed last in their own tourney, clear off.
HM PEEKSKILL – Until the Red Devs show us what they can do, all we have to go off of is last year, which was unspectacular at best. My guess is swingman CJ Redd keeps them close most nights and their success is dependent upon whether or not they commit to defense the way ghosts' of Peekskill past used to.
HM MAHOPAC – Without F Dan Foley (back injury) in the lineup until after the holiday break at the earliest, the Indians will be without their No.1 option for quite some time, so we're gonna pull the plug on the tribe being a top 5 team until further notice. Let's see if the next man up can hold his own during Foley's absence.