Boys Hoops Notebook: Mahopac's Hynes Chosen as Player of Year, Somers' Decker MVP
We are part of The Trust Project
Without question, the 2012-13 Section 1 boys' hoops campaign was epic on many levels, and the locals from the Putnam/Northern Westchester Examiner-area were right in the thick of the title chase, particularly those in Putnam where they placed three local boys' programs into the Westchester County Center Final 4 for the first time in history.
Of the five Putnam County-based varsity basketball programs (Brewster, Carmel, Haldane, Mahopac and Putnam Valley), Class AA Mahopac, Class B Putnam Valley and Class C Haldane were all at the dance, though none of three were able to reach the finals. Neither did Peekskill; the Class A juggernaut from the Northern Westchester region, which also made the Final 4 cut but wasn't up to Peekskill's championship pedigree in 2013.
CLASS AA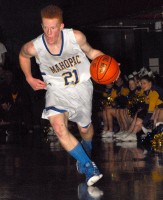 By now, you know that MAHOPAC (17-4) was eliminated by New Rochelle, which went on to stun former seven-time champion Mount Vernon on Khalil Edney's last-second buzzer-beater that had the Huguenot 6th-man portrayed on everything from ESPN to Martha Stewart. Mahopac did reach new heights, however; reaching the Final 4 for an unprecedented third consecutive year and won 15-straight games en route to the semifinals. The program is in a good place right now, but the Indians lose a ton of talent, which will be tough to replace.
Along the way, senior swingman Brendan Hynes (18 PPG, 10 RPG, 5 APG, 2 SPG) accrued All-Section honors while junior F Ryan Simone (12 PPG, 11 RPG) garnered an All-Conference nod while senior F Mike Simone (7 PPG, 3 APG, 8 RPG) was tabbed All-League. Senior PG Anthony Lenahan (6 PPG, 6 APG) will be tough to replace.
Hynes was one of six players chosen by the Lower Hudson Valley Basketball Coaches Association to represent the first team, including Somers John Decker, New Rochelle's Joe Clarke, Mount Vernon's Josh Doughty and Albertus Magnus' Jack Sullivan. Indian Coach Kevin Downes won his third-straight Conference I Coach of the Year honor, and senior C John Vitkus was named to the Court of Excellence for Athletic and Academic prowess.
Hynes was chosen as the Putnam/NW Examiner Player of the Year while Tusker G Decker was selected as the MVP.
CARMEL (8-11) took a step back after reaching the quarterfinals last season. Coach George Coates' Rams gave it all they had but the loss of two All-Conference players affected their ability to score effectively. Senior F Dan Behnken, a yeoman on the glass, secured an All-Conference nod. Watch for sharpshooting junior James "Money" Loughran next season.
YORKTOWN (4-15) took some steps in the right direction under first-year Coach Chris Caputi, but the Huskers have a long way to go before they are a serious Class AA contender again. They are closer than most people think, though.
Junior Ricky Corrado (11.3 PPG) was an All-League selection for the Huskers. Caputi hopes to build the program around Corrado and budding frosh Luis Cartagena, who averaged nearly 8 PPG, and lanky sophomore Mason Dyslin (9.4 PPG). "They are developing every time they take the floor in practice and games, they get better and better almost every minute that they are with us," Caputi said.
Luke Palmadesso and Anthony Coutsorous also return next season, giving Yorktown five strong returnees. Seriously, this team could contend for the league next year.
CLASS A
Poughkeepsie won the gold ball; joining just four other Pioneer clubs to do so (1974, 1982, 1995, 1999 and 2013), but Section 9 Catholic powerhouse Burke prevailed in the opening round of the NYS Public High School Tournament. Yet again, in another galling exhibition of ineptitude, a Catholic school with no geographic boundaries was permitted to contend for a public school title and eliminate a slew of public schools with clear restrictions. The inequities continue across the state as three Catholic Schools (Buffalo McKinley (Section 6), Bishop Ludden (3) and Burke) were in the NYS Class A Final 4 tournament at Glens Falls, plus a fourth in Class AA (Section 5's Bishop Kearney). Something has to give.
PEEKSKILL (16-5) did not live up to its expectations and was eliminated in the sectional semifinals by Byram Hills. Red Devil Ramon Searight secured All-Conference honors. NYS Hall of Fame Coach Lou Panzanaro will decide before September if his 32nd season was his last, or if he will attempt a 13th gold ball next season.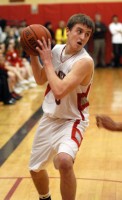 SOMERS (14-6) had arguably its second or third best season in school history, winning its first playoff game (vs. Gorton) and advancing to the quarters for the first time since 1995. The Tuskers were bounced by runner-up Byram Hills. All-LHVBCA first-teamer John Decker was the straw that stirred the drink. The senior captain led the section in scoring, posting a gaudy 25.7 PPG, including a 59-point effort that secured the title scoring title during the regular-season finale. Decker also hit another monster milestone, scoring over 1,000 points for his career.
Decker was joined by junior G Matt Moros on the All-League team. Between Moros and 6'9" junior C Max Parks and junior G Connor Cousin, the Tuskers have some pieces for first-year Somers Coach Chris DiCintio to build around. But replacing Decker, a rare commodity in these parts, is something Somers may never have the capability of doing.
PANAS (12-7) may have posted its best season since 1997 before bowing to Albertus Magnus in the first round of the tournament. Senior swingman Vaughn Dweck posted an All-Section campaign, delivering the goods on a game-by-game basis. Coach Sullivan turned to All-Section senior point guard Tim McCauley for leadership all year and that will be tough but necessary to replace in order to keep the program on the uptick. Senior F Lylle Ryals was named to the All-League team.
HEN HUD (6-12) qualified for the playoffs but lost in an outbracket game, having made modest gains this season. Kyle Monk was named to the Court of Excellence for Athletic and Academic prowess as well as All-League. BREWSTER and LAKELAND did not participate in the playoffs and had particularly down years by their standards. Sometimes, it takes a couple of years to bounce back from seasons like this. Senior Bear G Peter Cirocco earned All-League for Brewster.
CLASS B/C
PUTNAM VALLEY (18-3) found a way to dampen the enthusiasm of a historical season when it failed to renew the contract of head coach Ed Wallach, little over a month after accepting the resignation of JV Coach Mike Douma. What should be a celebrated season where the Tigers won an school record 18 games and advanced to the Class B Final 4 for the first time, is now one where PV administrators will begin the task of replacing a pair of coaches, including the fifth head coach since the program's inception back in 2002-03 season.
All-Section junior G Zach Coleman, All-Conference junior C Jelani Bell-Isaac and All-League sophomore guards Zack Nolan and Ryan Basso are expected to return next season a year the wiser. All-League senior Andre Soto departs.  There is a lot of drama expected to unfold in the days ahead, but the PV brass needs to act quickly in an effort to sustain what momentum the once-fledgling program has.
CROTON-HARMON (10-9) will bid adieu to All-Section G Ian Thom (24.3 PPG) after the captain set the school mark for career points (1,267) and assists (406). Thom was also named to the Court of Excellence team for athletic and academic prowess this season after earning an All-NYS fifth team nod as a junior. He also became a three-time All-NYS Academic team honoree and the standard setter for the program.
The Tigers were a shade under their normal expectations this season, falling to Edgemont in the opening round of the tournament. Now, they will be without the guy that dished and swished more than any other player in school history. To say the Tigers are in rebuilding mode is putting it mildly.
HALDANE (6-14) reached the Class C Final 4 but fell short of its usual expectations. But it never takes the Blue Devils and Coach Virgadamo long before they find their way back.