We are part of The Trust Project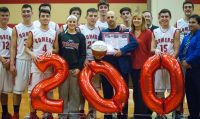 County Center Saga Reaches Doomsday Conclusion
DiCintio Chalks Up Win No.200, Somers Inches Toward League Title
Don't look now, but there's just two weeks of the regular season remaining, and with the Section 1 boys' hoops playoffs on the horizon, there's very little wiggle room against costly losses that will negatively affect post-season seeds.
The post season took a dramatic turn last Monday (Jan. 29) when the clock struck doomsday on Section 1 boys' and girls' basketball teams and fans hoping for a last-minute settlement on County Center issue that has hovered over the section all season.
Despite the augmented efforts from Westchester County and County Executive George Latimer to reach an agreement for 2018 sectional semifinals to be held at the famed Westchester County Center, the Section 1 Executive Committee asserted its deplorable decision to not contest games at the arena high school basketball fans have flocked to for "Championship Week" since 1933.
Citing cost-effective issues related primarily to parking fees ($10 per car), Section 1 Executive Director Jennifer Simmons emailed school administrators last Monday afternoon, proclaiming Section 1 would host its boys' and girls' basketball semifinals at the higher-seeded schools. The unpopular decision was met with ire on Twitter and blasted by Section 1 coaches and fans alike, who are seeking full transparency on the matter from Section 1's leadership, which, to date, they have not gotten.
Fox Lane basketball's Twitter account read: "Absolutely horrible. Very disappointed for each student athlete and senior that won't get the chance to play at the CC. Adults let the kids down."
Saunders Coach Anthony Nicodemo, who has been at the forefront of the fight against the Exec. Committee Tweeted: "Thanks to @GeorgeLatimer37 for his continued support of our local student-athletes. The fact that the Section Executive Committee refused to listen to cost saving measures shows the fix was in. Eventually those in charge will answer for their poor decisions."
With the semifinals now assigned to the venue of the higher seeds, Section 1 released its semifinal schedule on Monday (times to be announced). The Class C and D games will be played Feb. 20, Class B on Feb. 26, Class A on Feb. 27 and Class AA on Feb. 28. Section 1 also released a schedule for the finals at Pace University. The Class D final is scheduled for Feb. 23, followed by both Class C finals Feb. 24, Class B on March 2 and Class AA and A on March 3…
ON the COURT — So, imagine the pride a son might feel standing alongside his dad, the coach of the team, when dad secures a milestone like 200 wins.
Now, imagine you're that same son and you're in uniform, having just dropped nine points and played suffocating defense, icing out one of the more athletic teams you'll face this season while inching closer to a league title that has eluded the program since 1989.
That was the scene last Thursday night for Somers senior G Chris DiCintio, who was a typically strong, fiery participant in Coach Chris DiCintio's 200th career victory during the Tuskers' 74-42 romp of visiting John Jay.
Wing Lorenzo Bicknese led Somers with 14 points while teammates Max Germaine (13 points) and Gio Tradito (11 points) added to the splash of 10 different playing to hit the scoring pool. Most impressive, though, was the defensive identity Somers has embraced this season, doing so behind the lead of Chris DiCintio. Just like he did the past two seasons on the gridiron, DiCintio, though undersized, is, pound-for-pound, one of the fiercest competitors Somers has had in quite some time.
As a 5'11" two-way lineman in football, DiCintio stood out when the Tuskers broke the huddle, due to his physical stature alongside the likes 6'6" All-NYS two-way tackle Nick Gargiulo, but he was rarely beaten due to superior technique and pure grit. On the hardwood, it's much the same thing; a combination of brawn and technique that enables him to thrive as a defender.
"It's a mindset," DiCintio admitted. "I've always prided myself on defense, like that's my thing. My dad has stressed defense to us since he coached us in the third grade; that's what he's coaching. He is strictly defense first and everything else comes off of that. He preaches defense; fast and physical, and that's our motto. Words can't describe what it means for me to be out on the court tonight to be part of his 200th win.
"Our main goal right now is to get the league, and my dad wants to put us up in the rafters," DiCintio said, alluding to the league title banner. "We haven't won a league in decades and for him this means everything, and for us, too. For that to happen, we needed to pull out his 200th win for him against the team we're trying to beat for our league. We believe we're a Final 4 team, but we want that league title first and foremost."
His ol' man couldn't agree more. Entering his sixth season at Somers, after 11 at Rye, Coach DiCintio welcomed back former players like John Decker and Pat Melly, who were at Somers in his initial season and helped lay the frame for a successful foundation. He shared congratulatory hugs, thanked John Jay and everybody for coming, and then harped on that elusive league title.
"John Jay was not only playing well but we were evenly matched as far as our speed and our athleticism and they are a team we are fighting with for this league title we haven't won for quite some time now," said Coach D, who is 201-154 through 355 games. "They had a lot of pressure on them tonight as kids, with us trying to get to 4-0 in the league and me shooting for my 200th. They really set the tone. If we came out and played our game, we would be in the driver's seat. If we let them hang around, then it could be a game.
"It's certainly extra special because my son is on the team and he's a senior," he added. "But I also have several other kids on this team that I've been coaching since the fourth and fifth grade: Lorenzo Bicknese, Gio Tradito, Kevin Halper and Jack Gilroy, and it was great to see some of the other guys who have played for me come back tonight, guys who were on my original team here at Somers. Those are the guys that really put Somers on the map."
Will that map lead the Tuskers to their first league title in nearly 30 years? Me thinks so, and we should know by late Friday night when Walter Panas comes to town…
NWE/Putnam Examiner Super 7 Poll
No.1 PUTNAM VALLEY – Tigers (12-3, 3-0), the current No.2 seed in Class B, have seen their critical guard play improve as junior Austin Fabiano continues to pick it up, including career-high 12-point effort in PV's 56-31 league stomping of rival Haldane.
No.2 SOMERS – Tuskers (10-4, 4-0), the current No.7 seed in Class A, will have to navigate a tough league slate this week, which includes surging Brewster, John Jay and visiting, second-place Panas (4-1 in league) on Friday night, before a can't miss non-league bout with host Hen Hud on Saturday.
No.3 HEN HUD – Sailors (11-3, 4-0) turned down Mahopac 49-44 behind 14 points apiece from Jack Kelly and Kyle James and now face a pivotal stretch of games that includes two tilts with Poughkeepsie for League II-E bragging rights, plus Somers and once-beaten Rye, the current No.1 seed in Class A. We'll settle for a split of these 4 doozys, but 0-4 won't fly.
No.4 PANAS – Panthers (9-4, 4-1), the current No.5 seed in Class A, are too legit to quit with these Killer B's – electric Brandon Hodge (17 points) and mighty Brandon Ramos (career-high 29 points) – stinging foes with double-edged swords like they did in 66-55 win over rival Lakeland. Do the Panthers have the moxie, though, to go into Somers on a Friday night and potentially snag a share of the league title? That's what it will take to do so.
No.5 OSSINING – The Pride (9-6, 3-3), currently No.11 in Class AA, crushed Hastings 58-42 in Croton's Hoops4Heroes event: Toppin (21 points 11 boards), Goss (8P, 5R, 6A), Thomas (11P) and Walker (8P, 7R) all got in on the act for Ossining, which could still finish in 2nd place behind Greeley in League I-D with strong finish.
No.6 MAHOPAC – Indians (6-8, 2-2), the current No.16 in Class AA, saw Justin Parker drop 18 in loss to Hen Hud, and they would open at mighty Mount Vernon if playoffs started today, so it'd be beneficial, to say the least, to improve upon that seeding.
No.7 BREWSTER – Bears (6-7, 1-4) defeated Carmel 57-47 behind point guard Harrison Dignan's 13 points and Kevin Stefanick's 14, but the Bears, the current No.19 seed in Class A, just can't seem to get over the hump in close league games like the 61-57 loss to Panas.
HM LAKELAND – Hornets (5-9, 0-4), the No.23 seed in Class A, slipped past Yorktown, 46-45, in buzzer-beating thriller, but the league has been cruel to date.
HM YORKTOWN – Huskers (6-9, 2-2) are still in hunt for 2nd place in League I-D behind surging Horace Greeley, but that'll be real tough with Fox Lane and Ossining in the chase as well.
HM CROTON – Tigers (6-7, 2-4) do great things each year in Hoops4Heroes event, but earlier lost 43-41 heartbreaker to Valhalla, despite double-double (10P, 13R) from junior F Miles Ackerman, who will team up with sharpshooting freshman Ryan Windrum and deadeye soph Sean Macarchuk next year to form quite the formidable Class B trio.
HM HALDANE – Hats off to Blue Devils for their recent charity fundraiser to fight a disease two players and their families know well. It's not too late support their 'Riding on Insulin' cause, an organization that supports kids and teens living with Type 1 Diabetes (T1D). Visit https://www.classy.org/fundraiser/1238458 to do so.