We are part of The Trust Project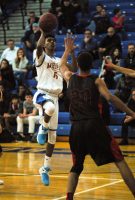 Sailors Win Hen Hud Tourney in Memory of Jack McGuire
Panas, Mahopac Advance in Panther Tourney; Somers Tourney on Tap Next
It was an emotional week, as it always is this time of year, at HEN HUD. The Sailors' 71-63 opening day win over visiting Pearl River was just the start. Sailor Mekhi Gray was seen splashing and dashing for a game-high 25 points, including an alley-oop dunk that rocked the @HHBleacherCreatures. He added six rebounds while guards Austin Fraser (17 points, 4 steals) and Dylan Fraser (13 points) took command of the back court.
Then, it got really interesting when the Sailors added to their big opening week by defeating Lincoln, 58-32, in the first round of the Jack McGuire tournament behind 14 points apiece from Fraser and Gray, which put them into the finals against Irvington.
In the finals, Hen Hud nipped Irvington, 46-45, when F Kyle James scored 16 points and silky-smooth swingman Gray had eight points, eight rebounds and seven assists in a truly well-rounded effort. Anyone who witnessed it could understand the elation behind the victory, as it would have been McGuire's 21st birthday; had it not been for the Leukemia that refused to spare him as a young lad. His twin sister, Kate, got the 21st birthday wish she and the McGuire clan were hoping for when the Sailors responded in kind.
"It was an emotional night for sure and to be able to come away on the right side of the scoreboard against a high quality team like Irvington was not an easy task," Hen Hud Coach Jordan Hirsch said. "I think this year was unique in that it was really the first year where our players don't actually have a personal connection to Jack and his twin sister, Kate. The age gap is wide enough now where the guys we have on our team wouldn't have had any contact with the Jack and Kate in their time as students.
"But I always tell stories about Jack during the week of the tournament," added Hirsch, a close neighbor and friend of the McGuire's at the time of Jack's passing. "This year I felt a different sense of urgency from our team when I was talking about some of my favorite moments with Jack. I felt like they were extra locked in; like they were really trying to get to know the person Jack was."
The toughness, resiliency and passion the Sailors showed during this tournament was a fitting tribute to fight and spirit of young Jack McGuire, a huge Celtics fan with great zeal for hoops.
"That's the type of person Jack was," Hirsch said. "Watching our whole team go up to the McGuires after receiving the tournament trophy to hug them and share that moment with them was one of the best feelings I've ever had as a coach."
It was also Sailor senior Kyle James' birthday and he came away with MVP honors. Gray was an All-Tournament choice and Jack Kelly was Sportsman of the Tournament. So, a truly special week — to what could be a truly special season — is now history: Here's to making more…
Fox Lane and MAHOPAC delivered a typical suburban slugfest last Wednesday, which featured solid defense and key mistakes down the stretch of a 48-45 Foxes non-league road win. Fox Lane G Devin Hunter delivered 17 points and five caroms in the come-from-behind win. Mahopac F Ryan Dugan led the Indians with 17 on a night when they squandered a 13-5 first-quarter lead. Mahopac senior G Justin Parker (8 points, 6 assists and 2 steals) did provide the Indians with an offensive element they lacked last season; a penetrating guard who can dish and swish.
Neither team could deliver when it mattered most as both clubs squandered opportunities down the stretch. Mahopac had two chances for the tie, and the Foxes blew two chances to pad their lead.
"Fox Lane is a good, quality team and we had many chances to win," Mahopac Coach Matt Simone said. "Seven missed free throws hurt our chances and we didn't get the ball to Parker like we had drawn up for a chance to tie. I still think we can surprise some people this season."
They surprised LAKELAND with a heavy dose of Parker, who dropped a game-high 22 points on the Hornets in the Mahopac's 58-50 win in last Friday's opening round of the Walter Panas Holiday Tournament. Rob Garcia added 13 for the Indians.
PANAS also advanced to the finals after knocking off BREWSTER, posting a 71-39 victory in first-year Panas Coach Mike Auerbach's debut. The Bears had trouble on the perimeter where Joe Staino (20 points) went off from downtown with six 3-pointers, all in the first half. Blake Breban came off the bench and hit four 3-pointers in the victory while Brandon Ramos scored 15 points and Brandon Hodge added seven for Panas, which will face Mahopac for the tournament title at a date to be determined (postponed on Saturday).
PUTNAM VALLEY junior forwards Darnel Shillingford (21 points) and TJ Brescia (17 points) were too strong for Beacon to handle in last Wednesday's 62-51 Tiger win over the visiting Class A Bulldogs. John Millicker (7 points), Ryan Soto (5 points and Kevin Gallo (5 points) each contributed on offense. The Tigers shot 11-of-15 from the stripe and Coach Mike McDonnell liked the energy.
"Very strong effort controlling the offensive and defensive boards by Millicker, Darnel and TJ," the fifth-year coach said. "It was a total team effort with important bench contributions by Kevin Gallo, Austin Fabiano, Ivan Caposito and Reilly Nolan. Beacon was quite big in the frontcourt and a talented group, so I was extremely proud of the boys despite our uneven play at times."
Well, if this outcome didn't open some eyes, we're not sure what would. LAKELAND's 58-53 win over host YORKTOWN was the surprise of the night last Wednesday when sophomore Joe Vetrano (keep an eye on this two-sport stud) and senior Chris Foci each put up 14 points on the Huskers, who trailed 34-17 at the half. Yorktown G Marc Spinelli (17 points, 4 boards, 4 steals) and F James Lundberg (12 points, 8 rebounds) did what they could to overcome the deficit, but the Huskers don't have enough scorers to dig out of first-half holes like that.
The Huskers sat in a zone defense and still put the Hornets on the line for 48 free throws. That is problematic.
"We have played tremendous on the defense side of the ball for the first three games," Hornets boss Steve Fallo said. "It has allowed us to run and get fast break opportunities. We have 10 players who will play every game, which hopefully will keep us running in the fourth quarter. It was a real nice win for us against a tough Yorktown team."
SOMERS guard Lorenzo Bicknese dropped 31 points, including five 3-pointers, in a 60-49 win on the road over Pelham. Bicknese had three 3s in the first quarter and two more in the fourth. Jack Gilroy added 10 points in the win, but the Tuskers fell to Tappan Zee, 61-48, in a game the could serve as a barometer. If the Tuskers are going to be considered legit, they are going to have to find a way to crack the upper crust, which the Dutchmen are. Tradito led the Tuskers with 13 points. F Jack Gilroy (10 points) and Bicknese (7 points) contributed.
OSSINING is rolling early on, adding an impressive 78-44 win over Port Chester, who got torched by Latrell Goss (22 points, 5 steals) and Jacob Toppin (16 points, 10 rebounds). The Pride have shown tremendous balance during a 5-0 start and look like a club that might contend for the league title if they continue to imrove.
"We're playing with confidence," Pride Coach Mike Casey said.
They'll need that and more against an upstart John Jay EF club that is supposed to make some noise this season in League I-A.
CROTON-HARMON's Miles Ackerman was pretty beastly when he yanked a career-high 16 rebounds to go with seven points in the Tigers' 54-33 win over Rye Neck.
It was all Scarsdale when the Raiders crushed CARMEL, 62-34. Shane McNerney led the Rams with nine points while Jeremy Mendoza added seven.
"Scarsdale dominated start to finish," Rams first-year Coach Paul Brennan said.
NWE/PUTNAM Examiner Super 7
No.1 HEN HUD – Former Panas Coach and longtime Hen Hud mainstay Pete Kelly thinks this might be the best Hen Hud team in 25 years, so I'm riding shotgun with Pistol Pete; at least until Friday when the Sailors best figure out a way past a very tough North Salem club in the opening round of the Somers tourney. Winner of Mahopac/Somers will await.
No.2 SOMERS – Tradito and Bicknese should be able to shoot the Tuskers to a league title and we were set to see what they Tuskers were made of last night after a tilt with Byram Hills and a tough field in their own Somers holiday tourney, where we will be camped out at as Mahopac, North Salem and Hen Hud invade.
No.3 PUT VALLEY – This may raise some eyebrows putting the Class B Tigers at No.3, but they have a chance to be every bit as good as anyone in Class B and the rest of those in this poll, and Panas will get first crack at destroying that notion this Wednesday.
No.4 PANAS – Just waiting to see if the Panthers display more consistency this season, but there's a lot of potential here.
No.5 OSSINING – John Jay EF, with a handful of solid transfers, will present a challenge this Pride have not quite seen yet, but so far so good for undefeated Ossining.
No.6 MAHOPAC – This Parker kid provides an element the Indians haven't had since 2014, and it would be nice to see what the Indians have when they take on host Somers in Friday's tough tourney challenge.
No.7 LAKELAND – The win over Yorktown put the Hornets on the radar and their defense has been legit.