We are part of The Trust Project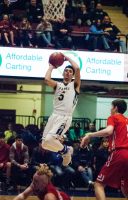 No.2 Panas, No.4 Hen Hud Meet End of Road in Class A Semis
No.1 Put Valley Shocked by No.4 Blind Brook in Class B Semis
The County Center was cruel to the locals from the Northern Westchester/Putnam County region, especially cruel when nary a single team survived the semifinal round.
CLASS A
Worlds were supposed to collide. Second-seeded WALTER PANAS (18-5) was supposed to smash up against No.4 HENDRICK HUDSON (18-5) in an otherwise epic Section 1 Class A championship that might set the local hardwood scene on fire.
But something drastic happened along the way to the title tilt: Both Coach Mike Auerbach's Panthers and Coach Jordan Hirsch's Sailor were upset along the way, ending any hope for a border war for the ages. Panas suffered a 61-54 setback at the hands of No.6 Tappan Zee and Hen Hud dropped a 48-43 Section 1 Class A semifinal loss to No.8 Ardsley last Tuesday afternoon at the fabled Westchester County Center.
TZ went on to lose in the most dramatic fashion in Section 1 tournament history when to Ardsley's Julian McGarvey's now-viral ¾-court heave swished home and gave Ardsley its first Section 1 title in 60 years.
PANAS
Swingman Brandon Ramos scored 16 points and All-Tourney choice F Kyle Denault scored 14 for the Panthers (18-5), but the Dutchmen (19-5) did as good a job as any team has all season in containing Panas point guard Brandon Hodge, whom they held to 10 points. Hodge and Ramos — among the section's most feared duos — were held to a combined 26 points on 10-of-31 shooting.
TZ Coach George Gaine's team has reached the final four eight of the last nine years, and despite an entirely new starting unit, the Dutchies were well prepared, having faced Panas earlier in the year (a Panas win). TZ junior Oziah Deloatch (17 points, 13 rebounds, 3 assists) was the difference this time. The stocky guard raised his game when the stakes were raised, and the Panthers could do little to prevent him from doing so.
"He played fantastic for them," Auerbach said. "He's a tough kid because he's quick off the dribble, He handles the ball well and he's built like a strong safety. There aren't a lot of kids who can match up against that. We tried a couple different guys on him and he'd turn the corner and put his shoulder into us and finish with both hands. We gave them some different looks and that kind of put us in a tough spot because we really didn't want to have to go man, but they way they were shooting forced us to."
Hodge narrowed the Panther deficit to three (41-38) on a nifty three-point play, but the Dutchies scored seven unanswered points and never let Panas closer than four the rest of the way.
"I'm very proud of this group and all they accomplished in my first year," said Auerbach, the League II-C Coach of the Year. "
HENDRICK HUDSON was making its 17th appearance in the County Center Final 4 since 1933 when the Sailors lost to Tuckahoe, 20-17, in the Section 1 Class B finals. To say the least, the County Center rims were tight way back when FDR was in the White House, and they were nearly as unforgiving in the Sailors' first Final 4 appearance at the County Center since 1991.
Hen Hud's hopes were high, as Coach Hirsch's Sailors fully expected, not only to advance, but hoist the first gold ball in Hen Hud history. But the rims were especially tight over the final four minutes of play when the Panthers limited the Sailors to just three points, thus blowing a 40-38 lead.
Ardsley (17-7), hardly a regular at the County Center, played well beyond its traditional means, having last won the gold ball 60 years sooner, and appearing in its first Final 4 in 1999. Few, if any, Section 1 aficionados predicted a Hen Hud vs. Ardsley semifinal matchup.
"Ardsley was real tough," Sailor skipper Jordan Hirsch admitted. "On this stage, everyone's a tough out and that's what it comes down to. Or guys are the best, I love those kids. I'll take this group any day of the week. These kids are uncommon, a different breed. They don't have to hear about 1991 anymore."
Hen Hud lead 33-27 entering the final period. There was a pivotal swing in the game when Sailor wing Mekhi Gray was called for hanging on the rim off a missed dunk, giving Ardsley two shots and the ball. The Sailors also allowed the Panthers to hit consecutive 3s to erase the deficit.
"The officials and I disagreed on that call," Hirsch said.
Gray finished with 15 points and six rebounds and Kyle James added 11 points, including a three-point play with 18.3 remaining that brought the Sailors within one.
CLASS B
February 26, 2018 was #BlackMonday in Putnam Valley, as both its boys' and girls' hoops teams didn't handle the big stage as well as they hoped, each suffering season-ending losses.
Fourth-seeded Blind Brook clamped down the paint and denied the Tigers' big men and waltzed away from No.1 seed Putnam Valley, 55-47, in the Section 1 Class B semifinal at the Westchester County Center. Jake DiGiansante dropped 15 points and Mike Bucci added 14 as the Trojans (18-5) advanced to the Class B championship at Pace University where No.3 Briarcliff won its second title in three years.
State-ranked (No.26) Putnam Valley (17-5) hit six 3-pointer in the first half — by five different players — but Blind Brook stole momentum going into the half when, trailing by a point, Ryan Aiello nailed a corner three ball at the buzzer for a 28-26 lead. Seven different Tigers hit 3's, which was the primary reason they stayed closed throughout; in what was their fifth Final 4 appearance at the County Center in six years.
With Blind Brook intentionally clogging up the key, the Trojans held T.J. Brescia (14 points, 8 rebounds) and Darnel Shillingford (11 points. 9 boards) well below their season averages, limiting the talented duo to just 14 shots. Meanwhile, Blind Brook reined 3's down on the Tigers, effectively moving the ball across the PV zone and nailing big shot after big shot.
"Their offense out-executed our defense, simple as that," Put Valley fifth-year Coach Mike McDonnell said. "We had some fool's gold early when the guards came out and hit some shots, but it was more on the defensive end. We lost the game on the defensive end. We threw everything we had at them defensively, but they answered the bell every time. When everything was on the line tonight, they outplayed us, but this doesn't take away from where we are. My guys have given everything they had all year long, and there's such a difference between being juniors and seniors, and I think people will be surprised next year in the difference in our kids both as players and their physicality. I expect them all to be much stronger, and I know they'll work hard to get there. It's a gutsy group."
Blind Brook clung to a 37-34 after three quarters, but broke the game open in the fourth, which was entirely different from the first meeting in mid-January when the Tigers went into Blind Brook and won handily. In the rematch, the Tigers' guards shot just 7-of-24 from the field and failed to score a single hoop in transition.
"We never seemed to get it going north-south in transition," McDonnell said. "We were running east-west and never had any real rhythm on offense. Plus, we had a tough time getting the ball in to our bigs."
Those bigs will be back next season, and the key to their improvement will be the development of the guards and their ability to improve their north-south style of play by better attacking the basket.