News Based on facts, either observed and verified directly by the reporter, or reported and verified from knowledgeable sources.
Bowman Urges Youth to Get Involved in Town Hall Forum
We are part of The Trust Project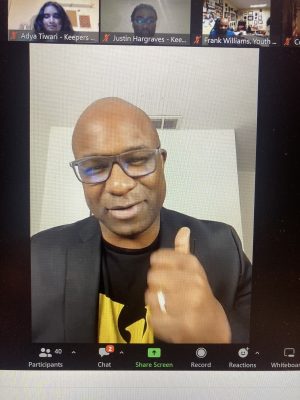 Local youth looking to make a difference in society received some advice last week from Rep. Jamaal Bowman.
Bowman, a former educator serving his second two-year term representing the 16th Congressional District, took part in a Youth Town Hall meeting on Zoom Feb. 21 sponsored by Keepers of the Dream, Westchester Youth Alliance, White Plains High School Black Awareness Club and the White Plains/Greenburgh NAACP Youth Division.
"We're here to talk about the force of young people," said Frank Williams, Executive Director of the White Plains Youth Bureau.
Adya Tiwari, co-founder of Keepers of the Dream, asked Bowman how to get more young people interested in government and voting.
Bowman said each school district should have a policy to encourage voter registration at the high school level and boards of education should invite political candidates to address young voters.
"There needs to be a process where people running for office can bring information to young people," he said. "If you don't vote then you have the wrong people in office making horrible decisions."
Bowman encouraged the youth leaders on Zoom to engage with elected officials by making a phone call, writing a letter or sending an email.
"We are always inspired by you and your ideas and your energy and your beliefs," he said. "Whatever issues you care about and are passionate about you need to follow and learn more about. Young people have always been the transformational leaders in the country. It is young people across the country that make sure legislators like me pay attention."
When asked what has surprised him during his time as a congressman, Bowman remarked, "Many people here don't care about people. They care about power."
"We're here to work for the people. The majority of my colleagues care about money and power," he said. "I don't know how you can be an elected official and allow people to suffer. I feel we have the potential to be much greater than we are."
Bowman mentioned climate change, universal heath care and housing as some of the issues he has been focusing on.
"We believe everyone should have a home as a human right," he said. "Part of the problem is housing is profit driven instead of people driven."
A former middle school principal for 10 years, Bowman noted he's in the process of organizing a youth conference sometime in May.
"This work is our life's work. It's kids, it's families, it's education," he said. "Thank you for being the keepers of the dream."