Body Floating in Hudson Identified as Cortlandt Man on the Lam
We are part of The Trust Project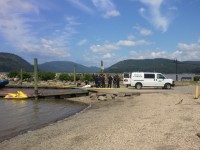 The body of a man discovered floating in the Hudson River Sunday morning near Riverfront Green in Peekskill has been identified as a Cortlandt man Peekskill Police were seeking for breaking into a vehicle on Central Avenue on Friday.
An autopsy conducted Monday by the Westchester County Medical Examiner determined Michael Varella, 53, died from accidental drowning. His body was seen floating about 50 feet from shore in Peekskill Bay at about 8:45 a.m. Sunday by a passenger in a Metro-North train and recovered by the Westchester County Police Marine Unit.
"We extend our sympathies to the Varella family. As you can imagine, the family is devastated," said Peekskill Police Chief Eric Johansen.
Varella, who worked in the construction industry and reportedly is the brother of former Peekskill Fire Chief Leonard Varella, Jr., was being sought by Peekskill Police since 12:50 a.m. Friday after Officer Fabian Gonzalez heard glass being broken in a parking lot and witnessed a white male, later identified as Michael Varella, smashing a vehicle's window and removing a bag with unknown contents from inside.
Johansen said it "was not a randomly targeted vehicle," noting "there was something in that vehicle that he wanted to obtain."
After seeing Gonzalez, Varella jumped in a vehicle and fled at a high rate speed westbound on Central Avenue before crashing into the Dain's Lumber building. Police said Varella then fled on foot, hopped a fence and jumped into a brook that feeds the Hudson River. He was then observed running into a culvert which goes underneath the railroad tracks and exits in Riverfront Green Park.
A K-9 search of the culvert and Riverfront Green yielded negative results and it was believed Varella had fled in an unknown direction. Officers also tried to locate Varella through family members.