Bobcats Trounce Brewster in Tournament Title Game
We are part of The Trust Project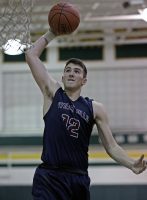 Even though the Byram Hills boys' basketball team was holding a five-point lead over Brewster on Saturday evening, a quick glance at the halftime statistics was enough to convince Bobcat head coach Ted Repa that the still-to-come second half should not resemble the first two quarters.
"Yeah, we looked at the stats at halftime," he would say later. "And I think we were four for 16 from three and seven for 12 from two. So we said, 'Guys, I think there's a little better strategy.'"
That strategy, to keep feeding the post, quickly became apparent as the Bobcats scored the first eight points of the third quarter. They wound up making seven baskets in the period, none of them from more than four feet away, and outscored the Bears 20-10 to pave the way to a lopsided 64-38 victory in the championship game of the 2018 Relay for Life Basketball Tournament, hosted by Lakeland High School.
Senior center Ben Leff scored 17 points and pulled down a dozen rebounds to earn most valuable player honors, while Willy Samsen added 13 points and 10 rebounds and Mike Caporale, a senior transfer from Iona Prep, chipped in with 14 points and eight boards. The Bobcats went on an early 10-0 spurt to overcome a 3-0 deficit and never trailed the rest of the way.
"Not many high school teams have a front line like that," said Repa about the 6-foot-7 Leff and 6-5 Caporale. "And once we get (Mike) Parrotta and (Sam) Goldman fully healthy, we can put a really tall lineup out there that's gonna be tough to match. We've got a few issues we've got to work on, but the ceiling is pretty high."
A 3-pointer at the start of the second quarter by Samsen, who was named to the all-tournament team, was followed by a fast-break layup from Leff, giving Byram Hills its first double-digit lead of the night, 20-10, nearly 90 seconds into the period. Though the Bobcats only scored seven more points in the half, on two inside buckets from Caporale and another trey by Samsen, they still led 27-22 at intermission.
They came out of the locker room to start the third quarter determined to get the ball to their two big men under the basket. Passes into the paint led to back-to-back layups by Caporale and Leff, stretching the Byram Hills lead to nine points. A pair of free throws by Leff, followed by a put-back basket from Caporale left Brewster trailing 35-22 with 3:45 remainng in the third quarter.
In the final minute of the period, junior guard Jon Trongone went back door for a layup and Samsen added two foul shots, enabling the Bobcats to build a 47-32 cushion. When the fourth quarter began with two quick jump hooks by Leff, one right-handed and one left-handed, and then Caporale was on the receiving end of a full-court pass for a layup, the Bobcat lead suddenly swelled to 21 points.
The Caporale layup was the last basket of the evening from the Bobcats' big three, and it was the Byram bench that outscored the Bears 9-3 over the final minutes to increase the final margin to 26 points. Repa, who relied heavily on star guard Skylar Sinon for the past half dozen years, knows he's fortunate to have Caporale aboard now to help ease the graduation loss of his leading scorer.
"Oh, his offensive rebounding, his defensive presence, you know, altering shots," he said about the Caporale contributions. "He's been an awesome addition. There's only one Skylar. He's doing well at Ithaca right now. We lost that, in tight games, end of the game, that experience and that talent with the ball. But we gain a little bit more balance. So in some ways it's even harder to guard because they can't overload on one guy."
The Bobcats had advanced to Saturday's title game by edging Tuckahoe 65-62 in the tourney's opening round 24 hours earlier. Leff had 22 points and 16 rebounds, Samsen scored 18 points and Caporale, in his Byram debut, hauled in a game-high 17 rebounds. Tuckahoe's Malik Moore helped keep the game close by hitting seven 3-pointers and finishing with 32 points. But his desperation 3-point shot from the left wing at the buzzer rattled off the rim and the Bobcats avoided having to play overtime.
"First of all," said Repa, "Tuckahoe, I don't know if they're C or D, but that's a very talented team regardless of class. They played really well. I think it was good that we kind of struggled early and we had to grind it out because those are the kind of wins that build character."
The Bobcats only play once at home in the month of December, next Tuesday evening against Nyack, but Repa is hoping the tournament victories at Lakeland are a springboard to bigger things.
"Yeah, I'm definitely happy with two wins," he said. "Getting Goldman and Parrotta healthy is gonna be a key. So I'd like to get our full squad out there. But two wins is better than two losses."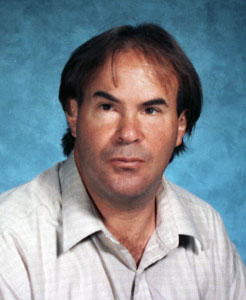 Andy is a sports editor at Examiner Media, covering seven high schools in the mid-Westchester region with a notebook and camera. He began there in the fall of 2007 following 15 years as a candid photographer for the largest school picture company in the tri-state area.
Read more of Andy's full bio here.
Read Andy's archived work here.