Bobcats' Dream Season Ends With a State Championship
We are part of The Trust Project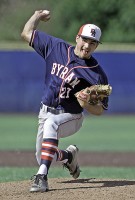 Maybe there really wasn't any other way this dream season for the Byram Hills baseball team could conclude — with Frankie Vesuvio, the heart and soul of the Bobcats, turning what would have been a nightmare that haunted him forever into a most fitting and dramatic finish in a town named Endwell.
Vesuvio's leaping, twisting, backhanded catch in center field late Saturday afternoon with the bases loaded and the Bobcats desperately clinging to a one-run lead put an emphatic end to a Queensbury seventh-inning comeback bid and gave Byram Hills a heart-pounding 3-2 victory in the Class A state championship game at Maine-Endwell High School.
"He made it interesting, but, hey, we'll take it," said euphoric Bobcats head coach Scott Saunders moments after Vesuvio's game-deciding grab put one final flourish on a magic carpet ride of a season for his team. "It was unconventional the way he tracked it down, but whatever works, man, whatever works."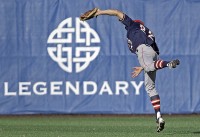 "Yeah, I actually misread the ball, came in on it a little bit," conceded Vesuvio. "I saw it floating over my head, had to go back. I slipped and I almost fell. I just leaped, had it in my glove. That was a feeling like nothing else."
Long before Vesuvio made the play that will long be remembered, Byram Hills had to survive a tension-filled semifinal earlier in the day against Long Island champ Division that wasn't decided until Jake Stuckelman came through with an RBI single in the bottom of the 10th inning, lifting the Bobcats to a 4-3 victory and a berth in the state championship game.
There was much less drama for Section 2 champion Queensbury, which then took the field and defeated Section 6's Hamburg 7-1 while the Bobcats retreated to their hotel to rest, refresh and refocus before the final. They returned to face Spartan ace Kyle Chambers, who had just pitched four and two-thirds scoreless innings in the win over Hamburg.
Chambers retired the first six Byram batters he faced, but in the top of the third inning Kevin Wietsma led off with a single to center field. Michael Aberman's sacrifice bunt moved him to second base and then Nick Sapone drew a base on balls. Vesuvio, the Bobcats' leadoff hitter, stepped to the plate and belted a run-scoring double deep down the left-field line.
Vesuvio's hit brought a pitching change for the Spartans, who turned to Brett Rodriguez. He was greeted by Tommy Gagliardi's ground ball to short that brought home Sapone with the Bobcats' second run. But in the bottom of the inning, Queensbury threatened to get right back in the contest.
Byram Hills pitcher Matt Gertz, who hadn't started a game since nearly no-hitting Lincoln in the sectional semifinal more than two weeks earlier, yielded a leadoff hit to Joe Rodriguez. Hunter Scott reached on an error and Brett Rodriguez followed with a long fly that moved the lead runner to third. Gertz then got out of trouble as Erik Wettersten bounced to short, where Kellen Hatheway fielded the ball, stepped on second and threw to first for an inning-ending double play.
Just as they had against Division earlier in the day, the Bobcats soon built a 3-0 lead, adding another run in the top of the fourth aided by one-out walks to Nick Contillo and Stuckelman. Contillo eventually scored what proved to be the game's decisive run on a wild pitch with two outs. Unfortunately for the Bobcats, the inning ended with the bases loaded as Vesuvio was called out on strikes.
"Yeah, you always wanna tack 'em on when you have the opportunity to do so," said Saunders about leaving the bases loaded in the fourth. "You never want to get complacent with a lead. Certainly it would've been nice to bust it open there. But credit our boys. They don't let that get them, they bounce right back, and we recorded that final out."
The Bobcats nearly added to their three-run lead in the top of the fifth as Gagliardi led off by lining a single to left and Hatheway, the Bobcats' all-time hits leader, just missed a home run, sending a Rodriguez pitch foul far down the left-field line near the 315-foot sign. The inning ended with Gagliardi stranded at second base.
In the bottom of the inning, the Spartans finally got to Gertz as Matt Zita doubled down the left-field line and came around to score on a single by Brett Rodriguez. But with two runners aboard and just one out, Wettersten sent a fly ball toward right-center field. Vesuvio raced over to catch it in front of Sapone, quickly spun and fired a perfect one-bounce rocket to third baseman Stuckelman that arrived just in time to cut down Hunter Scott trying to advance.
Gertz yielded a leadoff walk in the sixth, but then retired the next three Queensbury batters. In the seventh, the Bobcats stranded a pair of runners, including Gagliardi, who had reached with his second hit of the game. That set the stage for the dramatic finish in the bottom of the inning.
"Well, yeah, we were hoping for a 1-2-3 inning," said Vesuvio, "so that the top of the order didn't come up."
"Wow, we just had to make it interesting," added Hatheway. "We couldn't just go out and have an easy win."
Gertz, who had already pitched briefly in relief in the semifinal, managed to get one out in the seventh. But he departed with two runners aboard after walking Scott on a full-count pitch. In came Anthony Russo, the Bobcats' ace a year ago who hadn't thrown a pitch all season following shoulder surgery. He promptly plunked Brett Rodriguez to load the bases.
The Bobcats, still leading by two runs, moved to within one out of the state title when Russo got Wettersten to pop out to Hatheway at short. But the Spartans narrowed their deficit to 3-2 as a walk to Chambers forced in a run. Saunders summoned junior southpaw John DiMarco to replace Russo and the drama continued to build.
A 2-1 pitch to cleanup hitter Justin Troelstra caromed off the lefty batter's right shoulder, seemingly forcing in the tying run. But since Troelstra made no effort to get out of the way, and even leaned into the pitch, he wasn't allowed to take first. The count eventually went full, and with the runners in motion Troelstra lined a shot toward center field where Vesuvio started in and to his left, before suddenly realizing the ball was about to sail over his head.
At the last possible second, he reached up and backhanded the ball just in time to make sure the Bobcats' dream season didn't turn into a nightmare.
"Frankie, on that last, oh my, I lost it," said Hatheway. "Frankie on that last catch goes in, then back, and then makes a leaping catch. It was unbelievable. It was crazy."
"You know," said Saunders, "Frankie's been the most talented player we've ever had in our program. And if you want the ball hit to anybody, he's certainly a good choice. He made it interesting, but we'll take it."
"I mean, just the fact that I almost dropped that ball made it a little interesting," said Vesuvio, still clutching it in his glove as a treasured souvenir nearly 20 minutes after making the grab that gave Byram Hills its first-ever state championship.
Vesuvio, who had pitched the Bobcats to a win over Rye in the Section 1 title game and another over Saugerties in the regional final, was back on the mound at the start of the day, facing a Division team that was ranked first in the state. He held the Blue Dragons hitless through five and a third innings, while the Bobcats got RBI singles from Aberman in the second and Stuckelman in the third and grabbed a 3-0 lead that held up until the sixth.
Division scored three times in the top of the sixth to tie the game, which wound up in extra innings. Vesuvio was replaced on the hill after eight and Gertz was needed in the top of the 10th to extricate the Bobcats from a big jam when the Blue Dragons loaded the bases with just one out.
In the bottom of the inning, Hatheway was hit by a pitch, moved to second on Russo's sacrifice bunt and easily scored the winning run when Stuckelman dropped a single down the left-field line. Stuckelman's walk-off hit sent the giddy Bobcats into the championship game and moved them within one victory of fulfilling a dream.
"Absolutely, it's something we dream about," said Saunders. "It's something that we sit there and we talk about how sweet it would be and, to finally get here and just do it, words can't describe. They really can't."
"It's been a day of excitement, that's for sure," said Hatheway. "It's definitely something I'm gonna remember. I mean, my four years, I was hoping to get to a section championship. And to get to a state championship is absolutely unreal."
"Since we were nine," added Vesuvio, "we've been playing together and we always fell short. This time, we finally won something."
And just in case he thinks it's all just a dream, all he has to do is open up his glove. There's a very special baseball tucked inside.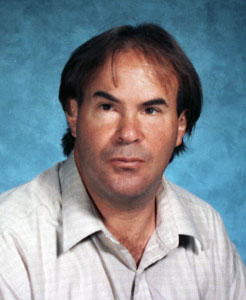 Andy is a sports editor at Examiner Media, covering seven high schools in the mid-Westchester region with a notebook and camera. He began there in the fall of 2007 following 15 years as a candid photographer for the largest school picture company in the tri-state area.
Read more of Andy's full bio here.
Read Andy's archived work here.