Board of Legislators' District 3 Candidates Set for November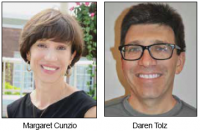 The presumptive Board of Legislators' District 3 candidates have made it official, both announcing they would be the nominees for this November's election a week after they were supported by one town's political committees.
First-term incumbent Margaret Cunzio (C-Thornwood) and Democratic challenger Daren Tolz of Armonk will be opposing each other in the fall. Both candidates are educators – Cunzio is a college professor and Tolz is a New York City school teacher.
More than two weeks ago, North Castle's Republican and Democratic committees endorsed Cunzio and Tolz, respectively, before the candidates publicly announced their intentions.
Cunzio said while the Board of Legislators has forged ahead with several projects such as approving the 99-year lease for the North 60 project in Valhalla, making strong progress on restoring Miller House/Washington's Headquarters in North White Plains and constructing a visitors' center at Cranberry Park Preserve, she would like to see these and other initiatives moved along in a second term.
"It's one thing to pass legislation, it's another to actually see something tangible," Cunzio said. "I would like closure on one of these projects."
Tolz, who received the endorsement of the Mount Pleasant Democratic Committee on June 8, said he is running because the district needs a more independent voice than it has received in recent years. He said that on nearly every significant issue that has arisen in the 18 months since Cunzio took office, she has sided with County Executive Rob Astorino.
The lone exception is the potential privatization of Westchester County Airport, where she has remained noncommittal, said Tolz. He listed the airport as one of the top issues facing the district and the county because of its potential negative impact on the environment, residents' quality of life and the county's finances.
"If she's for District 3 and not just for Mr. Astorino, then it seems pretty clear to me that she should be against the privatization of the airport because from our perspective there's going to be increased air traffic," Tolz said. "It's just going to be a fair number of negatives with that."
Cunzio explained that lawmakers are still evaluating all the components to the privatization plan from the consultants as well as the Master Plan for the site.
However, she disputed Tolz's charge that she isn't independent.
"I am the only Conservative that sits on the board," Cunzio said. "I am not a Republican, I am not a Democrat. If that's not an individual that doesn't fit into a major party, I don't know what is."
Cunzio added that with the legislator's job the equivalent of full-time hours, she questioned how Tolz would juggle both his teaching job in the city and attend required committee meetings and functions.
She said that the continued unfunded mandates handed down by the state has negatively affected local and county governments and school districts and has contributed to the county's borrowing level.
One of the surprises of her first term, Cunzio said, was the slow pace of getting work done.
"I've really realized that government works a little, actually works slower, then I would have hoped," Cunzio said.
Tolz said he was concerned with the continued level of borrowing Astorino's administration, which has caused services such as police and parks to degrade.
"In a general sense, we can't keep taking away services, taking away services and expect our quality of life is going to stay the same," he said.
He said the county would not necessarily have to raise taxes to balance the budget without borrowing, but exercise more effective fiscal management. He cited the millions of dollars lost and wasted fighting the affordable housing settlement.
Tolz also supports the proposed Immigration Protection Act to protect the county's immigrant population and Westchester's "shared values," which includes relying on immigrants communicating with police and other officials on public safety issues.
District 3 includes Mount Pleasant, North Castle, Pleasantville and parts of Greenburgh, Briarcliff Manor and Sleepy Hollow. It is also Astorino's home district.