BluePath Service Dogs Hosts First Annual Walkathon May 20 at FDR Park
We are part of The Trust Project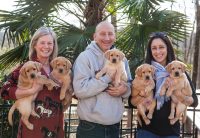 On Saturday, May 20, BluePath Service Dogs will host their first annual walkathon at FDR State Park in Yorktown Heights. The family-friendly fundraiser, to be held from 10 a.m. to 2 p.m., will raise funds in support of BluePath's mission to provide autism service dogs, offering safety, companionship and opportunities for independence.
The 1.7-mile walkathon is open to all ages and begins in Lot 4 of FDR State Park. Kids will be entertained with a variety of activities including a bouncy house, lawn games and face painting. WNBA legend and former New York Liberty player Sue Wicks will be on hand to greet fans. Friendly dogs are welcome on leashes 6′ or shorter. Attendees also have the opportunity to meet the puppies of BluePath and learn more about how the nonprofit is unlocking life's potential for children and families touched by autism.
According to the Autism Society, more than 3.5 million Americans live with an autism spectrum disorder. It is the fastest growing developmental disability in the United States, with a 119.4 percent increase in diagnoses from 2000 (1 in 150) to today (1 in 68).
"Many children with autism exhibit bolting or wandering behaviors, which can make trips outside the home a frightening proposition," said BluePath President and CEO Jody Sandler. "BluePath dogs works alongside parents and caregivers to keep a child safe."
BluePath dogs significantly reduce parents' safety concerns and help children to lead fuller lives. Reduced stress, improved sleeping routines, and more meaningful social interactions can allow families to feel a renewed sense of hope and empowerment.
"Our family's autism service dog has meant my son's journey is full of more joy, more safety and more social experiences then I could have ever imagined," said Tricia Zarro, BluePath's Board Chair. "As we walk our 'blue path,' we walk it tethered to an autism service dog. I am forever grateful and encourage anyone interested in BluePath's life changing work to join us."
BluePath's first annual walkathon has gained major support from the following sponsors:
Platinum Sponsors: A.Devito & Son, CLG Construction, Co-Communications, Elite Carriers
Gold Sponsors: Hudson Valley Men's Adult Baseball League, NexGard / Heartgard, Quinn Law Firm, VCA
Silver Sponsor: G.S. Bounce and Good Reasons
Bronze Sponsors: Club Fit, Decker Tool Rental, Hudson Highlands Veterinary Medical Group
Walkathon registration includes a BluePath event t-shirt. Adult walkers are $30; children under 13 years old are $20. For more information or to register, visit www.bluepathservicedogs.org. Those unable to participate on May 20 also have the option to support walkers with an online donation. Sponsorship opportunities are still available; for more information, contact Michelle Brier at 914.815.8280 or michelle.brier@bluepathservicedogs.org.
BluePath Service Dogs, Inc. is located at 8 Country Club Road in Hopewell Junction. They can be reached at 845-377-0477 or by visiting www.bluepathservicedogs.org. For the latest news and updates, follow @BluePathServiceDogs on Facebook and @BluePathDogs on Instagram.
About BluePath Service Dogs, Inc.
BluePath Service Dogs, Inc. is a 501(c)(3) nonprofit founded in 2016 to provide autism service dogs, offering safety, companionship and opportunities for independence. The organization transforms lives by providing families with expanded opportunities to unlock life's potential. BluePath relies on the generosity of donors and volunteers to fulfill its mission. For more information, visit www.bluepathservicedogs.org. Follow BluePath on Facebook at www.facebook.org/bluepathservicedogs.