Blowouts Galore in Week 2: Carmel, Mahopac, Somers, Yorktown Cash In
We are part of The Trust Project
By Ray Gallagher, Examiner Sports Editor @Directrays
Week 2 on the Northern Westchester/Putnam side of Section 1 football witnessed a ton of gridiron blowouts, including Class A's Somers over Brewster, 30-6; Mahopac 35-6 over Lourdes; Yorktown's 41-0 win over Panas and Lakeland's 41-0 setback to John Jay CR. Class AA's Carmel whipped Spring Valley, 49-0. In Class B, Hen Hud took it to Putnam Valley, 34-14, so no matter where you went up north, you were likely to find a one-sided affair last Friday.
CLASS AA
Week 3 has been circled on CARMEL's calendar since the minute the Section 1 schedules came out this summer. Players and coaches alike took note of the Week 3 grid with five-time reigning Section 1 champion New Rochelle, winners of 14 of the last 20 Class AA sectional nuggets, on the docket. Coach Todd Cayea's Rams (2-0) tuned up with a Week 2 thrashing of Spring Valley, scoring six touchdowns on just 30 offensive plays, two through the air and four via ground.
Ram QB Kevin Dall hit on both his pass attempts to WR Andrew Fiore (90 yards receiving), each of which found paydirt. Thomas Keating rushed nine times for 108 yards and a score while Josh Massi rushed seven times for 65 yards and a score. Keating also took a pick-six to the house. Dylan Shields added four carries for 54 yards, and Jake Elner and Jeremy Smith both added a rushing score for the Rams, who will host New Rochelle Friday (7 p.m.).
CLASS A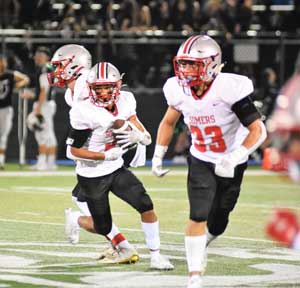 SOMERS vs. BREWSTER was an intriguing matchup, given the fact that Brewster made short work of YORKTOWN the week before, but the host Bears had a couple of costly mistakes early, which led to short fields for the Tuskers, which led to quick scores and a hole Brewster could not dig out from.
"You have to play smart, error-free ball when you play against the best teams in the section like Somers, and we just didn't do that," Brewster Coach Ed Mulvihill said. "Their kicking game is a weapon and we made some mental errors that hurt us: Starting field position inside of our 10 three times. Hard to mount a drive of 90-plus yards against anyone, much less Somers. They are a complete team and will be in the hunt for a championship in the end. We have some work to do and some injuries to overcome, but our kids are motivated and the coaching staff loves to be around them. It's a long season and we will work hard at getting better each week."
Somers' opening kickoff by junior K Luke Savino went along the right sideline and was batted out of bounds by the Bears, who began their first drive from the seven-yard line and went three and out. Somers took that short field, and went 44 yards in nine plays, capping the drive with a five-yard pass to Matt Kapica from QB Matt Fitzsimmons (8 of 15 passes for 99 yards).
Savino missed the PAT but made up in a hurry, pinning Brewster down at the eight with a kick very similar to his first. The Tuskers forced another quick punt and went 36 yards in three plays, capped by the versatile Savino's 26-yard dash to paydirt and PAT for a 13-0 lead.
"It felt great to beat Brewster," said Savino, who rushed seven times for 44 yards. "I have always played kicker, offense and defense since fourth grade, but have recently focused more on kicking with college around the corner. We are really starting to work well together as a team and we will keep getting better. I am learning a lot from Coach DeMatteo and all the coaches in my first year on varsity."
Tusker junior RB Ravi Dass Jr. rushed nine time for 103 yards, including a back-breaking 75-yard TD jaunt. Somers FB Derek Marcus added 29 yards on six totes, plus a short score.
The Somers O-line was jacked to see the short fields.
"Watching our defense and special teams go to work made us tenacious," junior C Anthony Carino said. "We love to see our teammates give us great opportunities to put the ball in the end zone. It was very rewarding watching our running backs go off for us. I'm excited to see what Dass and Savino will do for us."
Tusker senior Ethan Krauss led the Somers defense with seven tackles and a sack.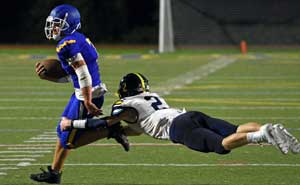 MAHOPAC simply smoked a Lourdes club that had put up a 52-spot on John Jay CR the week before. Holding that Warrior offense to six points was as impressive as hanging 35 on them.
Mahopac QB Anthony DeMatteo hit on 9 of 13 passes for 127 yards and a TD pass to speedy WR Max Gomes (4 grabs, 67 yards). Mahopac RB's Joey Koch (5 rushes, 91 yards), Steven Perrone (8 rushes, 76 yards) and David Ortiz each rushed for a score. Koch and Perrone led a ground game that went for 17 rushes for 177 yards, a gaudy 10.4 yards per pop. Mahopac senior Ryan Rondeau blocked a punt before a scoop and score for a 14-0 lead.
"The O-line were the MVP of the game," said Koch, a junior with great burst. "They dominated that game and made my job simple for me. Without them, me or Steven don't have that type of game like we did."
YORKTOWN rebounded from its stunning opening-week loss to Brewster with a convincing win over host PANAS. Husker QB Justin Meyreles carried 12 times for 80 yards and three TD's while going 8 for 14 passing for 165 yards and a score. Yorktown RB Dillon Carter needed just five carries for 114 rushing yards and a score. Yorktown's defense was led by Vincent Cappelli (10 tackles) and Vito DeBellis (7 tackles, 1 sack).
"It was huge to rebound and see the guys play the way they are capable of playing and get things going," Yorktown boss Pantelis Ypsilantis said. "Just like life, the game of football is a series of ups and downs and you find out a lot about a person's character when they are down. I thought there was a lot to learn from the loss week one and the players attacked this week with tremendous zeal. How hard the players worked in practice and the growth they displayed had a direct impact on how they performed in the game. Preparation was the key and we had laser focus and energy all week. They did a great job playing within the scheme and complementing each others' play with strong team defense and offensive execution. Defensively, Vin Cappelli was stout and flying around all game. Vito DeBellis had an excellent game and made some huge plays. Our secondary, led by Jack Carlin, did a great job covering and in-run support. In terms of our success offensively, Justin Meyreles and Dillon Carter have tremendous speed that you can't coach."
CLASS B
HEN HUD improved to 1-1 behind RB Anthony Panaterri, who rushed for three scores, including a 52-yard jaunt as the Sailors raced out to a 34-0 lead before settling for a 34-14 win over PUTNAM VALLEY. Sailor QB Chris McGuire fired a 39-yard TD strike to WR Rocco Cappicotti and Dan Martinez added a 20-yard TD run. QB Anthony Esposito scored for the undermanned Tigers (0-2).