Bistro Le Jardin Du Roi in Chappaqua is Always a Treat to Eat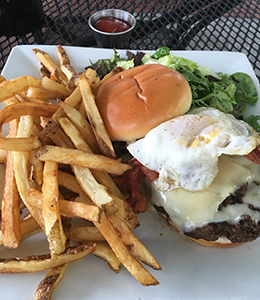 By Morris Gut
It was mid-afternoon, pre-Bastille Day, when I stopped in at Le Jardin Du Roi on King Street in Chappaqua. It had been quite a while since I ate there.
Joe Quartararo and Christian Larsen have been operating this bustling bistro in the heart of the downtown for the past 20 years. I took a quick look inside and it was the same cozy interior that I remembered.
I sat down on the pleasant tented outdoor patio and looked over the menu with surrounding garden flowers in full bloom. I knew exactly what I wanted: the signature Burger du Roi, prepared medium with bacon, Swiss cheese and sunny side egg on top.
To my memory, Le Jardin was one of the first to "throw an egg on it," before the culinary concept became so commonplace. The large platter came with French fries and fresh chopped salad. (Ask for extra salad dressing on the side.) My burger was oozing decadence, deliciously so. The fries were nice, too.
For dessert, I had Le Jardin's popular warm bread pudding. On this day it was prepared with blueberries resting on a shallow pool of vanilla sauce with some powdered sugar. A delight! Nothing like a good bistro meal.
Le Jardin Due Roi is located at 95 King St. in Chappaqua. Open daily. Free parking. Check ahead for hours. Info: 914-238-1368 or visit www.lejardinchappaqua.com.
Bistro-Style Roasted Chicken
In recent weeks I've had the pleasure of eating at two more favorite French bistros. Le Diplomate in Washington, D.C., always busy and delicious, and Café D'Alsace, a bustling spot on Manhattan's Upper East Side. I have always been fond of the French way in the kitchen.
On Bastille Day, my companion decided to surprise me with a home-cooked bistro meal. It turned out very well. We shared a roasted chicken she found on sale at Fresh Market in Scarsdale, a tasty tapenade accompaniment and fresh corn salad. For dessert, we had a classic cherry clafoutis with fresh cream. Thank you, dear.
The Dog Den Expands
Hot dog mavens find their way to The Dog Den, located at the former bus depot at the White Plains Metro-North station on Bronx Street, all day long this time of year.
Hot dogs are an ode to the ultimate comfort food, according to dynamic owner and founder Dennis (Big Dennis) Rubich. On this beautiful late afternoon, the 7-foot-1 Rubich (he once played professional basketball in Europe) was chatting with customers as they ate their dogs and sides with gusto. The seating area has been expanded.
There are all sorts of combinations and toppings on the menu along with alternative bites galore. The Dog Den uses Sabrett all-beef certified gluten-free dogs and Martin's long potato rolls.
On this visit we tried the Bernie Mac n' Cheese, wrapped in bacon and loaded with decadent macaroni and cheese topping.
The other, The Cool Beans, was topped with bacon bits and baked beans. We ordered a pile of crinkle cut fries, too.
On previous encounters, I consumed The Cali Double Dog, with bacon strips, guacamole, tomato, ranch dressing and celery salt. Also, The Chili Willy, which contains chili, nacho cheese sauce and chopped white onions. Both were well-assembled by the eager staff and delicious.
There are free half-hour parking spaces. Seating is well-spaced. According to Big Dennis, who is leasing the space from the county, there are plans for a breakfast menu and beer and wine service.
The Dog Den is located at 1 Main St. in White Plains at the Metro-North train station. Open Tuesday through Sunday. Info: 914-328-3288 or visit www.thedogdenwhiteplains.com.
Utica Pie Returns
The Utica Pie Co. has reopened on White Plains' Mamaroneck Avenue after closing during the pandemic. The space, two stores down from the old Francesco's, now offers indoor and outdoor seating.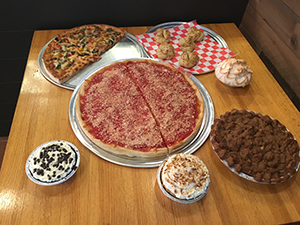 Its signature tomato pie is one of the specialties. Owner Sal Torchia said the Italian-style eatery is now in full operation.
Torchia was nice enough to show off some of the menu items during a recent visit. There was the Utica Pie, UPC knots and veggie pie. Desserts included the lemon meringue pie, chocolate cream pie and banana coconut cream pie. I'm looking forward to a tasting down the line.
The Utica Pie Co. is located at 594 Mamaroneck Ave. in White Plains. Open daily. Info: 914-948-5600 or visit www.uticapieco.com.
Mt. Kisco Restaurant Week
The Mount Kisco Chamber of Commerce has launched its first-ever Restaurant Week, starting this Friday, July 23 and running through Aug. 1. More than 20 eateries are participating. Each restaurant will be serving its own unique dish or menu during the program.
The good news is that Mount Kisco restaurants offer a lot of tasty diversity. This would be a fine way to give a few a try. For the latest information, visit www.mtkiscochamber.com.
JACK KNIFE WILL KEEP YOU SHARP!
There was a huge uptick in home cooking during the pandemic. Novice and pro cooks were busy honing their skills.
So how do you keep those knives and kitchen utensils sharp? You may want to catch up with Jack "Knife" Martin, U.S. Navy veteran and owner of Jack Knife Sharpening in White Plains. Martin has become a regular at the Wednesday White Plains Farmers Market and at markets across Westchester and Connecticut. He works with professional chefs as well as home cooks, offering blade sharpening and restoration services for knives, scissors or garden tools. Gift cards are available.
For information and rates, call 914-434-0522 or visit www.jackknifesharpening.com.
Morris Gut is a restaurant marketing consultant and former restaurant trade magazine editor. He has been tracking and writing about the food and dining scene in greater Westchester for 30 years. He may be reached at 914-235-65491 or gutreactions@optonline.net.