Bianco Claims Yorktown is 'For Sale' Under Grace
We are part of The Trust Project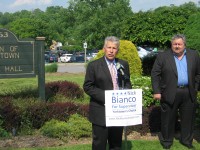 Yorktown Councilman Nick Bianco came out swinging during his campaign kickoff for supervisor last week, contending the current administration had turned the town into "Gracetown" where no regulations are followed and political supporters are given special treatment.
Standing between Town Hall and Yorktown Supervisor Michael Grace's law office, Bianco accepted the endorsement of the Democratic, Conservative and Independence parties in his bid to unseat Grace in November.
"I want to do the right thing for Yorktown. I want to get away from all this political garbage that you've seen," said Bianco, 68, who has been a councilman for 16 years and is not risking his Town Board position by running for the town's stop spot this year.
"I had hoped this new administration would be different. I was looking for the Mike Grace that I knew as town attorney. Instead, we're moving to urbanization, known as Gracetown, where the town is for sale," Bianco contended. "Campaign supporters step to the front of the line. In Gracetown, any land use is okay. In Gracetown, if you want our wetlands, go get them. In Gracetown, poor planning is good planning. In Gracetown, anything goes. I've worked too long for this to go on. It's time to take our town back. Let's not make Gracetown Gravetown."
Bianco, a registered Conservative, was one of four candidates that were nominated for supervisor before the Yorktown Democratic Committee. Two of those hopefuls, Lanny Gilbert and Steve Steenick, took their names out of consideration and backed Bianco. Former Supervisor Susan Siegel, a registered Republican who was defeated by Grace in 2011 in a three-way race after one term, remained in the mix, but Bianco received more than 90% of the votes of the committee.
"We're thrilled to be able to have Nick Bianco heading our ticket in November," said Democratic Party Co-chairman Brendan Tully. "During his more than 16 years on the Town Board he has consistently shown that the betterment of Yorktown is his primary concern."
"When it comes to serving the people of this town, he has no equal," added Co-chairman Ron Stokes. "Everyone knows that they can call him any time, and he'll be there for them right away, regardless of party affiliation."
Not all Democratic leaders were on board with the committee selecting someone from another party to carry the Democratic banner. Former party chairman and former Town Justice Marc Oxman called the endorsement of Bianco "a dirty deal."
"We are giving away our line. The process was unfair. I don't think he's qualified to be on the Democratic line," Oxman said.
Grace, who has been endorsed by the Republican Committee, said Yorktown has made great strides under his leadership and would take a step back if Bianco were in charge.
"I guess he wants to bring it back to where nothing is happening," Grace remarked. "For me it's the political pundits that sit around and add up lines in anticipation that's all they'll need to win. Those days are long gone. I won on one line last time. Yorktown has a lot of intelligent voters. It's all innuendo and he has no substance whatsoever. I will be trying to keep moving Yorktown forward."
Grace said he took exception to remarks from Bianco that he surrounds himself with "characters and losers."
"I find that offensive. I don't think you make references to anyone who wants to come in and do something as losers," Grace said. "He's 'Just Say No Nick.' He for years has been an obstructionist when it comes to most things. He complains there's no transparency but he's had this complaint with everyone. It's a way of kicking something down the road and not having to make a decision."
Bianco, a retired law enforcement officer who has worked the last 25 years as a criminal investigator with the Legal Aid Society, said his campaign will be focused on preservation and keeping Yorktown "green."
"My career has been to serve people. I want to serve people, not be served," he said. "I want to give our residents a clear choice. It's time for us to say no. Yorktown is not for sale."
The Democratic Committee also endorsed incumbent Councilman Vishnu Patel for a second term and Rich Campanaro, former president of the Yorktown Athletic Club, for the two open Town Board seats, and Thomas Diana, a former Cortlandt Police detective and current owner of Comfort Heating, for highway superintendent. No candidate was nominated for town justice to challenge incumbent Sal Lagonia.