Beloved Music Teacher, White Plains Resident Fondly Remembered
News Based on facts, either observed and verified directly by the reporter, or reported and verified from knowledgeable sources.
We are part of The Trust Project
By Ryan Raicht—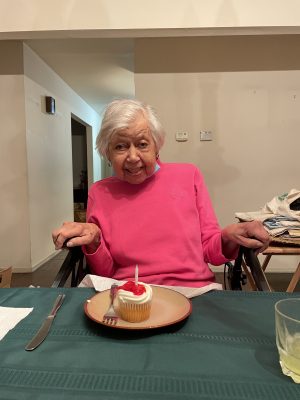 Longtime White Plains resident and East View Middle School music teacher Rebecca Bright had a lasting impact on her students and community.
She and her husband, Harry Bright, had been White Plains residents for 60 years and active members of the community. She was beloved by her students at East View, where she taught for more than 30 years.
Bright died May 21 at the age of 92.
In addition to her teaching career, Rebecca Bright was also an accomplished opera singer. She traveled overseas singing professionally as a member of the NYU Vocal and Operatic Ensemble on its European tour. During her time in Germany, she learned the language and would often sing in German. She viewed her performances as a cultural exchange.
"Beckie was a colleague and like a sister to me because of our travels and adventures together as roommates on the classical concert trail," said Mareda Graves, a longtime friend of Bright's. "She was a gifted musician, respected teacher, singer and a tireless worker as a member of the National Association of Negro Musicians and the Thomas Study Music Chapter."
"She had the ability to see uniqueness in students," her daughter, Miriam Bright, said. "She could see gifts and was tolerant of people's differences. And she taught that to me."
Nicholas Wolff, a White Plains real estate agent, was a former student of Bright's in 1963. Bright's impact on his life extended far beyond the classroom. They developed a strong bond that continued into his adult life.
Wolff's father, also a real estate agent, sold Rebecca and Harry their first house when they moved to Saxon Woods in the 1960s. Sixty years later, Nicholas sold the same house for the Brights when they transitioned to the Waterstone assisted living facility last September.
Wolff was always there to help Bright with whatever she needed, including driving her to appointments and teaching her daughter gymnastics.
"She was like another mother to me," Wolff said.
Rebecca Margaret Waller, or Beckie, as many close to her called her, was born July 1, 1930, in Staunton, Va. Being born into the segregated South, she was fortunate to have received a strong education growing up. She attended Northview School for Girls (now known as Northfield Mount Hermon School), in Gill, Mass.
It was in her early years when she fell in love with music. She earned her bachelor's degree in music and arts from Ithaca College and continued her education at Columbia University to get her Master of Arts degree in music.
On July 9, 1955, she married Harry Bright. They raised two children, Miriam and David.
"The support that they gave each other allowed them to stay married almost 70 years," Miriam said. "She did an admirable job raising children in that time period."
Harry was often in the spotlight throughout their marriage. He was a constant advocate for civil rights and social justice in Westchester and was the first Black councilman in the county. He served as the executive director of the White Plains Commission on Human Rights from 1985 to 2003.
In addition, Bright was president of the New York State Association of Human Rights Commissions, co-founder of the White Plains Coalition for Cultural and Racial Harmony and a co-founder of Embracing Diversity and Ending Racism.
Throughout Harry's political career, Rebecca remained supportive. At the same time, she was also an active member of the community.
In addition to her long teaching career, Rebecca was a member of the White Plains Beautification Foundation and a supporter of the Friends of Downtown Music.
Family and friends described her as a woman of wisdom, grace, prayer and a source of inspiration. But she also enjoyed having fun with her loved ones and was known to have a great sense of humor.
At her daughter's wedding, Bright spoke to all the guests, seemingly about to deliver some of her famous words of wisdom.
"You want to know the secret to a happy marriage?" Bright said to her daughter. Eager for her next words, the entire room turned to her. "Always put the toilet seat down," she said. The room burst into laughter.
Bright was a mainstay behind the piano during Thanksgiving dinners and other family gatherings, serenading her loved ones with her beautiful singing voice.
"She was an amazing mother," Miriam Bright said. "She had a lot of challenges in her life and rose to the occasion each time."
Bright was preceded in death by her son, David. She is survived by her husband of 68 years, daughter Miriam Kay Bright and her husband, Clifford Thomas, of Los Angeles, and many other relatives and friends.
A public celebration of her life and memorial service will be held in the future.