Bedford Attorney to Pursue GOP Nomination in 37th Senate District
We are part of The Trust Project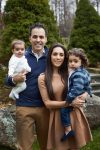 A Bedford attorney is the first Republican to officially announce his candidacy in hopes of filling the 37th state Senate District seat that will soon be vacated by County Executive-elect George Latimer.
Political newcomer Sarmad Khojasteh, a commercial litigation lawyer with the Manhattan firm of Kasowitz Benson Torres, said he is running to make the American Dream attainable for working families, a point that many elected officials from both major parties have neglected.
"As an immigrant whose family benefitted from the refuge and opportunity that the United States offers, I always felt compelled to serve, and while the current state of our political discourse has turned a lot of folks away from service and political engagement, for me it's only raised the stakes," said Khojasteh.
So far, Khojasteh is the only Republican to enter the anticipated race for the remainder of Latimer's unexpired term, although that could change. Former prosecutor and Westchester County district attorney candidate Dan Schorr has reportedly considered jumping into the race.
Meanwhile, the size of the Democratic field continues to swell. Last week Yonkers Mayor Michael Spano announced he would run for the seat, making him the fourth Democratic candidate to enter the race. Spano joins Assemblywoman Shelly Mayer, Bedford Supervisor Chris Burdick and Bernie Sanders delegate and White Plains resident Kat Brezler in the Democratic camp.
Khojasteh said he plans to focus on finding ways to help working families get ahead with common sense solutions. For example, he has a plan to allow families to save for a home by allowing prospective purchasers to create accounts that are similar to 529 college savings plans.
He also said legislators in both parties have failed to address the $4 billion budget deficit from last April and a projected $8 billion deficit looming for next April. Budget cuts must not hurt lower- and middle-income families, Khojasteh cautioned.
"Our specific focus is on lower and middle income New Yorkers," Khojasteh said. "We want to promote policies that will allow them to achieve financial security and upward mobility. We're hoping this campaign will give an opportunity to give a voice to their concerns and ultimately will give voice to their concerns in Albany."
Khojasteh, 36, was born in Iran, but his family escaped the country during the Islamic Revolution when he was about a year old. They settled in Poughkeepsie where Khojasteh's father was a chemist at IBM, and later opened a gas station and convenience store that he owned and operated in Peekskill.
He said he wants to ensure that families have a similar opportunity that he and his twin brother had. Khojasteh, who has two young children with his wife, graduated from the University of Chicago Law School while his brother is a doctor.
Khojasteh said perhaps the most important issue is to help reform Albany is to by having part-time lawmakers rather than making service a career where incumbents protect their own interests.
"We have a constitution that calls for a part-time legislature," he said. "We are intended to be citizen legislators, not career politicians, whether that's Mike Spano, Shelly Mayer, whomever else want to toss their hats to this. They're a special interest onto themselves. When there's proposed ethics reform, it's the politicians in Albany that prevent it."
In order to schedule a special election, Gov. Andrew Cuomo would have to call for one, but must wait until Latimer resigns, which is expected on Dec. 31. Once a date is set, leaders from both major parties will hold a convention to decide on a candidate to vie for the seat. The seat is up again in November for the full two-year term.
Khojasteh said he's meeting with residents, party leaders and business owners from Yonkers to Bedford in the expansive district in hopes of gaining their trust and confidence.
"We're meeting with as many district leaders and community members as possible and thus far things have been overall really positive," Khojasteh said. "We believe that our small business focus, economic message will resonate with voters. When people hear about my personal story, we'll provide a compelling theme for the campaign."