Becker Reelected in Landslide Victory in Cortlandt
News Based on facts, either observed and verified directly by the reporter, or reported and verified from knowledgeable sources.
We are part of The Trust Project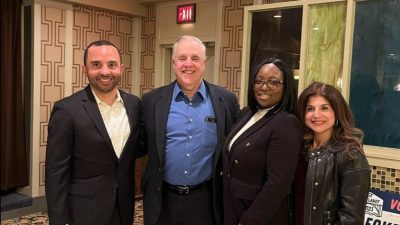 Cortlandt Supervisor Dr. Richard Becker soundly defeated challenger Warren Smith to earn a second two-year term as the town's top chief executive.
According to unofficial results from the Westchester Board of Elections, Becker, 70, a cardiologist who served 14 years as councilman before being elected supervisor in 2021, received 5,820 votes (61%) to 3,778 (39%) for Smith, who came up short in his third bid for an elected seat on the town board.
Becker's two Democratic board running mates, Councilman Robert Mayes and Joyce White, also won comfortably with Mayes getting 5,562 votes and White 5,486 on the Democratic and Working Families lines. White will be filling the seat being vacated by Councilman Frank Farrell, who is retiring after 28 years.
First-time candidate George Pappas finished third with 3,928 votes and Ryan Mulcahy, a teacher in the White Plains School District, came in fourth with 3,699 votes.
Town Justice Maritza Fugaro-Norton was also reelected running unopposed.
"I am so very pleased and reassured by our strong win. This much of a victory margin can be interpreted by some as a mandate, but I believe that it represents an affirmation that our Cortlandt government is on the right track," Becker said Wed. morning. "It is comforting to know that our efforts are being recognized by the community and that we have earned their trust and support. I very much look forward to continuing my work as Supervisor. It's been an honor and a joy, and I am excited to continue in this role."
"In this campaign, as in my prior ones, we presented our accomplishments and plans for the future. We always stayed positive and never were critical of our opponents," he continued. "This year, our opponents chose to go negative, critiquing everything in a series of reprehensible mailers, making nasty insinuations against us. I am so very pleased this approach failed, that the public rejected such despicable tactics, and overwhelmingly supported us."
When contacted, Smith, 60, a lifelong Verplanck resident and Director of Operations for a commercial printer in New York City, stated he wasn't ready to make any comments about the election.
However, Pappas did release a statement about his experience running for office.
"While the election outcome is not what many of us had hoped for, I wish our chosen board nothing but success in governing for all of us moving forward. Elections are tough. You are never going to make everyone happy with the outcomes, but the important thing is we need to accept the results and find a way to work together for the greater good. We are one community," he stated.
"As everyone knows, I am not a politician. I made the decision to run for a position on our town board to get some political balance in Cortlandt and diversity of thought. That did not happen, but I must say my experience over the last few months has been very rewarding for me personally. It gave me the opportunity to meet many of you during the campaign cycle," he continued. "Going door to door was a bit out of my "comfort zone" but after the first few days of doing it I realized that we have some great people in our town! I spoke with Republicans, Democrats, Independents and individuals that hate politics, and everyone was very open to a discussion so they can understand who I am as an individual. Many got to know me as a person as opposed to a party. I drew support from all parties which is refreshing."
"Yes, I am a Republican, that does not make me evil or a bad person," he added. "If people give the other political party a chance you will see that underneath, it shouldn't be about that, it should be about someone's intentions and character. Moderation is desperately needed at this time! Communication is desperately needed at this time! Understanding is desperately needed at this time! Hopefully one day human interaction will outweigh political affiliation. But we have some work to do there."