Bears Overwhelm Highland in the Booster Club Title Game
We are part of The Trust Project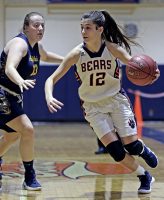 It didn't seem to matter much that the Briarcliff girls' basketball team was missing its best player on Sunday evening.
Even with junior standout Maddy Plank sidelined by a wrist injury, the Bears still managed to overwhelm Highland in the championship game of the 18th annual Briarcliff Booster Club Basketball Tournament. Alana Lombardi scored a game-high 25 points and Kacey Hamlin added 21 as the Bears coasted to a 61-40 victory.
"Our energy was fantastic," said Bears head coach Don Hamlin shortly after his team had improved to 4-0 this season. "I thought that our defensive effort in the first half was as good as I've seen it in a long time. I think we were quicker at just about every position and we played like that."
Facing a Huskie team that captured the Section 9 championship a year ago and has almost everyone back, the Bears wasted little time displaying their superiority. With Plank relegated to the bench as merely a spectator, the other two-thirds of Briarcliff's big three — Lombardi and Hamlin — combined to score all 19 of the Bears' first-quarter points, and Highland walked off the floor after the first eight minutes trailing by 16.
"I've been trying to get them to be aggressive and I thought they both were super aggressive in the first half," said coach Hamlin. "I told 'em after the game our goal, our objective, is to play 32 minutes like that."
By halftime, Lombardi, the tourney's most valuable player, had already scored 17, while Hamlin had 12 as the Briarcliff lead swelled to an astounding 35-7. The Bears' largest lead of the half came with a minute remaining as Julia Barbalato, who joined Hamlin on the all-tournament team, nailed an 18-footer that gave them a 33-4 cushion.
It took the Huskies just a couple of minutes in the third quarter to match their entire first-half production. They scored the first seven points of the period and later closed their huge deficit to 18 points on two occasions. After scoring just seven points in the first half, Highland erupted for 24 in the third quarter.
"I thought the third quarter we kind of took our foot off the gas a little bit," said Hamlin, whose players wound up getting outscored by eight points. "We just can't do that. We've got to play all the time. You've got to be consistent with your defensive effort."
In the first minute of the fourth quarter, Highland got a pair of free throws from both Brianna Rozzi and Jayda Jackson to cut the Bears' lead to 51-35. But Hamlin then answered with a 3-pointer with 6:23 left on the clock to remind the Huskies of their first-half nightmare. When the Huskies closed to within 16 again, baskets from Hamlin and Barbalato shut the door for good with three and a half minutes to go.
"I felt like we relaxed a little bit at halftime and felt real good about ourselves," said coach Hamlin. "We've got to wait until the end of the game to do that."
The Bears had plenty of reason to feel good about themselves at halftime. They scored the game's first six points and after a two-minute blitz during which Lombardi scored four consecutive baskets built a 17-2 advantage. Then they proceeded to outscore Highland 14-1 over the first seven minutes of the second quarter.
It was the same sort of destruction that had crushed Hunter College High School in the tournament's opening round late Friday afternoon. Hamlin connected on five 3-pointers, four of them in the opening quarter, and finished with a game-high 18 points as the Bears rolled to a 65-14 demolition. Lombardi added 17 for the Bears, who held the Hawks to just four second-half points.
The two convincing victories aside, Hamlin is anxious to get his team completely healthy again as the schedule heads toward 2018.
"We still miss Maddy," he said, despite the ease of the wins in the Booster Club tourney. "She just makes us that much more dangerous. We're hoping to get her back in two, two and a half weeks. She's seeing the doctor soon. We'll find out and hopefully she'll be back sooner than later."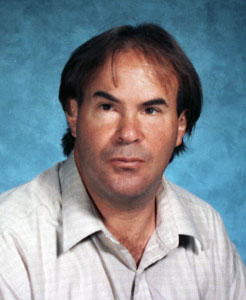 Andy is a sports editor at Examiner Media, covering seven high schools in the mid-Westchester region with a notebook and camera. He began there in the fall of 2007 following 15 years as a candid photographer for the largest school picture company in the tri-state area.
Read more of Andy's full bio here.
Read Andy's archived work here.