We are part of The Trust Project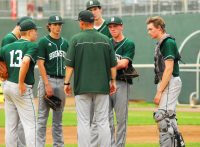 Veteran Brewster Back in Business After 2016 Title Loss
High Hopes Abound at Hen Hen, Croton, Lakeland, Mahopac
BREWSTER proved to everyone last season that all a team has to do in Section 1 baseball is to win enough games to get into the tournament and get hot at the right time. The Section 1 Class A runner-up Bears (13-12) posted a sub-par regular season (10-11), only to turn it on down the stretch and win three playoff games; as a No.17 seed, mind you. The magic ran out in an 8-0 championship loss to John Jay CR, which won its second sectional title in four years.
So in what was essentially a down playoff year for baseball in and about Northern Westchester and Putnam County, the Bears came from nowhere to salvage some form of post-season life for the locals. Who's going to get that done this season? Who is this year's Brewster?
Well, let's start with the Bears themselves. Coach Matt Cunningham's team tasted success last season and the return of many key components should trigger some hope for another run in what looks to be a wide open Class A field. Brewster's league alone – League II-C, which comprises John Jay, Lakeland, Somers and Panas – is pretty stacked this year, so they should all be prepared for the rigors of playoffs by the time the season ends (if it ever starts #ColdestWettestSpringEver).
The senior trio of hurlers Nathan Beal, Christian Lando and Luke Barnes are back in the saddle for Cunningham.
"It will be a bit more challenging for those three this season with the new pitch count rules, but we have Andrew Dougherty, Mike Charbonneau, Mike Ercole and Ben Furu to log some additional innings."
The Bears have 13 returning players from last year's team, which is rare in Class A in this day and age.
"This will hopefully help during our difficult non-league schedule as well as playing in our really tough league," Cunningham said. "Our defensive alignment looks to be a strength, which we emphasize in our program."
Jason Gonch, Tim Catalano and Nolan Curley lead the everyday veteran cast.
"There has been a lot of positional competition throughout the preseason, which always brings out the best in players," the coach said. "We stress thoughtful aggressiveness at the plate and an understanding of running the bases to pressure the defense."
Cunningham figures this unit is poised to do as much damage as any Brewster team has in quite some time and believes the goal of winning the Bears' first sectional title in at least 55 years is within reach.
"This group of kids is a real joy to be around," he said. "They consistently support and root for one another's success. Our other senior returners, Sean Nevin, Rob Piefer, Ryan Wynne, Mario Della Valle and Tim Holler, have all made big contributions to our program and are the backbone to our success. We are very excited to get this season going in a very competitive Class A division."
LAKELAND (11-9) has traditionally been among the finest programs in Section 1, parlaying a fine youth program run by the SOAC into a unit that habitually contends with the best in Section 1. Now in his third season as Head Coach, Bill Casey expects the Hornets to challenge for the league flag before improving on last year's opening-round ouster at the hands of No.8 Eastchester.
Seniors James Houlahan (SS/P, .500 BA last yr.), Pat Morelli (B/P) and Austin Cassese (OF) are the backbone of a veteran unit that looks more ready to contend than it did a year ago, despite key losses to graduation.
Matt Mikulski, a 6'3" senior transfer from JFK will anchor the pitching staff. The Fordham-bound lefty is the kind of legit ace that might carry the Hornets to their first sectional championship since the days of Jonathan de Marte (circa 2010).
The list of hungry veterans include Matt Tuite (OF), Dom Dean (3B/P/C), Louis Costanzo (2B), Kevin Croce (3B), Bryan Petriccione (P) and Taylor Berta (C/P).
There is no shortage of star power at Lakeland this season, including Casey's Assistant Coach Steve Sterlacci, the husband and lead guitarist for country music sensation Jessica Lynn. Casey has been with the program for nearly a decade and the time is now for the Hornets to contend again.
SOMERS' three-peat (2007-09) seems like light years ago, but this unit may be among the most improved in Class A this season after an injury-riddled 2016 campaign.
It all starts at the top of the order with senior SS Matt Pires, the three-sport catalyst, who returns healthy for his senior baseball season before heading off to URI to play football later this summer. Pires, who is pretty close to a five-tool player, hopes to turn around an aberrational three-win season, in which Coach Joe Wootten's Tuskers failed to qualify for the playoffs.
Senior LHP Marc Maestri also returns from injury to anchor the staff. He's long, lanky and legit. Joe Napolitano, Mike Hirsch, Colin Smith and Logan Carriero round out a rotation that hopes to throw strikes and pitch to contact behind a solid defense. Senior CF Garrett Wilson is another keep eyes on.
"We will count on Maestri and Pires to provide leadership, produce runs, and in Maestri's (LHP) case, keep the other team from scoring," said Wootten, a three-time Section 1 champion. "We are determined to put the past behind us. Last season was a series of unfortunate events. I definitely felt terrible for our seniors last year who had to endure that."
New team, fresh mindset… better results! That's what we should expect from Somers this year.
WALTER PANAS will be better than last season; in part because it has to be. Coming off a 5-15 campaign, veteran Coach Anthony Fata is counting on that to keep his sanity as he approaches 20 years at Panas.
P/SS David Reynoso (All-Section), P/3B Brian Dinnen, P/1B Mike Cox, P/1B Peter Andersen, P/OF Jake Jempty and P Peter Gardner make up the staff. Outfielders John Young, Derek Lyman and sophomore Tim Feliz just look the part and all show promise. P/OF Feliz, a new addition, looks great, according to Fata and should be a big add-on to the team.
"With this group," Fata said, "we want to make some noise this season, get back to over 500 baseball, get into the sectionals and do some damage."
HEN HUD likely recalls last year's 3-1 opening-round playoff loss to Brewster with the fondness of the crash and burn it was. Seeded No.1 going in, Coach Dutch Pritts' Sailors were targeting their first sectional title since 1999, but eight innings later a 16-5 season was flushed away. The Sailors now know that they ran into a hot team and they became the Bears' initial victim in a legendary playoff run; something Hen Hud is banking on this year.
Experience is the key deal at Hen Hud as a slew of players return for Pritts, who has more experience than most coaches.
"It's exciting to have all these kids back but it's all about the next game, not what happened last year," Pritts said. "We are working hard to improve every day, just like every other coach and team in Section 1."
Varsity experience is key on the hill and the Sailors return three quality pitchers: senior Jack Attinelly (All-Section P, 3B, 1B, OF), junior Jack Kelly (All-League P, OF) and senior Matt Luis (P, 1B).
Senior SS Michael Crowley (All-League) bolsters a strong infield, along with 2B Pat McGovern and Joe Grullon (3B, 1B, OF). Outfielders Trevor Dowling, Nick Cunningham and Josh Spitz are all versatile enough to play anywhere on the diamond, as is backstop Dan Weimer (C, 1B)
"I believe in each and every player being capable of playing more than one position," Pritts said. "We practice each and every day at multiple positions. I have 13 other kids working hard to find playing time. We believe in being competitive every day at practice. We try to make practice as hard as we can in order for the kids to be ready for every possible situation during games.
"We are very fortunate that our overall team speed is outstanding, hopefully this will put pressure on the defense," Pritts added.
CLASS AA
MAHOPAC has lost its potent 1-2 pitching punch — Brendan White and Anthony Mirditaj — to graduation, so despite the heavy optimism coming out of Indian Country, there's a couple of unanswered questions for Coach Chris Miller, who guided the Indians to a 14-6-1 season before a quarterfinal playoff loss to perennial juggernaut Mamaroneck.
"Those two guys did so much for us last year," Miller said, "but like every season, graduation happens and new crop of juniors and seniors have to step up and fill holes."
Pitchers Brian Murray and John Ravoli are two seniors that will have to do so as the staff's aces. "They have to elevate their games from third and fourth starters a year ago to No.1 and No.2 starters this year. Both had success a year ago, so I fully expect that they will have great years."
Seniors Mark Trio and Tyler Rimaldi will also see a bump in innings and newcomers Anthony Simeone, Anthony Volpicella and Dylan Brehm round out the staff.
"Simeone will be the third starter and the other two will be in relief," the coach said. "I'm excited to see how this pitching staff handles the challenge of the season, but I think we are pretty solid. We may not have that dominant starter, but everyone in the group can get hitters out."
Mahopac has struggled in recent years to put up big offensive numbers. The Indians' have played small ball over the years, relying on defense, timely hitting and pressure on offense, to go with sound pitching. It's a recipe that's worked for them and keeps the Indians competitive.
"It will take the whole lineup to be productive," Miller said.
That's where senior captains, SS Pat McGee, 1B Matteo Avallone and OF Brian Murray, come in.
"They are going to be big parts of our offense," Miller said of the talented trio.
Other returners are C Chris Montuoro, who will replace League Player of the Year Greg Cavaliere, and OF Matt Montera.
Newcomers Tom Krasniqi (2B), Simeone (3B), Brehm (OF) and Steven Daly (OF) will see roles as rookies. Joe Usewicz and Ryan Bloomer are battling for the DH spot right now.
"Our lineup seems very balanced right now in the two scrimmages we have had," Miller said. "The last couple of seasons we have been very top heavy. This lineup has the ability to get on base and score runs from just about everyone. We don't have a ton of power but they should be efficient."
YORKTOWN was hoping to crack past the opening round of the playoffs and make some post-season noise, but a 4-2 opening-round loss to No.10 Clarsktown South in the Class AA playoffs prevented 16th-year Coach Sean Kennedy from doing so. There's a lot of talent returning from a seventh-seeded unit that went 13-8 last season, especially around the infield where seniors Joe Veca (3B/P, All-League), Jake Bichler (All-Section SS) and Tanner Dyslin (All-League 1B) form the heart of the order
Veca, Bichler and senior P Matt Pupczyk (All-League) are atop a relatively untested rotation (outside of the Oneonta-bound Pupczyk), which lost two innings-eaters in Jim Sharkey (Fairleigh Dickenson) and Jack Kelly (Manhattan). Junior pitchers Tyler McDonnell (2B) and Alby Ciuffetelli round out the staff. If the Huskers are going to come remotely close to contending for their first Section 1 title since 1995, this pitching unit will need to develop in a hurry.
"I really like the core guys but we're a little worried about depth," Coach Kennedy admitted. "Dyslin and Veca have both been out with injuries and it dramatically alters how we look. If we are healthy with Pupczyk on the mound we can be good, but we need to find some consistency at second base and left field. I'm concerned about the youth and inexperience of the rest of the staff. We have some bullpens arms in Veca and Bichler but we're not deep enough on the infield to make up for what I lose when they go in to pitch."
CARMEL went 3-17 last season and failed to reach the playoffs in what could only be called a super sub-par season. First-year Coach Joe Hackert will try to steer the Rams in a new direction after taking over for Ryan Dall. After two-plus decades of stability under former Coach Bob Shilling, the Rams have now had three coaches now since 2014, which isn't helping matters.
CLASS B/C
Both CROTON and PUTNAM VALLEY expect to contend with the big boys this season, including perennial powers Briarcliff, the 2016 runner-up, and reigning champion Keio. After changing the culture at Croton, sixth-year Tigers boss Eric Rosen will turn to Chris Colombo (6-1, All-League P, IF), Brian Mackay (OF, P) and Brian Smith (P, 1B) to anchor his staff. The unit is as deep as any Rosen has ever had and poised to improve upon its Class B semifinal loss to Briarcliff after a 14-9 season.
"The team will be a good mix of experience and youth," said Rosen, a die-hard baseball junkie. "We return Chris Colombo, who, last year, was a little up and down but he came on strong at the end and pitched us into the semis."
Returning starters include OF Brian Mackay, OF Max Ambos and SS Dan Oles. Senior Brian Smith got some experience last year on the mound and will need to be a big contributor along with junior newcomers James Grimes and Ed Nathan.
Croton will start three underclassmen in sophomore OF Grady Stevenson, freshman utility-man Max Luke, and either sophomores David Jackson or Kevin Smith behind the plate.
Rosen is hoping Stevenson and Luke will be big contributors at the plate this season along with junior DH Skyler Holzman and Austin Rago. The Tigers are in good shape at second base as senior Nick Casieri and junior Jack Sohmer get after it.
"On paper, I think we have a legitimate shot at being good again, despite key loses to graduation," Rosen said. "The question is, will the chemistry and the attitude and desire to be the best be there? Are we going to play with grit? When we are faced with adversity, are we willing to come together as a team and find ways to be successful? Only time will tell but we like what we see so far."
HALDANE is coming off consecutive down years (by its standards) and 9th-year Coach Tom Virgadamo is banking in junior C Aidan Siegel, senior OF/P Brian Haines and senior OF Justin Maldonado to get back on track.
PUTNAM VALLEY had a somewhat down year by their standards last season, going 10-11 and failing to get past the first round of playoffs in a 7-2 loss to Westlake. Coach 'Nats', Joe Natalie, now in his 13th season at Put Valley, has some talent to work with this year, including senior hurlers John 'Bulldog' Rainieri and Chris Crawford, plus sophomore John Millicker.
The questions at PV High is will they hit enough, and can the middle infield get it done? Truth be told, the Tigers underachieved in the mashing department last season, hitting just .277 as a team and having just six hits that went for more than two bags (3 HR, 3 triples). Rainieri hit .441 with 19 RBI last season, but he's the only stick in the lineup with any proven juice. Senior OF Matt Budano had a decent junior year (.353 BA), but the rest of the returnees need to pay the piper this season, including juniors, 2B/OF Nick Ferraro and C Mike Gaitan, who is nursing an arm injury and, luckily, is backed up by versatile junior Brian McBride, who has impressed. 1B Ben D'Adonna is a natural in the field, but he needs to show he can hit at this level. Essentially, in the best-case scenario; Ferraro and Budano get it at the top of the order with some form of Rainieri, Millicker, Gaitan and D'Adonna in the heart.
"By now, we'd usually have some answers," Natalie said. "But we're going off what we see on the turf, in the gym and in the cages… nothing live, so we really don't know what we've got when it comes to getting it done on the field because we really haven't been on one yet and we open up with three games in a week starting Monday, God willing."
We've got six words for Natalie and every other coach in Section 1: Welcome to the spring of 2017.