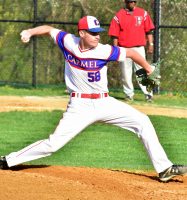 Surging Carmel, Yorktown Enter Class AA Playoffs on Tears
There are some astonishing regular seasons being turned on the local Section 1 baseball circuit, including Class AA Carmel and Class A's Somers and Hen Hud, which is, and isn't, a surprise given the fact the Sailors have a new coach and graduated a ton of players, but still went 16-4 for a third-straight year. The problem is, the post-season has been very cruel to Hen Hud over the last two years, so they're hoping to change their playoff fortunes when the Section 1 seeds are released early this week.
CLASS AA
We've got a couple of teams that opposing coaches won't want any part of as we enter the post season this week, including Carmel (14-5), winners in seven of the last eight, and Yorktown (9-9-1), unbeaten in eight of the last nine, including a 3-0 win over Carmel. It's all about who toes the rubber on any given day, who plays clean defense behind the hurler and who can hide the hole or two in most lineups, so there's nothing given about a deep playoff run with the amount of solid contenders among the largest schools, including the Dutchess and Rockland County powers that be.
CARMEL (14-5) is on fire, though, blazing its way to a potential top five seed in the playoffs. The Rams' 18-0 win over MAHOPAC (7-13) is not a typo, but it is one of the worst beatings the Indians have ever incurred in the rivalries rich history. The Rams were feasting early and often, plating 13 runs in the first two frames. Matt Vitro (2 hits, 3 RBI), Sean McCarthy (2 doubles, 3 RBI), Dan Castrovinci (3 hits, 3 RBI) and Gerry Loughran (3 hits, 2 RBI) were all mashing as pitchers Jack Sullivan (3IP, 3K's, 0 hits) and AJ Gonzalez (2 IP, 4K's, 1 hit) combined on a one-hit mercy win over the rival Indians. Gonzalez, Jon Minotti and Anthony Febo all knocked in two runs apiece.
"It was a great team effort today," Rams Coach Joe Hackert said. "We bounced back from being shut out on Thursday against Yorktown. We wish the best of luck to Coach Lugbauer and Mahopac, which is in great hands with him. He is a class act."
There's no denying that, but having gone 2-9 in the last 11, there's no refuting that the Indians need to find their swagger in a hurry as the current No.15 seed, which would likely put them in an out-bracket game before seeing No.2 White Plains in the opening round of the playoffs, should they qualify for the field of 16.
YORKTOWN could be looking at a very rough draw after its hot streak has moved the Huskers into the middle of the pack. The Huskers, currently seeded ninth, might rather a 10-12 seed than the current 8-9. They might make a serious run, nonetheless, but the current path reveals No.8 Mamaroneck and then No.1 RCK, two of the premier programs in the section.
"Kids have some swagger right now, so I am excited," Husker Coach Sean Kennedy said. "On the positive side, I do have pitchers that, when on, can be as good as anyone; evidenced by Anthony Fusco shutting out Carmel and Joe Sgobbo and Alby Cuifetelli shutting out White Plains."
Not to mention a 9-1, combined ho-hitter win over Ossining last Friday when Ciuffeteli and Ryan Benson combined on the deed. Ciuffeteli went 6 2/3 innings, allowing one unearned run with six whiffs and two walks. Benson notched the final out. Husker Chris Sica went 3 for 4 with a solo home run. Tyler Pugliese and James Halstead each hit a double and had three RBI for the Huskers.
After nearly a quarter century with the Yorktown program, if anyone deserves a deep playoff run, it's Coach Kennedy, who was an assistant to Coach Bob Sarro when the Huskers last won it all in 1995.
OSSINING was set to honor the memory of beloved former Coach Bill Casey on Sunday, but the Pride (9-10) have dropped seven of the last 10 and fallen to No.11 despite big wins over Yorktown and Putnam Valley. Pride P Michael Laitman was in total command in the 8-0 win over Croton Sunday, firing a one-hit shutout with 10 whiffs. He took a no-hitter into the seventh and was supported by Peter Bossinas (2-3, 2B, 2 runs) and Ethan Martinez (2-run 2B), who mashed on behalf of Coach Casey.
CLASS A
HEN HUD finished the regular season at 16-4 for the third straight year, but the Sailors have not been able to get out of their own way in the past two playoffs, failing to advance beyond the quarters and getting knocked out in the first round. Sailors Coach Van Vourliotis is hoping the Jack Kelly-led Sailors can sing a different tune as the current No.2 seed in the tournament after locking down their third-straight League II-E title. Vourliotis is taking aim at Hen Hud's first sectional title since 2000 during the Mike Pritts/Kurt Thomas era.
Kelly, a four-year veteran, and Trevor Dowling provide the coach with the necessary leadership to change their playoff fortunes, but Class A is as wide open as it's ever been, though top-seeded Rye and No.3 Byram Hills are legit favorites.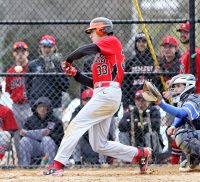 SOMERS has also had an outstanding season, much to the surprise of many. Tusker Coach Joe Wootten figured Somers was due to improve but 13-6 and a No.6 seed was not something many saw coming from this senior-laden unit. However, after sweeping LAKELAND by identical 7-3 scores, Somers has clicked off three-straight wins and gone 8-2 down the stretch. Tusker P Austin Wainer dominated the Hornets, lasting 6-2/3rds with 12 Ks.
"Wainer kept a good Lakeland team off-balance by getting ahead the entire night," Wootten said. "He threw 72 strikes and 34 balls. That ratio is simply outstanding. He, along with catcher Eric Ferrara, fully committed to the game plan. Their execution was effective."
Wainer impressed Lakeland Coach Bill Casey, who understand his Hornets (9-8), currently seeded No.12, may still be a year away from serious contention having dropped four of the last five. Lakeland may be young, but the Hornets are battle-tested after taking on a pair of Class AA schools over the weekend, including RCK, who took a 7-5 decision, and Clarkstown South, who went home a 5-4 loser courtesy of P Joey Vetrano, who fired six frames and allowed just one run. At the plate, the big lefty sophomore went 5 for 7 in the double-dip. He cracked a home run, triple, two doubles and drove home five.
Tusker ace Logan Carriero held Mahopac to just three hits and no runs over five innings in a 7-3 Somers win. He fanned nine Indians and smoked an RBI double and scored. Big bopper Chris Boncardo tripled and scored two runs for the Tuskers, who appear to have a nifty threesome in Wainer, Carriero and Boncardo. Don't sleep on Somers.
"The preparation these players put into the off-season and during the season has led them to have some success," Wootten admitted. "We have expectations every year. These players took it upon themselves to prepare. The results mean that all the work is paying off. With the regular season is almost complete, one-and-done begins soon."
John Jay CR went 6-2 in the league to cop the II-C title, and the streaky Indians (8-10 overall) should not be slept on either.
PANAS has dropped to No.16 after going 2-6 down the stretch, but they can right the ship this week with Mahopac and Lakeland on the docket. BREWSTER (10-10) has fallen to No.17 after going 2-5 down the stretch, but the Bears did manage a 3-2 win over Somers but were no match for John Jay CR, who swept Brewster last week.
CLASS B
PUTNAM VALLEY (13-7) is the current No.6 seed in Class B and the newly-minted League III-E champions after knocking off HALDANE (9-10) by a 2-1 count. The Tigers are scoring some runs now to support their pitchers with utility specialist Brian McBride (team-high 18 RBI) and C Mike Gaitan (team-high .475 BA & 19 runs) leading the way. Juniors Alex O'Brien (0.76 ERA), McBride (1.62 ERA) and Matt Carlsen (0.47 ERA) have been steady out of the pen and as starters of late. Consider the Tigers a sleeper but consider No.1 Briarcliff the team to beat in Class B, with No.4 Westlake (8-2 over the last 10 and a win over Briarcliff) showing big time signs. No.2 Pleasantville and No.3 Keio round out the top challengers.
CROTON-HARMON (8-11) has slipped to the No.10 seed but a sweep of Valhalla should build confidence for the post season.