We are part of The Trust Project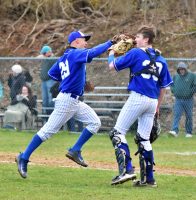 Mahopac Nips Put Valley; Boncardo Bashing at Somers
Ossining Takes Home Federico Title; Lakeland Nips Panas
It finally warmed up over the weekend and the bats got going on some of the local diamonds.
Before last week MAHOPAC junior OF Mike Musantry hadn't been an overriding factor in the Indians' season. But after a 7-2 win over Greeley Saturday and a 6-4 home win over Putnam Valley on Friday, Musantry is making a name for himself at the top of the Indian order.
With three hits and two runs in the Greeley game, plus a hit and two runs scored and a diving catch against PV, Musantry is making a bid for playing time.
"Moose has done a great job since getting his shot in the lineup," Mahopac Coach Myk Lugbauer said. "We knew he had this potential, but for him to be producing the way he has so far has been awesome. He has been a spark for us at the top of our lineup."
Mahopac RHP Andre Simone, who pounded the strike zone, pitched five shutout innings for the win over Greeley while A. Caminitti added two RBI.
Mahopac junior Kyle Brandsetter looked like the guy Coach Myk Lugbaurer anticipated at the start of the season in Mahopac's 6-4 non-league win over visiting PUTNAM VALLEY last Friday. The lefty-swinging slugger was in the middle of every Mahopac rally, clubbing a two-run homer, doubling, driving home three and scoring twice. For a team that needs a thumping bat in the worst way, Brandsetter was just what Doctor Lugbauer ordered.
Mahopac P Billy Moeller didn't have his best stuff on this chilly afternoon, but he had enough to survive six innings of eight-hit, four-run ball. He whiffed four, walked two and worked out of several jams. Put Valley SS Frankie Curran drove home a pair of runs off Moeller, who was relieved by RHP Casey Tewey (2 K's) for the save.
"We did a good job today at the plate keeping our approaches," said Lugbauer, who saw his team win two of the last three this week to improve to 5-4. "Kyle has been coming along this year and progressing nicely. It was great to see him put good swings on the ball today. Billy grinded it out on the mound today. He didn't have his best fastball today but did what he had to do to keep us in the game. He had been a bulldog on the mound for us all year long. Hopefully, we can keep things rolling as we play Greeley tomorrow."
Put Valley also worked a 12-2 win over visiting when SS Franky Curran doubled and drove home four RBI as part of a team-high 13-hit parade. Curran and OF Angelo Milano had three hits apiece. Tiger P Ben D'Addona, who the Tigers are counting on as a No.3 hurler, fired five innings, allowing just one run on three hits while striking out six to earn the win.
Mahopac will now turn its attention to surging Carmel, with whom they will get after this Wednesday and Thursday in an attractive home-an-home set between the bitter rivals competing for the League I-A title.
CARMEL defeated CROTON, 9-7, in an 11-inning barn-burner when Rams (7-3) ace Matt Vitro secured the win in relief. Vitro (4-1) also suffered a tough 2-0 loss to reigning Class AA champion Arlington after allowing just two runs in six innings.
That loss was preceded by a 6-0 win over Arlington in which Rams P Jack Sullivan looked the part of an ace against the Admirals. Sullivan went six frames, striking out eight while scattering six hits. Carmel's Jon Minotti (2 hits, 2B, 2 runs) had a big game as did AJ Gonzalez, Kenny Benitez, Matt Vitro, Anthony Febo, Dan Castrovinci, Gerry Loughran, who all had a hit for the Rams, winners in four of the last five.
Against Croton, Joe Ciatto (3H, 2 2B, 3R, 3 RBI), Dan Castrovinci (2H, 3 RBI), AJ Gonzalez (2 hits), Jon Minotti (2 hits) and Gerry Loughran (HR) were all prime-time supporters of Sullivan, who earned the save.
Croton's Max Luke (4-6, 2B) and John Casieri (2-5, 2 RBI) had monster days, with Casieri going 5 2/3rds on the bump, allowing just one earned run.
The Tigers (3-7) also suffered a 3-1 loss to visiting LAKELAND on Friday. Lakeland P Eric Portella fired 5-2/3rds innings, whiffing four to earn the win while reliever Mike Scotto notched the final four outs, including three by strikeout. Leo Cummings and Andrew Baffuto each had an RBI for Lakeland, who improved to 4-3 and get Mahopac this week in what should be of interest, plus Carmel and two with Brewster. We'll see if Coach Casey's young Hornets are ready for prime time or still a year away.
In other Class AA action, OSSINING has had some impressive wins, including a sweep of Greeley after last Wednesday's 5-0 win over the Quakers behind a three-hit shutout from Pride P Michael Laitman, who fanned seven and walked one for the Pride (5-3). Luke De Angelis went 2 for 4 with an RBI and a run scored for Ossining while Peter Bossinas had two RBI for the winners. Lucas Peterson added another RBI.
In the semifinal of the Christian Federico Memorial Tournament Saturday, Ossining beat Saunders 11-0 behind P Peter Tarricone's effort (2 hits over 5IP, 3K). Matt Minihan (2 for 2, 2 2B, 2 RBI, 2 runs) and Peter Bossinas (1 for 2, 2 RBI, 2 runs), Joe Bossinas (1 for 3, 2 RBI) and Luke DeAngelis (2B, 2 RBI) were all primary supporters. Ossining then defeated New Rochelle,17-9, to bring the coveted Federico trophy home behind an MVP effort from Laitman, who went 5 for 5 with three RBI and picked up the save. Tarricone secured an All-Tournament nod and Thomas Cascione earned the Christian Federico award/
CLASS A
WALTER PANAS won a 5-4 decision over Magnus on walk-off single by junior SS Lucas Feliciano (2 for 4, 2 RBI), plating CF John Young with the winning run. Panas C Pat Kelly and Jake Jempty each added an RBI for the Panthers (6-3), who saw Sal DeDona pick up the win by stranding two runners in the seventh.
The Panthers could not sustain that momentum in Saturday's 2-1 loss to rival LAKELAND in a battle of aces. Lakeland P Joey Vetrano led off game with solo bomb of Jempty and Matt Schenck doubled and scored on a sac fly by Leo Cummings. Vetrano went the route, whiffing 10 in the process. Jempty had eight K's in an otherwise splendid outing. At 2-1 in League II-C, the Panthers are still legit contenders for the league flag, but they need to beat Lakeland in the second go.
HEN HUD is opening some eyes after an 11-0 win over Tappan Zee, in which P Tom Pecchia threw a complete-game shutout, and a 2-0 win over Beacon on Friday, as the Sailors improved to 7-3 when P Nick Caruso pitched a complete game, three-hit shutout. Sailor P Matt Imimbo, who pitched five scoreless innings earlier in the week in a 2-0 loss to Beacon at the Dutch. The League II-E title is there for the take, will the Sailors pounce?
"I'm really proud of the way the players have competed and done their job up to this point," Hen Hud boss Van Vourliotis said. "We have a long ways to go, though. At the end of the day, seven wins doesn't get us where we want to go. Seven wins doesn't win us league, it doesn't qualify us for a playoff berth, it doesn't win a sectional or state championship. We have to continue to get better in every aspect of the game in the second half of the year, including pitching, hitting, fielding, base running and coaching. Our main goal continues to make sure we are prepared to play our best baseball after May 1st."
BREWSTER, winners of four-straight games, is making a push here of late, turning around a sorry start.
In a 6-4 win over Pawling, Conner Henderson had two hits and two RBI for the Bears (5-4) in the come-from-behind win, and Brewster followed that up with an 8-5 win over Pelham when Bobby McBride crushed two dingers and drove home five RBI. Tom Mark went the distance for the win, trailing much of the game, before the Bears finally got in the board with three in the fourth and five in the fifth. He fanned seven in an impressive performance.
In Brewster's 12-2 win over host Nanuet, Bears P McBride fired five innings solid frames, striking out five in a laugher. Tim Holler screamed for attention, yanking three hits and driving home three while Henderson and Brendan Brooks had two hits apiece for Brewster, who crushed Roosevelt, 17-0, earlier in the week when RHP Mike Charbonneau sent 11 batters down K-way to earn the win. McBride (4 for 5), Tim Holler and Brendan Brooks (two hits apiece) were crushing it.
The Bears have an interesting tilt with Put Valley on Monday.
SOMERS recovered from a 9-5 loss to John Jay with a 13-3 win over Pearl River when Chris Boncardo (2 for 3, 2 HR, 3 RBI, 3 runs) mashed, as he has all season, crushing his sixth dinger of the season.
"All the work that Chris has done in the off-season is manifesting itself during the regular season," Somers Coach Joe Wootten said after Somers improved to 7-3. "He is seeing the ball well and squaring it up. Chris has a plan when he enters the batter's box. The results speak for them self."
Nick Keating (2 for 3, 2B, run) and Logan Carriero (2 for 4, 2 runs) were big contributors to P Nick Keating's cause. Keating went five frames, scattering seven hits and four walks and three earned runs. The League II-C grind really gets going now, so we'll see if the Tuskers are legit in the coming days.
CLASS C
HALDANE's 3-0 win over Irvington, Blue Devil freshman Dan Santos threw 3-2/3rds innings of scoreless relief to chalk up the win, allowing just one hit while fanning four. Blue Devils Adam Hotaling and Kyle Kissinger each had RBI singles. Haldane went on to split with Pawling and now sits at 3-4.