We are part of The Trust Project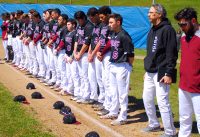 Ossining Sobs, Rejoices in Memory of Coach Bill Casey
Undefeated Hen Hud, Croton off to Hot Starts During Ice Cold Spring
Section 1 baseball lost two of its loved one's last week, including longtime legendary Eastchester Coach Dom Cecere and Ossining's Bill Casey, a beloved, genuine, soft-spoken soul.
Casey, a 46-year-old Middle School teacher at Ossining, who also worked for The Journal News, and the old North County News as a sports reporter between 1990-2000, passed away last Friday after battling squamous cell carcinoma for several years. He leaves behind four-year-old twins and a wife, Kelly, who was married to one of the nicest, kindest men I've come across in all my years on the local sports circuit.
Unassuming, yet so pro-active, Bill Casey, affected more kids in a day than most do in a lifetime. A loving dad, devoted husband, teacher, coach and media member; there was nothing he couldn't conquer… save for cancer. Like he did in all walks of his life, Casey went down swinging. He battled this rare form of cancer for some two years before succumbing, going as far as to pursue experimental treatments in the Philippines. His approach to cancer was like his slant to coaching: you try anything to win: Different methods, different ideology, whatever it takes to survive the day-to-day battles and get the most out of life.
Ossining played its season opener on Saturday, not even 24 hours after Casey's passing; because that's what Casey would have wanted. As free a spirit as we've seen around the Section 1 diamond in a long time, Casey would want the Pride to thrive in his honor, and that's what Casey's old team did at Mahopac High, just a few miles from his home. The Pride outlasted Mahopac, defeating the Indians 8-6, while avenging last year's season-ending playoff loss; Casey's last game behind the bench. How fitting!
Pride Manager Scott Deleso admitted it was a tough 24 hours, but he and the Pride basked in the glow of what Casey would have demanded from them; a winning effort and attitude.
"The whole day I tried to get my emotions in check to be strong for our team," said Deleso, who was torn up inside but held things together like a champ. "On the way to the game today I think I cried the whole drive over. When we got to the field, I took the players together and just talked to them for a little bit about how much Coach Casey would want us to play today. I told the kids it's ok to be emotional today, it's ok to cry.
"One of Coach Casey's favorite quotes was 'You can only control your attitude and effort', and I told the kids that's what we will do today," he added. "I told them that today's game is so much more than a game of baseball and that it was about honoring the memory of Bill, who did everything in his power to make sure he was on this field with the kids. The kids were extremely emotional before we took infield/outfield and slowly settled into the game that Bill loved."
When the Pride lined up for the national anthem and the moment of silence, they fought back tears. Mahopac Coach Chris Miller said he would have bought in bagpipers to honor Casey, but Deleso said the wounds were too fresh.
"Once the moment of silence was over I pulled our team together and told them one of Coach Casey's favorite quotes: 'Any day on a baseball field is a good day' and win or lose just go have fun and honor him the right way," said Deleso, who used Casey as his own personal rock upon the passing of his beloved mom to cancer just a few years back.
The game was just a blur for Deleso, who was at a loss for words in the post-game huddle after the Pride's impressive sophomores Matt Minihan, who sparkled at 3B, and P/OF Peter Bossinas knocked in three runs apiece to secure victory in the late innings.
"The team huddled afterward and I could barely get any words out before I just started crying along with the kids," he said. "I just said what better way than to honor Bill then to beat Mahopac; the place where he coached his last game. We always talk about family and that is what we are and we lost a huge part of our family and Coach Casey would be proud of us. Clearly, today was so much more than a baseball game. It showed how many lives that Coach Casey touched."
Countless, comes to mind…
AROUND THE DIAMOND
Games are backing up left and right due to the crummy weather/field-related conditions throughout the region, but HEN HUD is off and running at 3-0 after wins over Yonkers, Byram Hills and a most-impressive 6-5 win over reigning Section 1 Class A champion John Jay CR.
Against Jay, the Sailors rallied in the bottom of the seventh for the win, erasing a 5-3 deficit when Jack Kelly doubled to start the rally. Jack Attinelly (2 hits, 2 RBI) singled him home, C Dan Weimer doubled home Attinelly, Joe Grullon hit by pitch and Pat McGovern ensured the walk-off win when he singled in winning run.
In the 11-1 in over visiting Yonkers Sailor ace Jack Attinelly allowed one hit over five innings for the win. He was supported by junior slugger Jack Kelly, who mashed two triples and knocked in five. Jordan Grullon added three RBI for the Sailors.
In the 4-1 win over Byram, No.2 hurler Matt Luis was the story. The senior lasted 6.2 innings, allowing just one run, five hits and two walks. He was supported by Weimer, who went 2-3 with two RBI and McGovern (2-3, RBI).
The Sailors are on a collective mission, where no one player is above the team; just ask senior OF Nick Cunningham.
"While guys on our team might not be recognized as the top players in the section, we have a lot of good players and the whole of our team is greater than the sum of our parts," Cunningham said. "We are going out there trying to have fun and play baseball like we've done so far this year. We are just taking it game by game and the most important game is the next one."
LAKELAND managed to get in one game, an 8-3 opening-day win over visiting Carmel last on Monday, April 3rd.
Against the Rams, Lakeland senior OF Austin Cassese showed some serious potential when he went 2 for 3 with a double, a bomb and three RBI to support lefty chucker Matt Mikulski. The senior was dominant in his Lakeland debut, allowing a pair of earned runs over 5 1/3 innings. He worked ahead in the count and managed eight whiffs to earn the win.
"We saw their No.1 and he looked the part," Carmel Coach Joe Hackert said. "He got ahead of us and was really comfortable in the counts and had us taking some bad approaches. It was one of our first days on a field with live pitching and he's a good one."
MAHOPAC played typical Mahopac ball in a 4-3 season-opening win over host Clarkstown North when Chris Montuoro drove home the winning run with a suicide squeeze in the seventh. Anthony Simeone scored twice for the tribe and Matt Montera had an RBI. Indian reliver John Ravoli struck out two in the seventh for the win.
But the Indians weren't particularly sharp against Ossining, as six walks were issued, leading to eight earned runs. The Indians left 10 men on base. Mahopac 1B Matteo Avalone doubled twice but was stranded in scoring position on both counts. Dylan Brehm scored twice and knocked in another for the Indians, who were set to face rival Carmel Monday.
CLASS B
CROTON-HARMON is surging out of the gate. The Tigers started the week by defeating host Rye Neck, 4-3, Keio, 5-1, and Blind Brook, 7-2, before closing out the week with a 7-0 win over PUTNAM VALLEY last Saturday.
Croton took full advantage of five PV errors, which opened the flood gates to runs in each of the first four frames, including two in the first and three in the fourth, and that was all senior P Chris Colombo would need in an overwhelming effort. His fastball had too much zip for Put Valley hitters, who hadn't faced a live pitch all spring. Colombo fanned 11 Tigers in five frames, ripping through a PV lineup that needs some quick fine tuning.
"Put Valley made a couple mistakes that helped us take an early lead," Croton boss Eric Rosen said. "Our bats are off to a great start. Through four games we have six hitters over 300. Senior Max Ambos has really jump started our offense going 7-11 through the first four games with three or four walks to boot."
Croton 2B Nick Casieri added a couple of RBI hits with two outs. With a 4-0 lead and two outs in the fourth, Colombo crushed a three-run yard bomb over the left field wall for the final margin.
In general, Croton is crushing it. Freshmen phenom Max "Bubba" Luke is hitting .500 and has had several clutch hits.
"We have done an outstanding job hitting in the clutch," Rosen said. "It seems like every time we have a runner in scoring position with two outs our guys come through; in particular Luke and Casieri. Our pitchers have not allowed an earned run yet either and they are striking out guys regularly. We need to clean up some stuff defensively while we are down south (Fla.). If we can do that and continue to hit in the clutch good things will continue to happen as our schedule becomes more challenging (including defending Class C champion North Salem)."
Against host Blind Brook, Croton P Gabe Corser threw a complete game and did not allow an earned run while getting major support from Brian Mackay (2 2Bs, 2R, RBI). Against Rye Neck, All-League P Chris Colombo had two double and three RBI for the Tigers.
Baseball Coaches are encouraged to send stats/results/web page info to raygallaghersports@gmail.com