Band Holds Virtual Concert to Benefit Chappaqua Child With Rare Disorder
News Based on facts, either observed and verified directly by the reporter, or reported and verified from knowledgeable sources.
We are part of The Trust Project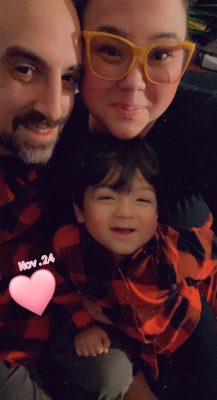 A band that only performs remotely is helping to raise money for a Chappaqua child who suffers from an extremely rare disorder with a poor prognosis.
Christina and Greg (the last names have been withheld at their request) are Westchester-based members of vox + stix.
"That means there are six of us playing from five locations live in real time," Christina explained. "My husband/drummer and I started vox + stix at the end of 2020, and due to the pandemic, we've managed to audition, rehearse and gig totally online. We've never all been in the same room together and never even met. It's been a tech challenge but also an absolute blessing because, given our level of risk, we couldn't play together otherwise."
Billed as a cover band, the six-member vox + stix performs songs from the '70s through today's hits "with a special interest in playing songs you don't often hear covered," Christina said. Five of the six members live in Westchester.
On Apr. 10, vox + stix performed an online show to benefit Yellow for Yiannis, a foundation started last summer by Chappaqua residents Angela and Chris Papazoglou. Their two-year-old son Yiannis was diagnosed with IRF2BPL, an ultra-rare, progressive childhood genetic disorder, said Christina, who met and befriended Angela online.
"We really want to get the word out because this family needs all the help they can get," she said. "Unfortunately, IRF2BPL is ultimately fatal, so Angela and Chris are desperately trying to fund a cure to save their son and the other kids diagnosed with this horrible disease."
Yiannis' mother, Angela, said her son was first diagnosed with the IRF2BPL disorder last June.
"He had previously been diagnosed with autism, hypotonia and global developmental delay," Angela Papazoglou said. "So as a family, we decided to undergo whole genetic exome sequencing…While we were grateful to finally have answers, we were horrified with the findings."
She explained that IRF2BPL "is an ultra-rare fatal, progressive neurodegenerative disorder. It robs kids of every function they have. The ability to eat, swallow, speak, walk, etc. There are only about 40 known cases globally. Several kids have already passed away quite young from this horrific disorder. There is no cure or treatment – yet. To add insult to injury, very little is known about IRF2BPL, and there are only four entities working on IRF2BPL at all globally."
It was that dearth of resources and support that motivated the Papazoglous to found the Yellow for Yiannis Foundation.
"We are actively striving to be the leading resource for families with IRF2BPL and raising as much as we can for our team," Angela Papazoglou said. "If we don't raise six figures this year, research at one of our hospitals will completely stall, which will set us all back."
That's time that Yiannis and his family don't have to squander. She said IRF2BPL will cause Yiannis to develop more severe symptoms, such as needing a G-tube, becoming wheelchair bound and requiring a special device to communicate.
"We have zero idea when the bigger regressions will kick in," Papazoglou said. "It's literally a ticking time bomb, so we take each day hour by hour."
Christina noted that "any amount of money will bring the Papazoglous closer to a cure for Yiannis and all the children who have been and will be diagnosed with IRF2BPL. And every donation honors the lives of those children who have already been lost to this disease. The best measure of a society is how it treats its children. We can be the best version of ourselves by helping these kids – and enjoy some great music at the same time."
To enjoy a replay of the concert and a donation to Yellow for Yiannis, visit www.voxandstix.com or text ROCKON to 53555. You can also visit the foundation's website, www.yellowforyiannis.org, its Facebook page and Instagram account @YellowForYiannis. All donations are fully tax deductible.