Balanced Hen Hud Surges Past Put Valley, off to 5-1 Start
We are part of The Trust Project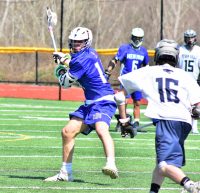 Host Putnam Valley witnessed first-hand the legitimacy of Class C title-hopeful Hendrick Hudson last Saturday when the Sailors posted a 14-7 triumph, improving to 5-1 during a five-game win streak. You name it, opponents, state pollsters, etc.; they're all snoozing on Coach Troy Lepore's Sailors. We will go on record here as being believers since Day 1, and last Saturday was the proof in the pudding when Hen Hud showed incredible balance: AJ Pannella (4G, 2A), Austin Fraser (3G, 2A), Max Popolizio (2G, 3A), Connor Gallagher (2G, 1A), Bryce Caffrey (2G, 1A), Ryan Pritchard (1G) and Braden Ellis (1A) all supported G Vinny Bell (10 saves). Mike Nolan and Joey Macquignon each had two goals for the youthful Tigers.
Seriously, though, the fact that these Sailors have been overlooked by state and local pollsters is a crime, especially given the athletes they have on defense, including senior standout Dylan Fraser and Bell.
"They are very underrated," Putnam Valley Coach Tim Weir said before the Tigers took one on the chin. "They're legit, a serious Class C contender."
The Villanova-bound Austin Fraser, a combination of skill, speed and strength, was snapping ankles against the Tigers (3-3), drawing a ton of slides and attention, but, despite having six different goal scorers, second-year Sailors Coach Troy Lepore is taking nothing for granted.
"We played good lacrosse for stretches of time and then we had periods where we didn't value the ball and those turnovers were costly," the coach said. "PV was able to capitalize on them. We need to realize how important every possession is for us to be able to take the next step and continue getting better. As a unit, defensively we did some things well, and offensively we were balanced in our scoring attack. I think our effort and desire for each GB was great. We had our LSM´s covering so much field and at times had 2-to-4 kids to a loose ball. We have a packed week coming up with three big games, so our goal is to be 3-0 but starts with a good practice Monday."
We see nine Section 1 foes left on the Sailors' schedule, including title-hopeful Pelham, but we like the Sailors' chances of running the table there and entering the tournament as a No.1-2 seed in the hopes of securing the first Section 1 title in school history…
NWE/Putnam Fab Five Lax Poll
No.1 YORKTOWN – Pay little mind to the 5-3 record; it's the strength of schedule you must consider when you determine whether or not your buying the state-ranked (No.6) Huskers as the team to beat in Class B, and a 7-5 loss to Class A state-ranked (No.3) power Chaminade does little to dispel the notion.
No.2 HEN HUD – Fraser is just the tip of the iceberg when it comes to the balance of this attack, and the Sailor (5-1) defense is woefully underrated, as is this entire unit. State pollsters are ignoring these cats but rating Nyack No.7 and Pelham No.8? Who's in charge, Charles? Still think it could be Rye vs. Hen Hud for the marbles #Don'tFailMeSailors.
No.3 SOMERS – More than anything, including a 13-5 win over Brewster, it's the 10-7 loss to state-ranked (No.1) Class D powerhouse Pleasantville that impresses us most when it comes to these Tuskers (3-3), who we'd like to see at 9-5 or 10-4 (best case) going in to the John Jay game on May 9. Somers A Vincent Cartelli pumped home seven goals and dished two assists for the Tuskers in the win over Brewster. Lorenzo Sessa added two goals and two assists while Brandon LaSpina added two goals and one assist.
No.4 MAHOPAC – The Indians (4-2) had beaten the teams they were supposed to beat until they got handled by Fox Lane, 9-6, which seriously dampens our enthusiasm when it comes to Class A title contention. Reckon we'll know more about the Indians by the end of May 1 when they will have faced Scarsdale, Mamo' and two-time reigning champ Lakeland/Panas during a grueling upcoming stretch. If they go 2-1, they'll be in the mix in late May.
No.5 LAKELAND/PANAS – There are a couple of buttons on my dashboard; one of them is the panic button, and the 18-4 loss by the Rebels (2-4) to state-ranked (No.4) John Jay has me reaching for it (not pouncing). It's tough to three-peat in Section 1 lax unless your jersey has a Y on it. But Class A is way down this year and it's apparently ripe for the picking, so why not?