Back to the Future: Optimum Opens Mount Kisco Store
News Based on facts, either observed and verified directly by the reporter, or reported and verified from knowledgeable sources.
We are part of The Trust Project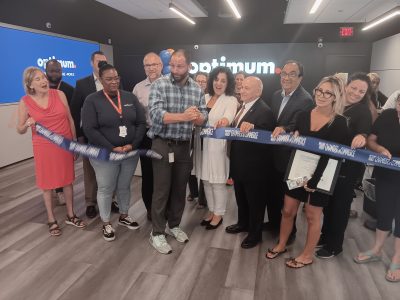 A local internet, cable and phone service provider is trying a bit of an old-school approach to better help serve and connect their customers in the 21st century.
Optimum cut the ribbon on their latest brick-and-mortar store last Friday at 41 S. Moger Ave. in Mount Kisco, the eighth store in the Westchester-to-Dutchess County area. There are about double that amount throughout the metropolitan area.
Over the last couple of years, the company has undergone an aggressive expansion to have more stores to serve its customers.  It allows the public to come in and do everything from buy a product that will enhance their connectivity to completing a mundane task such as paying their bill, said Sean Jackson, a regional manager who oversees eight retail locations, including the new store in Mount Kisco.
The new state-of-the-art location offers customers the complete line of Optimum connectivity offerings, including internet, Smart Wi-Fi 6, mobile, TV and home phone services. Customers who visit the store can register for service, shop for the latest mobile devices and accessories and receive assistance from a real person.
"It's a different experience in a retail store versus calling customer service because we're localized, you can see us in person over somebody over the phone," Jackson said. "So we do all the basic service stuff, too, from paying a bill to looking at an account, stuff like that. But it's a lot more of a personalized setting where we can actually meet the community, meet the people here and figure out their needs instead of it being an over-the-phone process."
Helping Optimum celebrate their arrival in the community were local elected officials and representatives from the Mount Kisco Chamber of Commerce. Although the ribbon cutting was held last week, the store actually had a soft opening in July, Jackson said.
Mayor Gina Picinich was among the dignitaries that helped welcome the new operation to the village, expressing her appreciation for having Optimum invest in the community. She spoke of an active downtown that will help the store and how Optimum would also contribute to Mount Kisco's economic health.
"I think what you're going to find in Mount Kisco, there's activity, there's people from surrounding communities that come in because we are a center of commerce for the whole area," Picinich said. "So, I think you made a great choice and we're very happy that you chose us."
Among the services customers can find at the store, is Optimum Complete, a new line of Internet + Mobile bundles that start at $45 per month. Optimum Complete delivers fast, secure internet and Wi-Fi in the home along with 5G.
"Providing exceptional service and support to our local Westchester County customers continues to be a key priority for Optimum," said Morgan Collins, senior vice president of consumer sales at Optimum. "We are excited to open a new store in Mount Kisco and we encourage new and existing customers to visit our brand-new location to explore our internet, mobile and TV offerings."
The store is open Monday through Saturday from 10 a.m. to 7 p.m. and on Sunday from 12 to 5 p.m. For more information, call 888-467-8468.