Auditorium at Yorktown High Named in Honor of Napolitano
We are part of The Trust Project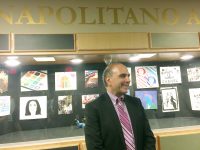 The updated and often-used auditorium at the Yorktown High School has a new name.  It will now be known as the Dr. Ralph A. Napolitano Auditorium to honor the Superintendent of Schools of the Yorktown Central School District whose retirement takes effect July 7 after 11 years with the district and more than four decades as an educator.
During a June 19 ceremony attended by Napolitano and his family, the YCSD Board of Education unveiled temporary lettering positioned between the two entrance doors to the auditorium and above a display case in the High School lobby.  Permanent, more elegant and prominent lettering will be installed at a later date this summer.
The Board of Education first announced its intention to name the auditorium in honor of Dr. Napolitano during a Special Meeting on May 25.  The announcement pleasantly surprised Dr. Napolitano and a gathering of more than 325 people to celebrate his retirement from Yorktown Schools.
"Dr Napolitano has been a transformative leader in Yorktown. For the past eleven years under his leadership we have made significant improvements in all aspects of our district from our facilities to technology and curriculum everything has improved for the better. We will be forever grateful for his strong, steady, whole child focused leadership," Board of Education President Ms. Jackie Carbone said.  "The auditorium is truly reflective of the changes we have undergone during Dr. Napolitano's years as superintendent."
After the dedication was made official at the Board of Education Meeting on Monday, June 19, Napolitano stated:
"Over the past 10 years since its renovation, I have spent many evenings in the District Auditorium honoring students at special recognition nights, proudly listening to concerts, watching plays and dance ensembles and attending assembly programs and hosting welcome back programs for the faculty and staff. The auditorium is a beautiful facility that has welcomed our parents and community members and entertained our faculty and students on so many occasions and in so many venues.
"To have such a beautiful and welcoming facility named in my honor was an unexpected and unforgettable moment.  The generous dedication from the Board of Education made me feel valued, honored and appreciated.  I will carry Yorktown in my heart forever; I will be grateful for this honor for the rest of my life."
The board said it chose to rename the performance space as a way to recognize the school leader's focused and concerted efforts in the last 11 years to "transform" the district as well as this auditorium that now sports acoustic tiles, fine seating, an impressive stage, and good lighting and sound systems.
The space, said the board, is a symbol of the many improvements that Napolitano brought to Yorktown schools when he arrived in 2006. In announcing the new name for the facility, the board said in a Resolution:
The "District Auditorium, much like the School District, was a shambles at that time, with missing seats, bad sound and poor lighting, and under the leadership and vision of Dr. Napolitano, was rebuilt and transformed into a shining star that enhances opportunities for our wonderful students to showcase their talents, skills and abilities."