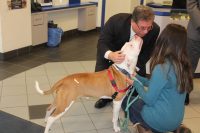 Last year, 6,244 letter carriers were bitten or attacked by dogs nationwide. That pales in comparison to the 4.5 million people who are bitten by dogs annually, according to the Centers for Disease Control and Prevention.
So far in 2018, in Westchester, 23 postal workers have reported dog bite incidents.
"Only one dog attack is one too many," said Richard Conte, U.S. Postal Service Westchester District Manager, during a press conference Friday at the Ossining Post Office to bring attention to National Dog Bite Prevention Week, which runs from April 8-14.
"Safety and service are top priorities for the Postal Service," he added. "Most dog bites can be prevented by responsible owners."
Letter carriers Scott Fuller, who works in Peekskill, and Issac Harper, who distributes mail in the Suffern area, said they have encountered some feisty dogs on their routes.
Harper, a Postal Service employee for 11 years, said he had "a few close calls," explaining one time he fended off an aggressive dog with his satchel.
Fuller, a three-year employee, said a month ago he was bitten by a poodle on his arm when he attempted to get a certified letter signed by a resident.
"I've seen this dog probably every day," Fuller said. "I think this day I just startled the dog. It would be helpful if you (homeowners) know what time I'm coming and put the dog behind the fence."
Ossining Town Supervisor Dana Levenberg said recently a letter carrier was unable to deliver mail to an entire neighborhood due to a dog that was on the loose in the area.
"We really want to make sure they can do their job safely," she said. "I hope people will take these lessons very seriously."
Cristina Losapio of the Westchester SPCA, who was on hand with "Johnny," a two-year-old therapy dog who is available for adoption, offered tips to homeowners on how to prevent incidents with letter carriers and other visitors.
She said "letting them be a dog" and nurturing a calm confidence were key components to everyone getting along.
"We really want to make sure they're at a resting state," Losapio said. "Nobody has to be bit."