Astorino Produces 2013 Tax Returns; Accusations Fly Over Transparency
We are part of The Trust Project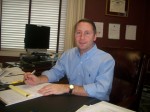 Westchester County Executive and Republican gubernatorial candidate Rob Astorino released his 2013 tax returns on Tuesday while his campaign accused Gov. Andrew Cuomo for a lack of transparency regarding improvements on his New Castle home.
For a four-hour period, Astorino's state and federal returns from last year were made available to the media to review at the long shot candidate's campaign headquarters in White Plains.
The documents showed Astorino's gross income was $193,720, the vast majority of which was his $157,010 salary as county executive. He also earned $31,800 through outside broadcasting consultant work and several fill-in radio gigs, said campaign spokesman William O'Reilly.
Westchester Democrats have hammered Astorino for failing to be a full-time county executive since shortly after announcing his candidacy earlier this year, pointing to his extensive campaigning around the state and moonlighting in the broadcasting field.
He has also been sharply criticized for refusing to furnish five years of tax returns.
However, O'Reilly maintained that Astorino's finances have been straightforward. He has earned about $30,000 a year from Townsquare Media in Greenwich, Conn. since before becoming county executive in 2010, O'Reilly said. The additional $1,800 last year was for substituting on the John Gambling Show on WOR radio, which pays him $300 for each appearance.
Astorino's returns also listed $4,129 in dividend income, $301 in capital gains, $235 in taxable refunds, $161 in taxable interest and $84 in miscellaneous income.
He paid $3,267 in federal taxes before the filing deadline and $10,413 in state taxes.
After media members inspected the returns, O'Reilly went on the offensive Tuesday against Cuomo for shortchanging the Town of New Castle out of at least $30,000 in property taxes since he and his girlfriend, Sandra Lee, made improvements on their Bittersweet Lane home.
He said that Cuomo has refused to produce  building permits following extensive renovations made on the house since before they moved in and has prevented the town's assessor from completing a thorough interior inspection. As a result, the assessor's office has had to estimate a 30 percent assessment increase based solely on observations from the outside, O'Reilly said.
That estimated increase in assessment, which Cuomo hasn't contested, wasn't completed for several years after the renovations were done, costing the town possibly as much as $30,000.
"We've been transparent," O'Reilly said. "When is he going to do the same?"
But Cuomo supporters throughout the state have characterized Astorino's hesitancy to release returns and his continued refusal to produce five years of tax information as having something to hide. Hank Sheinkopf, a consultant working for the New York State Democratic Party, bashed Astorino for failing to adhere to standard practice.
"He probably has something to hide and that's why he's not doing it," Sheinkopf was quoted in capitalnewyork.com on Sept. 15. "The public has a right to know. You want to be governor? Tell us about your finances. Release your taxes."
In 2013, Cuomo had adjusted gross income of $358,448, including $188,000 in advance payments on his yet-to-be-released book, according to published reports.