Astorino Looks to Return to Office in 40th Senate District Tussle
We are part of The Trust Project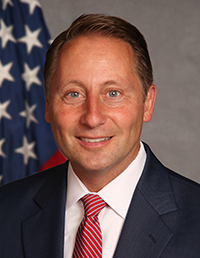 Over the past couple of years, Rob Astorino has been keeping an eye on what's been going on in Albany and hasn't liked what he has seen.
The former Westchester County executive said the state had been in a downward trajectory even before the pandemic struck earlier this year. Prior to COVID-19 decimating New York's coffers, the state was already facing a $6 billion deficit related to Medicaid and made a feeble attempt to address the unfolding economic crisis when working on Fiscal Year Budget 2021 in late March, Astorino said.
Add the controversial bail reform measures enacted in 2019, and the longtime Mount Pleasant resident was convinced to make another run for public office, this time against Democratic incumbent Peter Harckham for the 40th state Senate District.
"It's one thing to be able to manage the state and it's another to rebuild it, and that's why with this no cash bail and rampant crime and these attacks on police officers, the upside-down world of somehow criminals are good and cops are bad, really pushed me into running," said Astorino, 53, who served eight years as county executive before losing to George Latimer in 2017. "I feel like I had an obligation to try and fix what's wrong."
He noted similarities between the current situation facing the state to what he encountered coming in as a new county executive at the start of 2010. Facing a financial crisis, Astorino vowed no tax increases and made sure that anything in the budget was open for discussion.
The state's current strategy, Astorino said, seems to simply be hoping that the Democrats win control of the U.S. Senate and Joe Biden is elected president so it can receive a bailout.
"That's not a business plan, that's not responsible, that won't fix any of our problems," Astorino said. "That will not have a huge effect on all the residents and businesses escaping New York. So some pandemic relief I think is necessary, but the $6 billion that is growing, that is the state's own fault, and bad policies and bad decisions. These need to be corrected and that's what I will be part of."
Instead of entertaining a raise in taxes, Astorino suggested that the state should be reducing taxes and regulation to spur business and grow the economic base. Once that occurs, some of the challenges will start to take care of itself, he said.
Furthermore, thousands of regulations, some of which Astorino called "absurd," are holding back growth.
As a parent of three children, Astorino said he has been frustrated as school districts have been overly cautious, playing havoc with families' schedules and children's ability to learn. One COVID-19 case sometimes unnecessarily shuts down a school building for up to two weeks because children are far more unlikely to get sick, he said.
"I can't even keep track (of their schedules), but I do know one thing, they're not learning the way they used to learn in the classroom," he said.
The growing discontent with the unpredictable schedules, children regressing in some cases and escalating school taxes has put the spotlight on education funding and what taxpayers are getting for their money
Astorino is calling for an independent investigation into the decisions that led to nursing home residents with COVID-19 being released from the hospital back to their facilities. He said it's an issue that Harckham and other Democrats don't want to discuss.
"We don't want this repeated and we want to learn from the mistakes, but to say that it's the CDC's fault, or the president's fault, or Fox News' fault, come on," Astorino said.
Astorino said what followed the Democrats' bail reform was as disastrous as it was predictable and reflects what is wrong with one-party rule in Albany. While the goal to make bail and incarceration more equitable may have been commendable, Democrats failed to listen to law enforcement and district attorneys who warned the legislature of releasing suspects accused of certain offenses dangerous, he said.
He called the law "a get out of jail free card," and the lack of judicial review where suspects are released for what most people consider are violent crimes may be the law's worst aspect.
Soaring crime rates in New York City and car theft that is up 65 percent in Westchester is the result, Astorino said.
"If Peter Harckham had listened to the district attorneys in both parties, judges, law enforcement, they may have had an acceptable bail reform law like in other states," Astorino said.
Astorino agreed with some decriminalization of marijuana but legalizing recreational use is sending the wrong message. As a proponent of limited, fiscally prudent and smart government, he would oppose the NY Health Act.
He does want to see term limits approved for state office holders.
"If you can't accomplish what you're setting out to do in 12 years, then you've failed," Astorino said.