Astorino Looks for Four More Years in County Executive's Office
We are part of The Trust Project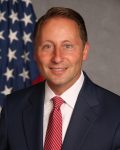 Rob Astorino's tenure as Westchester County executive may best be best known for his pledge to halt the rise of county property taxes and his often contentious battles with critics and the courts during the affordable housing settlement.
When Astorino looks back at his nearly eight years in office, it has been the efforts, large and small, to improve life for county residents that stands out. Leading the county through the disaster of Superstorm Sandy, which saw Westchester's Emergency Operations Center run for 300 consecutive hours, and consoling local communities after the 2015 train crash in Valhalla were two accomplishments he pointed to under the most difficult circumstances.
But it's also been about much lower profile programs, such as his Fatherhood Initiative a program, aimed to help dads through career counseling, job placement and creating more opportunities to spend time together with their children and families that makes the longtime Hawthorne resident enjoy his job.
"I still have the passion every day when I come to work because the challenges are many and things are different every day," said Astorino.
"There are so many things that are happening in the county right now, I prefer to stay," he added.
Astorino, 50, campaigned, was elected and re-elected on his promise to put the brakes on taxes. He takes every opportunity to chide his opponent, Democratic state Sen. George Latimer, for having sat on a Board of Legislators for 13 years from the 1990s into the early 2000s that experienced a 46 percent tax increase. He vowed another 0 percent increase for 2018.
He said his administration has had to make difficult decisions, but by trimming staff mostly through attrition in the Department of Social Services and other departments there has been money for programs while delivering on his pledge.
Accomplishing goals with a Democratic majority Board of Legislators has been an example of Astorino's ability to encourage bipartisanship. One example was the unanimous approval of a 99-year lease for the North 60 biomedical project that will add some 2.25 million square feet of bio-med and research facilities, along with medical offices, 100 hotel rooms and retail in Valhalla. It will generate an estimated $9 million in tax revenue.
Astorino, when questioned about Westchester's appearance on the state comptroller's fiscally stressed list last month, pointed to the county's $1.5 million budget surplus last year and 44,000 new jobs created during his administration.
He said Albany's failure to address mandate relief is the biggest fiscal hurdle facing all counties, not just Westchester.
"It's not something any of us are concerned about," Astorino said. "We'll just keep finding savings, and creating new revenue that does not come from the taxpayers."
One potential fresh revenue source is privatizing Westchester County Airport. A controversial move that is receiving pushback from multiple quarters, Astorino said it would make much-needed improvements to the facility. He insisted that the current passenger caps and size of the airport would remain unchanged.
The county executive, who doesn't want an expanded airport, said it would be financially advantageous for any operator to adhere to the strictest environmental standards.
"The airport's been run by a private company since the end of World War II for the county, so this is not some radical idea," he said. "What's radical is that we're going to actually be able to make money for a change that we could use for day care or any other thing in the county instead of having the money sit there."
Astorino stood by his decision to push back against the federal government in the affordable housing settlement, which he contended was bent on trying to intrude on the county's zoning. He said he was vindicated when the Analysis of Impediments was approved earlier this year after working with a consulting firm. Meanwhile, nearly 900 units of new affordable units were approved.
Astorino also defended his veto of the Immigrant Protection Act, calling it a political move that would have made Westchester a sanctuary county, risking federal dollars, and making it less safe. Instead, the executive order he signed doesn't permit someone to stopped based on immigration status. Anyone who seeks police help or to report a crime will also not be in jeopardy, he said.
Despite his unsuccessful gubernatorial run in 2014 and Latimer's insistence that he's eyeing a rematch with Gov. Andrew Cuomo next year, Astorino said he doesn't see that happening. He expects a strong crop of Republican candidates to line up.
Astorino did have a message for voters disgusted with Washington who might look to punish any Republican on the ballot.
"Just yelling Donald Trump every day might be (Latimer's) message, but people who want to go vote, who want to protest vote against Donald Trump, Donald Trump is still going to be president the next day and next year and all you're going to do is vote to raise your taxes," he said.