Astorino, Local Governments Work on Shared Services Plan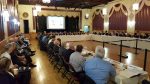 Officials from virtually all of Westchester's municipalities convened for the first in a series of forums with County Executive Rob Astorino and county department heads last Thursday to create a shared services plan to reduce taxes.
The meeting at the County Center was the first step for Westchester to comply with Gov. Andrew Cuomo's Shared Services Initiative that was implemented earlier this year. The initiative forces municipalities in each county to submit a plan to the state by Sept. 15.
"We're all in the same boat. We're all dealing with very difficult expenses, most of which are out of our control (and) an electorate that at this point is averse to tax increases," Astorino said shortly after the start of the more than hour-long brainstorming session which was moderated by Deputy County Executive Kevin Plunkett. "I think all of us have held the line on taxes or stayed within the cap. I know we're all trying very, very hard."
Under the state's timetable, each county in the state must develop a countywide shared services plan to submit to its county legislators by Aug. 1, said Robert Altery, Astorino's deputy chief of staff. A minimum of three public hearings must be held followed by the Board of Legislators approving a final plan by Sept. 15, he said.
Then the county executive would submit the plan to the state Division of Budget and it would be presented to the public by Oct. 15. If a county fails to submit a shared services plan or if it is rejected by the state, then that county would have to repeat the process next year, Altery said.
Representatives from Westchester's cities, towns and villages along with some school officials presented ideas that could be incorporated into the plan and also spoke of the challenges facing their communities. Most said their municipalities and school districts already share services, some rather extensively.
North Salem Supervisor Warren Lucas said he sees potential savings by aggressively partnering with other towns in three main areas: insurance, communications and technology.
"If somehow we can get together and do these we'll save a large amount of money," Lucas said. "When I look back, that's how we're able to save most of it."
Some savings could also be realized through environmental initiatives. Scarsdale Mayor Dan Hochvert said the village was the first to try a food composting program that can be expanded to other communities to reduce the amount of trash and garbage costs. Meanwhile, Harrison Supervisor said the county and its local communities could explore single-stream recycling.
Several officials said it is also time the municipalities and the county turn to the state and ask for relief. Pound Ridge Supervisor Richard Lyman said his town last year spent $347,000 for train station maintenance, and the town doesn't have a train station. Westchester municipalities paid about $25 million to the MTA for that expense, he said.
Lyman suggested the county inform the state that the expense should be derived from Metro-North commuters and incorporated in its ticket prices rather than extracting it from all taxpayers.
"I think when the fallout of something is paid for by the user, the user demands a little bit more accountability from the provider," Lyman said.
Pleasantville Superintendent of Schools Mary Fox-Alter said since the 1940s the state's school districts have been partnering through their regional BOCES for services, particularly in special education. Furthermore, her district and the Village of Pleasantville have shared a variety of services for years. She said she would have to carefully review where else the district could collaborate.
Byram Hills Superintendent Dr. William Donohue said his administration and board of education meet monthly with the North Castle town officials. The two entities would like to do more service sharing but state laws place limitations between towns and school districts regarding contracts, he said.
Plunkett encouraged municipal and school officials to include all ideas in each of their submissions to his office. There will be additional meetings through the end of July to formulate the plan to meet the deadlines.
"These ideas have been on the table for many years," he said. "I think the idea is let's bring them together, let's see what's reasonable and feasible going forward, and if it can work than we'll be able to do it."