Astorino Falls Short in Gubernatorial Bid; Cuomo Wins Re-election
We are part of The Trust Project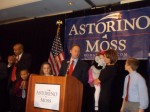 Westchester County Executive Rob Astorino was defeated in his long shot bid for governor Tuesday night falling short to incumbent Democratic Gov. Andrew Cuomo.
Unable to overcome the lack of statewide name recognition and a lopsided campaign war chest in Cuomo's favor, the Mount Pleasant native lost to the governor by about 13 points, according to unofficial tallies. With 98 percent of the statewide vote counted shortly after midnight,  Cuomo was leading Astorino 1,851,334 to 1,394,881 (53.9 to 40.6 percent). Green Party candidate Howie Hawkins collected nearly 5 percent of the vote.
Astorino appeared at about 10:30 p.m. on the podium in the Crowne Plaza hotel in White Plains to deliver his concession speech, thanking his crowd of supporters who learned more than an hour earlier that the news networks had projected Cuomo as the winner. He called on the governor to make badly needed reforms to help New York move forward and to restore public trust in state government.
"I hope that Gov. Cuomo has heard some of the cries of New Yorkers this campaign season. I know I have in all 62 counties across the state," said Astorino, accompanied by his wife, Sheila, and their three children and running mate for lieutenant governor Chris Moss.
"This is a great state, a state filled with winners. There is no excuse for us losing to the other states in this nation. We were once number 1 in everything; now we're number 50 in everything."
Astorino was able to claim just over 40 percent of the vote despite being little known outside of Westchester at the outset of the campaign, and being faced with the daunting task of running against an incumbent whose last name has been part of New York politics for decades. Cuomo also enjoyed having as much as a 10-to-1 advantage in campaign funds to spend, according to published reports.
On Tuesday night, after he congratulated Cuomo on his re-election victory, Astorino urged the governor to repeal the controversial Common Core and replace it with higher education standards developed at the local level and to move forward with badly-needed reforms to address the culture of corruption in the state capital.
"The corruption in Albany needs to stop," Astorino said. "New York government ranks as the most corrupt in America. New Yorkers no longer believe in their government. They're badly disillusioned, as evidenced by today's weak voter turnout. That's why I called for state term limits in my campaign, and I hope that Gov. Cuomo will keep his pledge and sincerely look into that idea.
"We're too good a state, New Yorkers are too hard-working to be embarrassed by this government year after year."
Following Astorino's concession speech, George Oros, the county executive's chief of staff, said he believed the result was a missed opportunity for the state.
"I think tonight was a loss for New York State," Oros said. "I've known Rob Astorino for the last 20 years; I've worked closely with him the last five. There'd be no better guy to run the state of New York than him."