UPDATED: Katz Ticketed for Pot Possession
We are part of The Trust Project
State Assemblyman Steve Katz (R/C-Mohegan Lake) was ticketed Thursday morning for unlawful possession of marijuana following a traffic stop for speeding upstate on the New York State Thruway.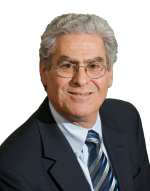 According to the State Police, Katz, 59, who was elected to a second two-year term in the Assembly last November, was pulled over at approximately 10 a.m. on the New York State Thruway. Katz was driving 80 miles per hour in a 65 miles per hour zone northbound in the Town of Coeymans.
After police reportedly smelled marijuana, Katz turned over a small bag of what allegedly was marijuana.
Katz, whose district serves Yorktown, Somers, Carmel, Patterson, Putnam Valley and Southeast, was issued an appearance ticket for the violation and is scheduled to appear in Town of Coeymans Court on March 28.
When approached about the incident at a senior citizen forum at Yorktown Town Hall Friday, Katz remarked "it was just a ticket" and said he would be issuing a statement.
Katz let a group of reporters wait for about 90 minutes before reading from a prepared statement where he stated "I am confident that once the facts are presented that this will quickly be put to rest."
"First, I will not let this incident impede my public service and my calls for real mandate relief, a better economic climate and better services for those in need in New York," Katz said. "This should not overshadow the work I have done over the years for the public and my constituency."
Katz, a veterinarian, declined to answer questions about whether he was smoking in his vehicle when he was stopped by police or if he had anything to say to his constituents, other than "the facts will speak for themselves."
Last year, Katz joined most of his Republican colleagues in the Assembly in opposing the legalization of medical marijuana, a measure that passed 91-52.