Assembly Speaker Announces $1.9M for Peekskill Parks, Library
News Based on facts, either observed and verified directly by the reporter, or reported and verified from knowledgeable sources.
We are part of The Trust Project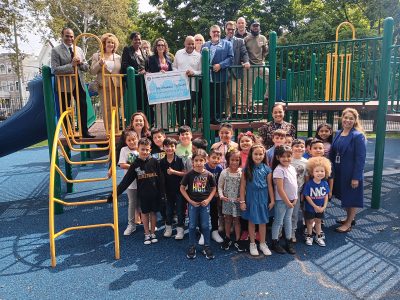 Assembly Speaker Carl Heastie (D-Bronx) pledged more than $1.9 million for upgrades to the City of Peekskill's parks and the Field Library and other programs and facilities during a visit to the community last Friday.
Heastie announced that $1.7 million will go toward resurfacing and ADA accessibility at some of Peekskill's parks and playgrounds and $110,000 to support a Spanish language collection and other resources to help new immigrants and asylum seekers in the region.
The announcement came during the latest stop on Heastie's statewide tour of Assembly districts throughout New York. Last week, he stopped in the 95th District and received a local tour with Assemblywoman Dana Levenberg (D-Ossining).
Other funds from the state capital grant allocation money out of the current fiscal year's budget will be $30,000 for the Caring for the Hungry & Homeless of Peekskill (CHHOP) for improvements to the building the organization uses and $125,000 to the Peekskill Youth Bureau, a city-run program that helps youths in the community.
"There's capital needs for sure that we're going to continue the conversation with Assemblymember Levenberg to try to be helpful," said Heastie during a stop at Lepore Park on Main Street with an entourage of local officials. "Infrastructure all across the state is aging, but infrastructure that, in particular, that is needed for our young people, we really need to invest and improve."
Levenberg said she spoke with members of the Peekskill City Council to understand that state money could help some of the more pressing needs in the community. She said a lot of work is already being down through a $10 million Downtown Revitalization Initiative grant, but some initiatives such as Peekskill's parks and playgrounds are not covered by that money.
"When they talked to us about playgrounds being closed, we thought that was really important," Levenberg said. "We don't like closed playgrounds, especially in a community that has needs. We want to make sure kids have the opportunities that they deserve when they're young, to be able to play and be free and be happy, and playgrounds are part of that. They're part of growing up."
McKinley Park has already been shuttered because of deteriorating conditions, and Tompkins Park, while still open, could soon be headed for the same fate without an infusion of money for upgrades, said Cathy Maldonado, Peekskill's superintendent of recreation.
Riverfront Park could also use some money but is generally in better shape than McKinley and Tompkins, she said.
"It's a blessing. We're really very happy to get this," Maldonado said of the state funds. It's going to answer a lot of prayers."
During Heastie's nearly four-hour visit to Peekskill he first visited the Field Library, before heading to Iron Vine to meet with Cynthia Knox, CEO of CHHOP.
Then they met with students from Peekskill High School who are members of the Youth Bureau, Black Diamonds Academic Success, My Brother's Keeper and the Girls Empowerment Movement and Sisterhood (GEMS).
Black Diamonds Academic Success mentors young men of color to help them become high-achieving students while My Brother's Keeper and GEMS are programs sponsored by the Peekskill schools. Those programs help teens develop leadership skills while mentoring other youths.
Heastie said he strives to visit about 60 Assembly districts outside of New York City over the course of the year to get a firsthand look at what different areas of the state needs.
In late August, he also visited Westchester's 92nd District with its representative, Assemblywoman MaryJane Shimsky, and on Monday toured upstate Franklin County.