Artwork Brightens Hawthorne Cedar Knolls Academy Summer Program
News Based on facts, either observed and verified directly by the reporter, or reported and verified from knowledgeable sources.
We are part of The Trust Project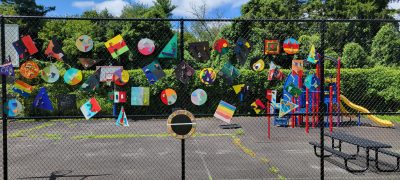 What had been a typically drab black fence surrounding the play area at the Hawthorne Cedar Knolls Academy's Extended School Year program for most of the summer was transformed into a splendid artistic display last Thursday.
It was a colorful end to the six-week summer school session for the roughly 60 K-8 students, as most of the students participated in the voluntary "Color on Shapes/Shapes on Color" project.
For the second straight summer, James Brunner, a woodshop teacher at the academy, wanted to infuse a little creativity and expression into the kids' day. For the summer school program, there is no art teacher so Brunner collected some scraps of plywood left over from the regular school year, and gave the students the ability to express themselves just with paint and a piece of plywood.
Each class worked on their piece for about two days, he said.
"This fence yesterday was just a black fence," Brunner said. "It really brightens things up and it positively reinforces their art skills."
The students come from about 45 different school districts, some traveling daily from as far away as New York City and Sullivan County.
Hawthorne Cedar Knolls Academy Principal Shawn Marshall credited Brunner with making an enjoyable experience for kids out of very little. It's something that has greater benefits than what meets the eye.
"I think ultimately when you give kids an opportunity to express themselves in any capacity, I think it reawakens a sense of themselves that often gets silenced," Marshall said. "When school-age kids come to school you tell them what to do – sit down, get your pencil, do your work, kind of a thing. But with the freedom that art can provide, especially in the woodshop when they're not only coloring, they're cutting, they're choosing shapes and patterns. It allows them to begin to reawaken that side of themselves, because they're opinion about something matters."
Hawthorne Cedear Knolls is part of a Special Act School District that services children who have been sent by their home district's Committee on Special Education.
Brunner said many of the kids took up the activity reluctantly, some expressing that they didn't think they could make their piece look like it was anything worthwhile.
"It really is just to get most of them who don't think they're interested in art to see that whatever they do as a collaborative project comes out to be a beautiful piece of art," Brunner added.
After the school day last Wednesday, the staff spent about an hour affixing the pieces to the black chain-link fence, and when the children returned the next day, most excitedly found which one was theirs. It was also the same day as the end-of-summer-session barbecue.
Brunner said the art will stay up for about a month, so for those returning to the campus for school after Labor Day, they will still be able to see their creation.
He said some students who created the art during last summer's program have their work proudly displayed at home.
"It's a showcase," Brunner said. "Kids really take pride in it."