Artist Inspired By Plants and Flowers Sees Life's Beauty Everywhere
We are part of The Trust Project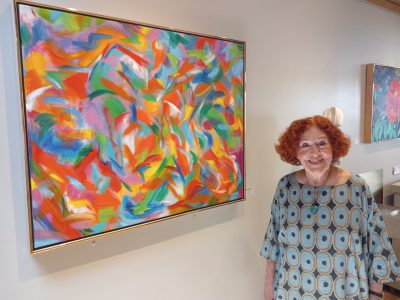 If you have a chance to stroll by any of Anne Bell's paintings or drawings, the visitor is very much encouraged to use their imagination.
Bell's love of nature and her ability to use plants and flowers as symbols for life is apparent, but the abstract artist never likes to tell a visitor at one of her exhibits or if they're in her studio what she had in mind when she created the work.
One time, a young mother visited Bell's Rockland County studio and she had her five-year-old son in tow.
"He got so excited and he ran and said, 'Mom, there's a volcano and a witch is coming down it,'" Bell recalled. "He was wonderful, and I thought if grownups could look at a painting like a child and say what do I really feel about this, because that's what I'm interested in, eliciting a response, reading it yourself, not being told what how to experience it."
For a few more weeks, art lovers, particularly lovers of nature in art, can view a collection of Bell's charcoal drawings and a few vibrant paintings at the Art Gallery at the Rockefeller State Park Preserve in Pleasantville. Her works are part of a two-artist exhibit with sculptor Edward Heim "Bulbs to Blooming Gardens Amidst Elegant Sculptures."
Born in New Orleans before spending most of her childhood in Pennsylvania, Bell was basically raised to be an artist – and someone who would see beauty in some of nature's simplest creations.
"There's a picture of me at about four months (old) and my mother in New Orleans, sitting in her garden and she's showing me a flower," Bell said. "She was a painter, too, she did portraits, beautiful portraits and still life. We had flowers all the time and a big garden."
She came to the New York area for college, going to Sarah Lawrence where she initially studied dance. Later, Bell attended the Art Student's League in Manhattan while she raised her three children. Her mother agreed to babysit two days a week while she went to art school, studying under Vaclav Vytlacil, among others.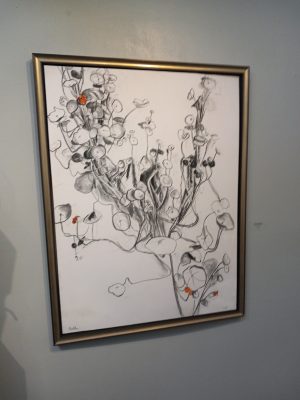 Bell's love for and appreciation of nature has never waned. Whenever possible, she loves to create, whether it's drawing or painting, by sitting outside. It's something that Bell uses for inspiration and seemingly never gets tired of.
"It's great to experience that enthusiasm for life, what I see in plants, and that's what I try to express," she said. "Right now, a lot of people are expressing anguish and pain and that's fine, but this is what I see and I was lucky enough to grow up with that."
Gallery curator Audrey Leeds said from the time she first walked into Bell's studio she was captivated by the colors that were everywhere. But it's more than just color because many of her drawings are in charcoal.
"She shares everything, and I love the shapes, the energy and I think that it's inspiring," Leeds said.
Although two completely different types of artists, Heims' sculptures seem to complement and contrast with Bell's works, Leeds added. Heim works in stone, which likely comes from his love of historic gothic architectural preservation. The self-taught award-winning artist has exhibited at museums and galleries across the United States, Canada and Europe.
To visit the exhibit, the Art Gallery at the Rockefeller State Park Preserve is open daily from 9 a.m. to 4:30 p.m. It will run through Sunday, June 4. The gallery is located at 125 Phelps Way (Route 117) in Pleasantville near the entrance to the preserve.
For more information, call 914-631-1470 ext. 0. You can also visit Bell's website at www.annebellpaintings.com.