Armonk Woman's Film Helps Lift Burden From Her Shoulders
We are part of The Trust Project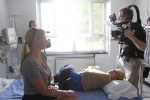 For eight years Tamara Rabil had been weighed down by a burden that could cripple almost any parent.
When her daughter, the oldest of her three children, was six weeks old, Rabil dropped her, fracturing her skull. Ruby was in an infant's seat but Rabil failed to strap the child in when she was carrying her down the hallway of her Armonk home. When the seat got stuck on a door jam, Ruby spilled out.
The infant was breathing but not crying and Rabil knew she was injured. The ambulance corps was unable to reach the house during a snowstorm so she and her husband had to drive on their own to Northern Westchester Hospital.
"I was in shambles," Rabil recalled. "I spent the next two days in the hospital thinking that social services was going to take her away from me."
Despite Ruby quickly making a full recovery with no side effects and Rabil and her husband having two sons afterward, Rabil had been racked with doubts about her parenting abilities.
The healing didn't start until after Rabil enrolled in an eight-week documentary filmmaking class at the Jacob Burns Film Center's media arts lab, one of 17 classes she has taken during the past three years. The instructor asked the students to pick a subject that they were an expert in, one that they wanted to be an expert in or something they were most afraid of.
There was only one choice for Rabil–she was afraid of being an unfit mother. It didn't matter eight years had passed, that Ruby was fine and Rabil and her husband were successfully raising their two boys.
"The good thing was that by the end of the eight weeks, I knew then that that was the story that I was burning to tell, that I had kept inside," she said. "It was the one thing that changed my life."
Through the training she received in her classes and the help of the Burns faculty, Rabil served as co-producer of a 20-minute short she filmed over four 16-hour days last year titled "Unburden." She filmed entirely in Westchester, including at her home, using mainly local talent.
Rabil entered the work in film festivals around the world, being accepted into seven and winning two awards–at the Gasparilla International Film Festival in Tampa and the Lifetree Film Festival in Loveland, Colo.
"The gist of the story is that it's not easy," Rabil said. "As long as you know in your heart that your parents did the best that they could at the time, that's all you can ask for. But that's not something you can understand until you become a parent yourself."
However, writing and producing the film opened old wounds, including with her husband, Al. After Rabil told him that she had written the story and hoped to make the film, the couple didn't speak for two days. He was melancholy that she had been overcome by guilt and that there was nothing he could do to help.
Rabil remembered that when her daughter was cleared to go home, she was so fragile that she didn't want to carry her baby again.
"It was my mother who gave me courage and said she needs you," said Rabil. "And it's just that simple. They need us."
The film has given Rabil, who had her own women's golf apparel line before she realized that she needed to concentrate on being a stay-at-home mom, the impetus to start her own film distribution company, Wild Angel Films. By screening the film to strangers and seeing their reaction, Rabil saw that people have a story to tell.
"It's always been our goal at the media arts lab to teach students the skills they need to tell their own story," said Emily Keating, JBFC's director of education programs. "It is very rewarding to watch Tamara grow as a storyteller and filmmaker and to be a part of her first film project."
Rabil is now collecting story ideas from families and she and Al are committed to making one parent-related film a year, including a full-length feature at some point. The story she plans to film next is one from a couple who after years of trying to have a baby learn that their unborn child has Down syndrome and they must decide whether to terminate the pregnancy.
One of the best parts of the experience for Rabil was that Ruby was with her during the filming. Years down the road, she hopes that the project serves as a lesson to her daughter that no matter how bad things may seem that it's critical to persevere.
"I realized that all parents carry guilt and that guilt can be crippling and that's what I wanted to share with everybody, is that forgiveness from your spouse, and forgiveness of yourself and forgiveness, ultimately, from the people like your daughter," Rabil said.
The Jacob Burns Film Center will screen "Unburden" this Sunday, May 19 at 5 p.m. Tickets are $9 for members and $14 for non-members. All proceeds from the event will go toward the film center's education and outreach programs. For more information, visit www.burnsfilmcenter.org.