Armonk Protest Calls Attention to Trump's Removal of Attorney General
We are part of The Trust Project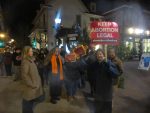 About 20 protestors alarmed by President Donald Trump's ouster of Attorney General Jeff Sessions demonstrated on Main Street in Armonk late Thursday afternoon fearing that special prosecutor Robert Mueller will be fired before the Russia probe is complete.
Holding signs on the sidewalk outside Armonk Square which centered mainly on the controversial move to fire Sessions on Wednesday and install Matt Whitaker as acting attorney general who will oversee the investigation, the emergency protest was organized in unison with much larger efforts in the county and the nation. There were similar events in White Plains and outside Sen. Chuck Schumer's office in Peekskill, but the hastily scheduled Armonk gathering was for those who didn't want to travel to one of those locations, said Linda Fernberg, a North Castle Democratic district leader who helped organize the pop-up protest.
Mount Kisco resident Glenn Babakian called the president's shuffling of attorney generals "disgraceful" and that it can only be construed as an attempt to undercut the Mueller investigation.
"It's like the Saturday Night Massacre all over again and people have to do this," Babakian said referring to President Richard Nixon's firing of the special prosecutor during the Watergate investigation. "I think we have to do this to get the message out that it's unacceptable."
Others in the gathering attended predominantly by women, said they have little doubt that Wednesday's move by the president is a way to end or curtail the investigation. They also view Whitaker as someone who is hostile to the probe based on his previous public comments.
"If he believes he's innocent he should let this investigation go forward, let everybody hear the truth," Armonk resident Kelly Sfarra said of the president.
Several protestors said that despite so much political coverage the past two years, there are still many of their fellow local residents who don't seem to care or don't believe what is happening in Washington affects them.
"I'm happy that more woman are taking an interest in politics," said Armonk resident Norma Hill. "I wish there were more people in town who took an interest in politics. We live in a very apathetic society."
As much as the protestors have opposed Trump and his policies, Amy Plofker of Sleepy Hollow said the reality of his administration has been worse than imagined. She said until now she was 99 percent certain Mueller's investigation would reach its natural end, but now she pegs those chances at no better than 50-50.
"The last two years have seen a series of things you didn't think could happen but they've been happening," Plofker said.
While Stuart Marcus of Mount Kisco said that he felt slightly more at ease late Tuesday night that there will be a Democratic House of Representatives to provide some checks and balances starting in January, he said he's most concerned about what will happen to the Mueller investigation before then.
Marcus also made comparisons to the Watergate crisis and wondered whether the country is on a slow bend toward an autocracy.
"We may all remember Nixon but in some ways this is worse than Nixon because Nixon never really had a cult of personality and with a cult of personality, reason and facts don't matter and so that's the scariest thing about this," he said.
Fernberg said the election of 2016 has changed the country too much. In North Castle, where there is split party allegiance, it has caused her to no longer hesitate to speak up about where she stands on national issues that matter to her.
"What's the harm of standing out here and standing up for your rights, women's rights, my daughter's rights and all of that," she said.