Armonk Developer Rails Against Affordable Unit Guideline, Seeks Reduction
We are part of The Trust Project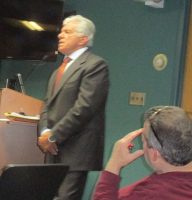 Developer Michael Fareri last week indicated he would build his proposed 16-unit project in downtown Armonk if he receives approval but would like North Castle officials to reduce his affordable unit obligation.
The public hearing on Fareri's application request to obtain two special use permits for nine market-rate units and seven affordable apartments at 470 Main St. resumed last Wednesday evening and featured more verbal sparring between him and the town board during the hour and a half discussion.
Fareri spent a considerable portion of the hearing grumbling about being forced by the town into building twice the percentage of affordable units compared to other developers. He has been granted approval for 36 units at the old lumberyard site on Bedford Road – 30 market-rate condominiums and six affordable units – but has maintained it is unfair for him to be saddled with having a 20 percent affordable threshold when other recent projects in town have only been required to provide 10 percent, as outlined in North Castle's and Westchester County's model ordinance.
Fareri has repeatedly stated it would be difficult to market the lumberyard project if he had to mix the affordable residences with the market-rate condos and will not construct the 36-unit building. Instead, he has proposed to move the six affordable units to 470 Main St. while building 30 market-rate condominiums at the old lumberyard.
Fareri's Main Street application also calls for nine market-rate units, which would require a seventh affordable residence at the site.
However, at the hearing he said he would like the town to consider reducing the overall number of affordable units on Main Street from seven to four and increase the number of market-rate residences to 10.
During a recent discussion with county officials Fareri learned that Westchester is no longer subsidizing the construction of new affordable units now that the county has met its obligation to the federal government in the housing settlement case, he said.
"I would like you to consider my thoughts," Fareri said. "I don't think my thoughts are out in left field. I think they're right, I think they're fair. I don't know why the town would want to have more fair and affordable units than the county would require them to have."
He said because of the price difference between the market-rate and affordable condos, he would have to absorb the financial hit of about $300,000 to build each affordable unit.
Board members reminded Fareri that he was required to provide 20 percent affordable units because his original lumberyard plan featured 35 percent middle income units, a town workforce housing program that was superceded once the town board approved the model ordinance in 2014. Fareri has also received a density bonus at the lumberyard site, which also played a factor.
"The change has nothing to do with the county. The change has to do with you," said Councilman Stephen D'Angelo. "Two weeks ago you were willing to build seven (affordable units) and now the county tells you they're not going to give you the difference, you only want to do four."
Town Attorney Roland Baroni added that in order to reduce the affordable component from 20 percent, a new public hearing would have to be scheduled and the process would have to be restarted.
Supervisor Michael Schiliro said there have been so many iterations of the lumberyard project and where to build the affordable units it's now difficult to ascertain what Fareri is asking the town to do.
"What do you want?" Schiliro asked. "It's so confusing because you're contradicting yourself."
Schiliro then questioned whether Fareri would build the Main Street project if he's approved for seven affordable units.
"That's not true, unless I can come back at a later date with your blessing to consider four (affordable units) and 10," Fareri said. "I just think it's a benefit to the community. It's not a deal-breaker, but I think it makes sense."
The hearing was adjourned until the board's Mar. 8 meeting.