Armonk Celebrates the Return of Frosty the Snowman to Town
We are part of The Trust Project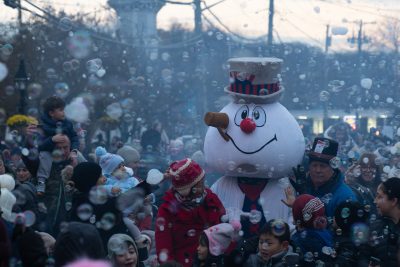 Families and residents turned out in droves on Sunday to welcome Frosty the Snowman home to Armonk, kicking off the holiday season in style.
The highly anticipated Frosty Day, made more special following the cancellation of the 2019 parade due to a snowstorm while the entire event was called off last year because of the pandemic, seemed to help swell the crowds by mid-afternoon. By the time the parade stepped off, hundreds, if not thousands of people, from throughout the area lined the route along Main Street and Maple Avenue all the way to Wampus Brook Park for the tree lighting.
Frank Porreca and his wife, Rosemary, make sure to come to Armonk every Frosty Day to visit their grandchildren who live in town to experience the festivities. Their enjoyment of the parade transports the couple from Purchase back to a more innocent time.
"It brings me back to when I was a kid, and it's like a holiday tradition," Frank Porreca said. "I remember as a kid growing up, we had parades for almost everything – Fourth of July, Memorial Day. It seems to have been a vanishing custom these days."
For more than three hours before the parade there were activities for children, holiday music played by a variety of bands throughout the downtown, treats to eat, train rides, and of course, pictures with Frosty.
No matter how many have made attending Frosty Day, scheduled for the Sunday of Thanksgiving weekend, an annual tradition that dates back to 2009, there are those who experience it for the first time.
Jennifer Bruno came with her husband and infant son from Mount Kisco after reading how the Frosty celebration came about.
"This is my first year coming down," Bruno said. "I read all about it and the story of how it became Frosty the Snowman, and now I have a four-month-old, so it's his first year and we'll be coming for many years."
Armonk claimed Frosty as its own when it was learned that Steven Nelson, the lyricist for the song "Frosty the Snowman," lived in Armonk for about 30 years until his death in 1981. The song was originally recorded by Gene Autry in 1950 and has since been released by numerous artists through the decades.
North Castle Supervisor Michael Schiliro said he wasn't surprised that the downtown was teeming with people, particularly as the afternoon progressed and the parade approached.
"Frosty brings them out," Schiliro said. "No one really has parades this time of year, but it's great, it's great for a lot of different reasons. People are happy and have great food."
Armonk resident Danielle Leston, who took in Frosty Day with her husband and children, has been a regular at the event.
"It's just fun to get out," Leston said.
Frosty Day Committee member Ed Woodyard said the celebration represents what is best about the community.
"This is like a Hallmark movie. The difference is it's real," he said.