Arc Stages' Production of Peter Pan Prequel Has Something for Everyone
News Based on facts, either observed and verified directly by the reporter, or reported and verified from knowledgeable sources.
We are part of The Trust Project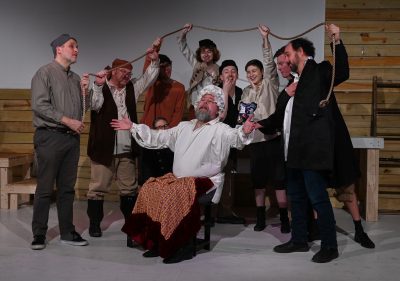 Arc Stages has taken on quite a challenge for its next production.
The Pleasantville-based theater company will be presenting through its Community Stage "Peter and the Starcatcher" for five performances over the next two weekends. The play, based on the 2004 novel by Dave Barry and Ridley Pearson called "Peter and the Starcatchers," is a prequel to the longtime favorite story about the boy who never wanted to grow up.
Director Stephanie Kovacs Cohen said with 14 cast members and some of the actors playing different roles, there have been rehearsals at least three times a week since late January. Suitable for families with children, Cohen expects a running time of about two hours with an intermission.
"This production is a big piece and there's a lot to get told to tell the entirety of the story," she said. "It's a lot of moving parts."
The play, a coming-of-age adventure story about a nameless orphan, provides much of the backstory behind many of the characters that the public has been familiar with since Peter Pan was created more than a century ago.
Despite all the props and the hijinks, the production comes down to the interaction between the cast members, said Adam Cohen, Arc Stages' co-founder and artistic director.
"What I love about the show is that it relies on people," Cohen said. "I mean all shows do, but everything about this show is about all the magic that happens. Yes, we have stuff, we have ropes, there's a nautical theme because we have pirates and all that, and we made a set. But ultimately, if you pull of this back and don't give the actors anything at all, they can still do this show and it would still have that magic that it has."
The need for a strong cast is crucial, said John Palacio, a Pleasantville resident who plays Black Stache. There are many parts and pieces that requires each cast member to pull their weight regardless of experience level, he said.
"Without every single person, it would fall apart," explained Palacio, who has credits at a wide variety of venues over the years. "It requires 14 people to be really in concert and you need a lot of rehearsal so that we're all on the same page."
For Rena Gavigan (Molly), the first time she read the script, it provided a fun, laugh-out-loud experience for her. But there are also moving moments, and the combination of those two qualities should make it a big draw for audiences.
"There's so many of these little pieces along the way," said Gavigan. "I think that's part of why it is maybe a lengthier play because they stuffed it so chock full of all these little details and nuances, and I think we're coming together as a cast."
Alan Partelow (Peter) said the silliness of the story was appealing, but so too were the more grown-up messages While it is a difficult task to pull it all together when it's not your full-time job, it has provided the cast with plenty of fun moments. It's also Partelow's first acting in four years, with the pandemic having shut down theaters for some of that time.
"This play in particular, "Peter and the Starcatcher," means a lot to me, and so getting to have this, a show that is really about fighting against the odds, and about connecting and about forging bonds with people is a really great show to come back on after the pandemic," Partelow said.
Last week, Kovacs Cohen said after nearly two months of rehearsals she really enjoys seeing the actors respond to the challenge.
The remaining cast members are Alan Cohen, April Castoldi, Cleo Esposito, Mary Horoszowski, Richie Hunter, Andrew Laden, Aidan McCarthy, Peter Moriarty, Eric Novak, Rob Webber and Chris Zika.
"Peter and the Starcatcher" will open this Friday evening, Mar. 24, and will continue on Saturday and Sunday and again on Mar. 31 and Apr. 1. All shows begin at 8 p.m. except the Sunday, Mar. 26 performance is a 2 p.m. matinee. Tickets are $28 for adults and $22 for seniors and students. For tickets and more information, call 914-747-6206 or visit www.arcstages.org.
Arc Stages is located at 147 Wheeler Ave. in Pleasantville.